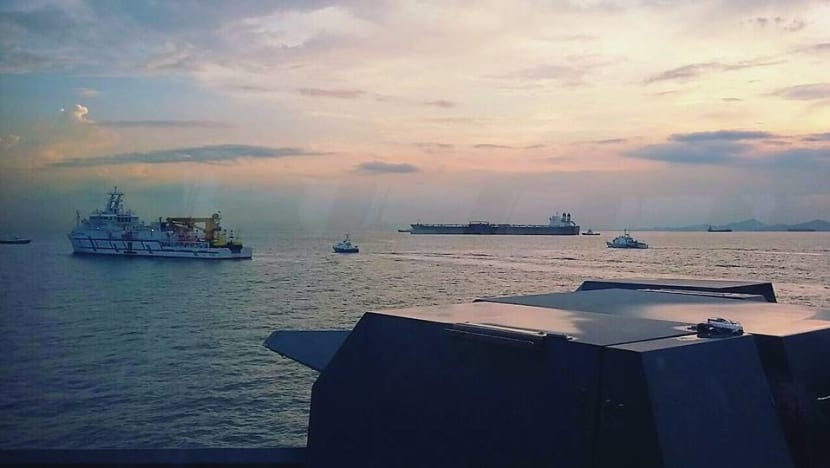 SINGAPORE: Singapore is "disappointed" that Malaysia has refused to return to the status quo before it extended the Johor Bahru port limits but welcomed its neighbour's pledge to de-escalate the situation on the ground, said the Ministry of Foreign Affairs (MFA) on Monday (Dec 10) in response to its Malaysian counterpart.
In an earlier statement on Monday, Malaysia's foreign affairs ministry said it would take "all effective measures to de-escalate the situation on the ground", but would be "unable to accede" to Singapore's "counter-proposal" of a return to the status quo prior to Oct 25.

The ongoing maritime dispute between the two countries was sparked by the extension of Johor Bahru's port limits in October and the subsequent intrusion of Malaysian government vessels in Singapore waters.
In its response on Monday, MFA said that despite its disappointment, Singapore is nevertheless "encouraged" that Malaysia has undertaken to de-escalate the situation.
"Singapore also welcomes the Malaysian Government's agreement that officials meet in the second week of January 2019, to exchange views on resolving the Johor Bahru Port Limits issue," said Singapore's MFA.
"The Singapore Government hopes to work with the Malaysian Government to find an amicable resolution of issues between the two countries in accordance with international law, and in the spirit of preserving our important bilateral relationship."
However, Singapore also reiterated its call to Malaysia to cease intrusions into its territorial waters and return to the status quo, saying that this will "avoid misunderstandings and potential issues on the ground".
"Malaysia's deployments in this area will not strengthen its legal claim and can only heighten tensions," said MFA.
"Malaysia will be responsible for any untoward situations on the ground that arise from continued deployment of its vessels into this area." 
The two countries have traded statements following intrusions of Malaysian government vessels into Singapore's territorial waters off Tuas.

Singapore's foreign affairs ministry on Monday said that the presence of Malaysian government vessels have raised tensions, and risk causing "an unintended and dangerous incident".
"Maritime boundary claims can be made under international law, in accordance with established procedures, without needing to have ships facing off against one another," MFA said, adding that Minister for Home Affairs and Minister for Law K Shanmugam and Attorney-General Lucien Wong had met with Malaysian Attorney General Tommy Thomas on Friday to discuss the issues.

Separately, Malaysian Prime Minister Mahathir Mohamad on Monday also commented on the maritime issue, saying that Malaysia will negotiate with Singapore regarding the ongoing dispute, but that there was no decision on removing Malaysian government vessels from Singapore waters for now.