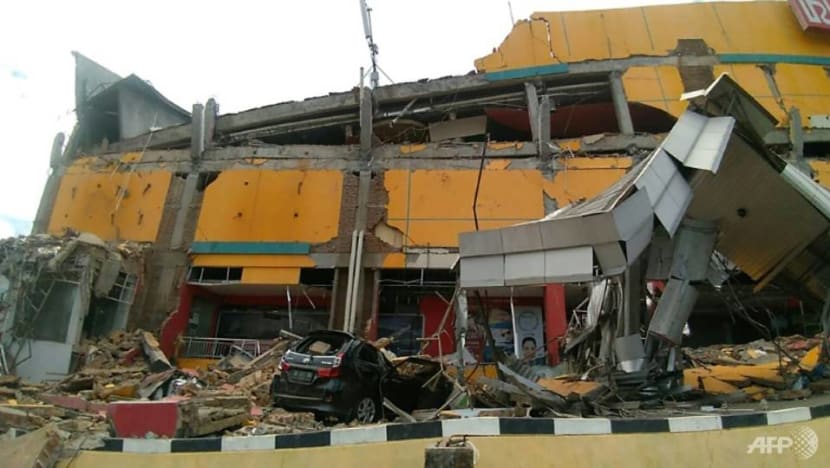 PALU, Indonesia: The death toll from Indonesia's quake and tsunami disaster increased to 844 on Monday (Oct 1) and was expected to rise further, prompting authorities to announce mass burials in a desperate attempt to stave off disease.
"The casualties will keep increasing," said national disaster agency spokesman Sutopo Purwo Nugroho, whose agency announced the jump in the toll from 420 earlier.
"Today we will start the mass burial of victims, to avoid the spread of disease."
"EVACUATION IS NOT FINISHED YET"
Rescuers on Sulawesi island raced against the clock and a lack of equipment to save those still trapped in the rubble, with up to 60 people feared to be underneath one Palu hotel alone. Rescuers said they heard voices and a child's cries from under the rubble.
Dozens of people were reported to be trapped in the rubble of several hotels and a mall, with hundreds more feared buried in landslides that engulfed villages. 

Indonesian President Joko Widodo told reporters in Jakarta getting those people out was a priority. 
"The evacuation is not finished yet, there are many places where the evacuation couldn't be done because of the absence of heavy equipment, but last night equipment started to arrive in Palu," Widodo said.
"We'll send as much food supplies as possible today with Hercules planes, directly from Jakarta, there are several," he said, referring to C-130 military transport aircraft. 
The national search and rescue agency said one woman was rescued overnight in the Palu neighborhood of Balaroa, where houses were swallowed up when the earthquake caused soil liquefaction.

In a post to Twitter, the disaster agency spokesman also warned residents to be alert to the hoax forecasts of further tsunamis and earthquakes he said were appearing on social media.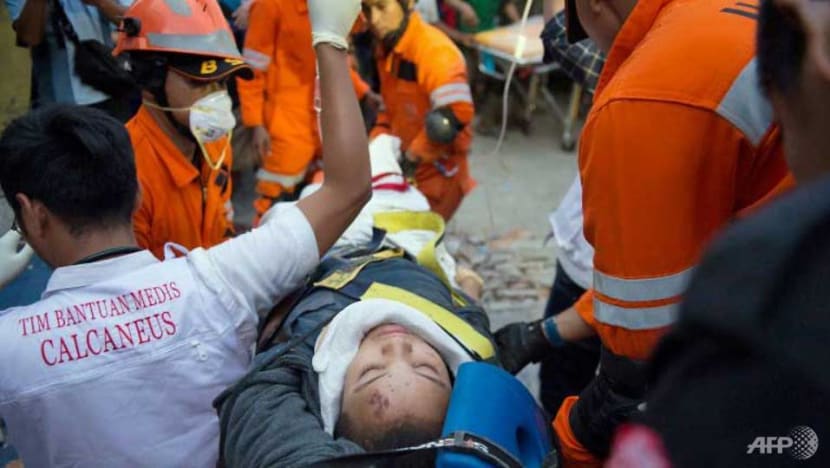 Desperate survivors, now facing a third straight night sleeping outdoors, turned to looting shops for basics like food, water and fuel as police looked on, unwilling or unable to intervene.
The government was left with little option but to promise it would reimburse owners.
"Record everything taken, inventorise it. We will pay for it all," said security minister Wiranto, who like many Indonesians goes by one name.
One survivor, Adi, was hugging his wife by the beach when the tsunami struck on Friday. Like countless others he has no idea where she is now, or whether she is alive.
"When the wave came, I lost her," he said. "I was carried about 50 metres. I couldn't hold anything. The water was spinning me around," he said.
"This morning I went back to the beach, I found my motorbike and my wife's wallet."
HELP AT HAND?
President Joko Widodo visited the region on Sunday afternoon, urging a "day and night" effort to save all those who can be saved.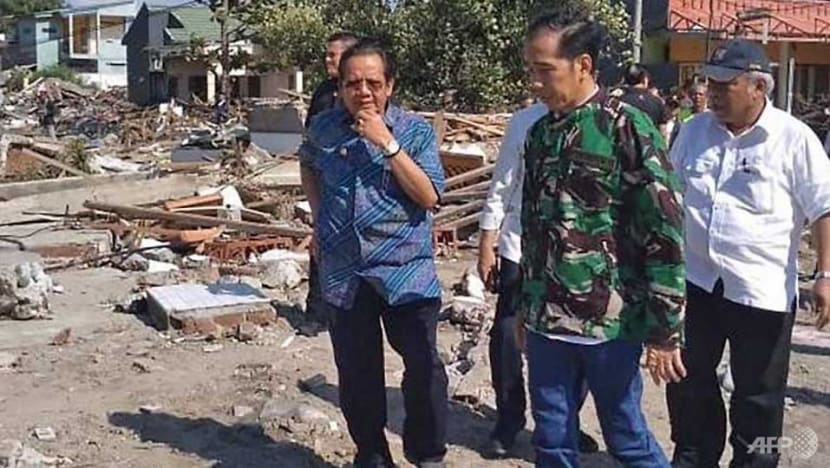 But disaster agency spokesman Nugroho indicated sheer power of will may not be enough.
"Communication is limited, heavy machinery is limited ... it's not enough for the numbers of buildings that collapsed," he said.
Still, as dire as the situation in Palu was, it was at least clear. In outlying areas, the fate of thousands is still unknown. 

Indonesian Vice-President Jusuf Kalla said the final death toll in the north of Sulawesi island could be in the "thousands" since many regions have still not been reached.
Indonesia's Metro TV on Sunday broadcast aerial footage from a coastal community in Donggala, close to the epicentre of the quake. Some waterfront homes appeared crushed but a resident said most people fled to higher ground after the quake struck.
"When it shook really hard, we all ran up into the hills," a man identified as Iswan told the TV.
The 7.5-magnitude quake struck on Friday, sparking a tsunami that ripped apart Palu's coastline.
Save The Children programme director Tom Howells said access was a "huge issue" hampering relief efforts.
"Aid agencies and local authorities are struggling to reach several communities around Donggala, where we are expecting there to be major damage and potential large-scale loss of life," Howells said.
The national disaster agency said it believed about 71 foreigners were in Palu when the quake struck, with most safe.
Three French nationals and a South Korean, who may have been staying at a flattened hotel, had not yet been accounted for, it added. A Malaysian is also among the missing. 
Getting enough aid in may prove a problem.
Satellite imagery provided by regional relief teams showed severe damage at some of the area's major ports, with large ships tossed on land, quays and bridges trashed and shipping containers thrown around.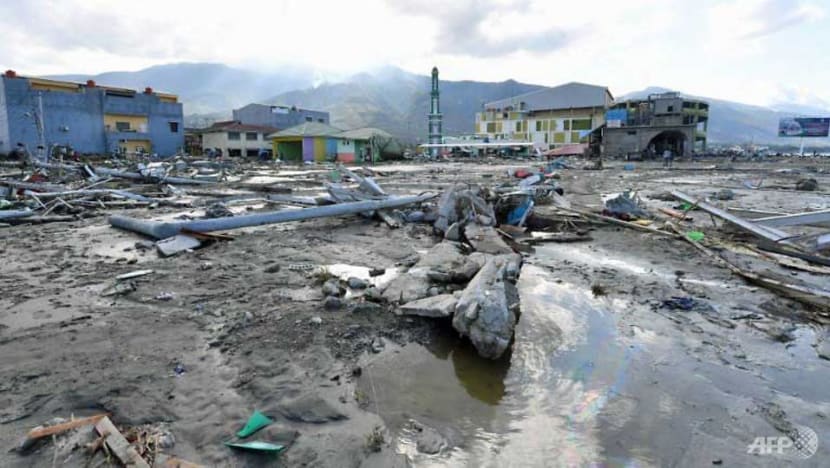 A double-arched yellow bridge had collapsed, its ribs twisted as cars bobbed in the water below.
A key access road had been badly damaged and was partially blocked by landslides.
"People here need aid - food, drink, clean water," said Anser Bachmid, a 39-year-old Palu resident.
FAR AND WIDE
Friday's tremor was also felt in the far south of the island in its largest city Makassar and on neighbouring Kalimantan, Indonesia's portion of Borneo island.
As many as 2.4 million people could have felt the quake, it is believed.
The initial quake struck as evening prayers were about to begin in the world's biggest Muslim majority country on the holiest day of the week.
As news of the scale of the disaster spread, US State Department spokesperson Heather Nauert conveyed "condolences and support" and said that the US was "ready to assist in the relief effort."
From the Vatican, Pope Francis offered prayers for victims.