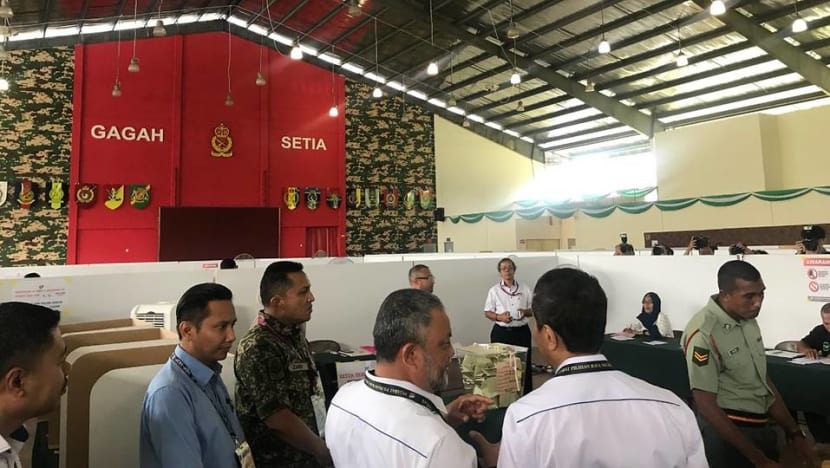 PORT DICKSON: A total of 7,191 early voters in the Port Dickson parliamentary constituency were eligible to vote on Tuesday (Oct 9) at three polling stations in the by-election.

Some 6,636 military personnel and their spouses will vote at the hangar of the Army Basic Training Centre and the Port Dickson Segenting Camp multipurpose hall, while 555 policemen will vote at the Port Dickson District Police headquarters.

Thirteen polling streams will be available at these polling stations, with 10 of them open from 8am to 5.30pm.

The remaining three polling streams at the police headquarters, namely Camps A, B and C, will close earlier at noon due to the small number of voters there.

After all the polling stations close, the ballot boxes will be sealed and kept at the Port Dickson District Police headquarters lockup and will be opened for the counting of votes on Oct 13 at the Port Dickson Municipal Council hall.

The early voting will be witnessed by the agents of the by-election candidates and observers comprising representatives of NGOs appointed by the Election Commission (EC).

The Port Dickson parliamentary by-election on Oct 13 is the fourth by-election after the May 9 general election. The previous three were state by-elections, for the seats of Sungai Kandis, Seri Setia and Balakong, all in Selangor.

The Port Dickson by-election is a seven-cornered contest. 
Among the candidates are People's Justice Party's (PKR) president-elect Anwar Ibrahim of Pakatan Harapan and Mohd Nazari Mokhtar of Parti Islam Se-Malaysia (PAS).
The five independent candidates contesting for the seat include former Negeri Sembilan Chief Minister Mohd Isa Abdul Samad; former personal aide of Anwar, Mohd Saiful Bukhari Azlan; social media personality Stevie Chan Ken Leong; management consultant Kan Chee Yuen and a former lecturer of a private university, Lau Seck Yan.

The Port Dickson seat was vacated by Danyal Balagopal Abdullah of PKR to enable Anwar to contest and become a Member of Parliament.

The parliamentary constituency, a PKR stronghold since 2008, has five state constituencies within it – Chuah and Lukut, held by DAP; Bagan Pinang and Linggi, held by Barisan Nasional (BN), and Sri Tanjung, held by PKR.