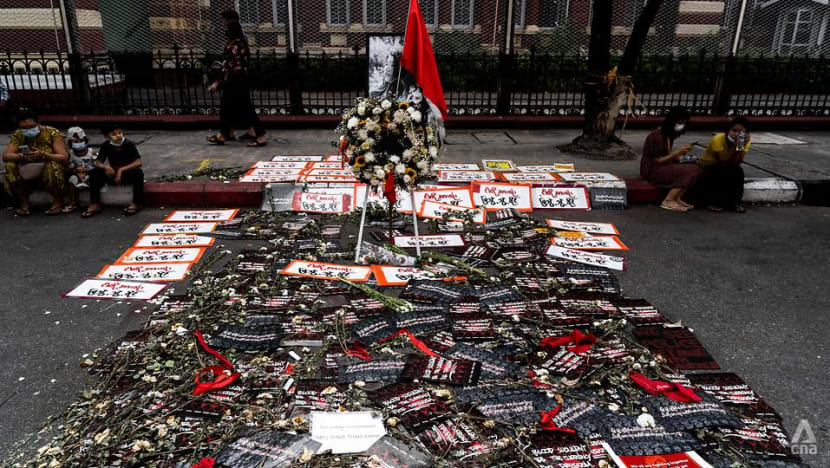 YANGON: A woman who was shot in the head last week as police tried to disperse protesters in Myanmar's capital died on Friday (Feb 19), her brother said, marking the first death among opponents of the military coup since they began demonstrating two weeks ago.
Mya Thwe Thwe Khine, who had just turned 20, had been on life support since being taken to hospital on Feb 9, after she was hit by what doctors said was a live bullet at a protest in the capital, Naypyidaw.
"I feel really sad and have nothing to say," said her brother, Ye Htut Aung, speaking by telephone.
Her death was also confirmed by the hospital where she was being treated.
"We confirmed her death at 11am," said a doctor, who declined to be named. "We have sent her body to be examined." 
Mya Thwe Thwe Khine, a grocery store worker, was among hundreds of thousands across the country who took to the streets in outrage over the ousting of civilian leader Aung San Suu Kyi in a military coup.
Friday marks two weeks of daily demonstrations against the military's seizure of power and the arrest of Aung San Suu Kyi and other senior figures from the ruling party.
Mya Thwe Thwe Khine, the only protester to be killed since the start of the coup, is now a household name across Myanmar and her plight has gained international attention.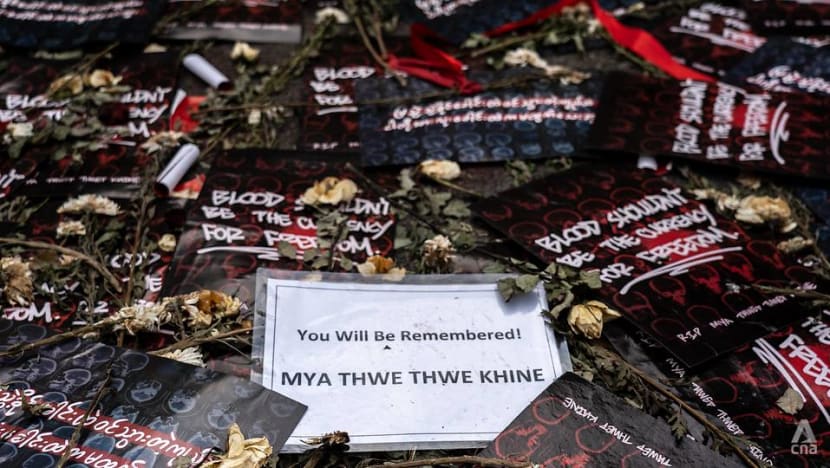 Military spokesman-turned-deputy information minster Zaw Min Tun confirmed this week that she had been shot, and said authorities will continue to investigate the case.
Mya Thwe Thwe Khine's death could become a rallying cry for the protesters who were again on the streets on Friday.
"I'm proud of her and I'll come out until we achieve our goal for her," protester Nay Lin Htet, 24, told Reuters at a rally in the main city of Yangon.
The protests in towns and cities throughout the ethnically diverse country have been more peaceful than the bloodily suppressed demonstrations during nearly 50 years of direct military rule up to 2011.
But police have fired rubber bullets several times to break up crowds. The army says one policeman died of injuries sustained in a protest.
The UN office in Myanmar and international rights groups called on the security forces to avoid using force.
In Myitkyina, baton-wielding police and soldiers sent protesters scattering down a street lined with shops, video on social media showed.
Rights activist Stella Naw said about 50 people were detained but later released.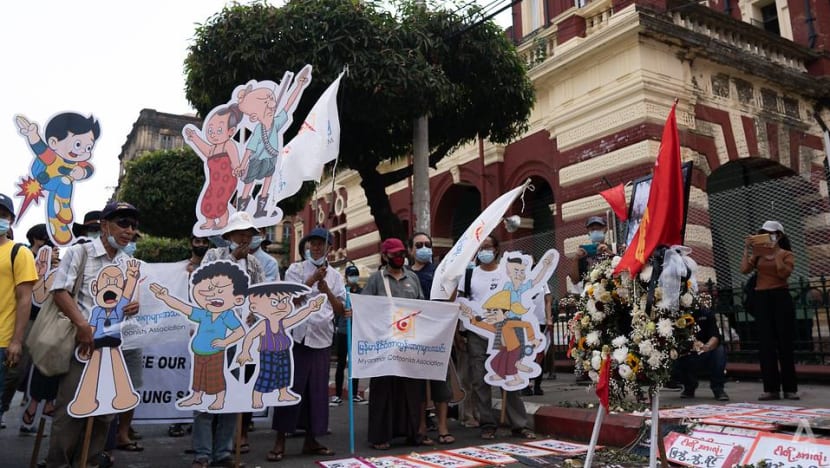 Clashes have occurred in the town, the capital of Kachin State, over the past two weeks with police firing rubber bullets and using catapults to disperse crowds.
Police in Yangon sealed off the city's main protest site near the Sule Pagoda, setting up barricades on access roads to an intersection where tens of thousands have gathered this week.
Hundreds of people gathered at the barricades anyway, a witness said, while a procession of several thousand formed at another protest site near the university and set off for the city centre.
The demonstrations have at times taken on a festive air and LGBT rights campaigners marched in Yangon while in the second city of Mandalay, chefs set up melons carved with the message "Justice for Myanmar".