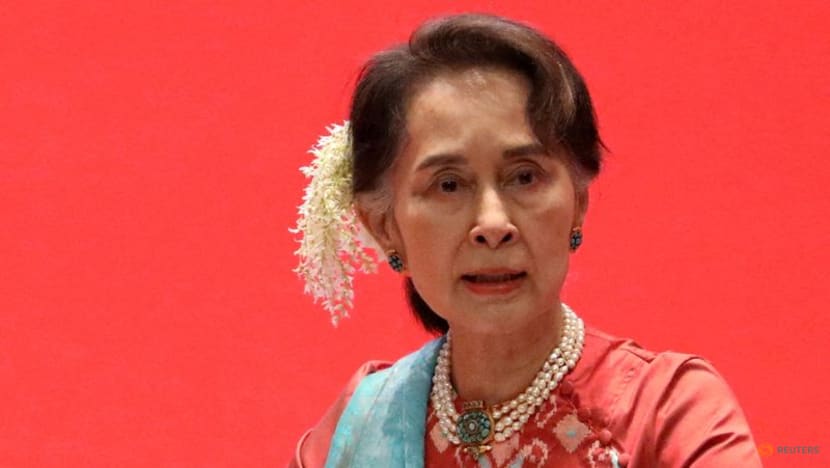 Myanmar's military government announced a new bribery charge against deposed civilian leader Aung San Suu Kyi on Thursday (Feb 3), the country's state broadcaster reported.
Nobel laureate Aung San Suu Kyi, 76, is on trial in nearly a dozen cases that carry combined maximum sentences of at least 150 years in prison. She has been already been sentenced to a total of six years detention for other cases.
A spokesperson for Myanmar's military, which overthrew Aung San Suu Kyi's government in a coup last February, could not be reached for comment.
Lawyers for Aung San Suu Kyi, who have been barred from speaking about her cases, could also not be reached for comment.
On Dec 6 last year, Aung San Suu Kyi was sentenced to two years in prison for incitement against the military and another two years for breaching a natural disaster law relating to COVID-19.
Junta chief Min Aung Hlaing later "pardoned" the sentences to "two years imprisonment", according to a statement read out on state TV.
On Jan 10, she was found guilty of two charges related to illegally importing and owning walkie-talkies and one of breaking coronavirus rules.
The walkie-talkie charges stem from when soldiers raided her house on the day of the coup, allegedly discovering the contraband equipment. She was sentenced to four years in prison on these charges.
Aung San Suu Kyi is facing multiple counts of corruption - each of which is punishable by 15 years in jail - and of violating the official secrets act.
Since the coup, many of her political allies have been arrested, with one member of her ousted National League for Democracy party sentenced to death for terror offences. A chief minister was sentenced to 75 years in jail, while others are in hiding.