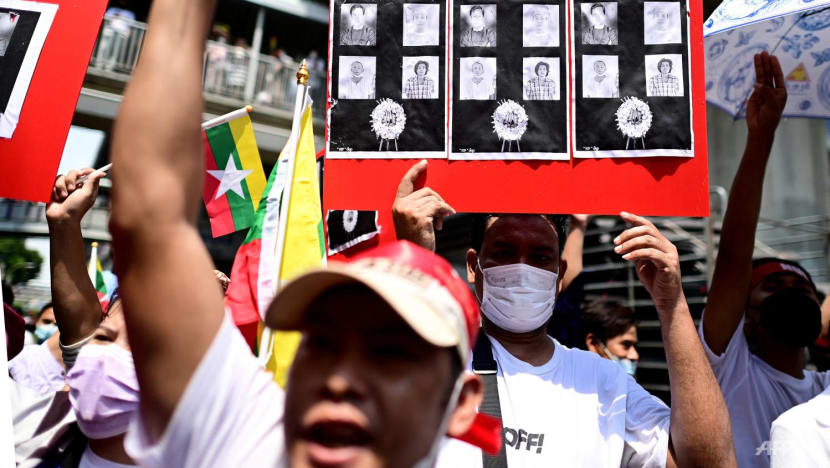 YANGON: Myanmar's junta lashed out on Tuesday (Jul 26) against international condemnation of the country's first use of capital punishment in decades, saying the four executed prisoners - two of them prominent democracy fighters - "deserved many death sentences".
The executions announced on Monday sparked condemnation from around the globe, heightened fears that more will follow and prompted calls for sterner international measures against the already-isolated junta.
On Tuesday, military spokesman Zaw Min Tun insisted the men "were given the right to defend themselves according to court procedure".
"If we compare their sentence with other death penalty cases, they have committed crimes for which they should have been given death sentences many times," he said at a regular press briefing in the capital Naypyidaw.
"They harmed many innocent people. There were many big losses which could not be replaced."
"This was justice for the people," said Zaw Min Tun.
"I knew it would raise criticism but it was done for justice. It was not personal."
The prisoners, who included a former lawmaker from ousted leader Aung San Suu Kyi's party, had been allowed to meet family members through video conferencing, he said, without providing details.
The junta had previously rejected criticism from the UN and western countries over the death sentences.
"EXTREMELY TROUBLED"
Phyo Zeya Thaw, a former lawmaker from Aung San Suu Kyi's National League for Democracy (NLD) was sentenced to death in January for offences under anti-terrorism laws.
Democracy activist Kyaw Min Yu - better known as "Jimmy" - received the same sentence from the military tribunal.
The two other men were sentenced to death for killing a woman they alleged was an informer for the junta in Yangon.
The junta has sentenced dozens of anti-coup activists to death as part of its crackdown on dissent after seizing power last year, but Myanmar had not carried out an execution in decades.
After a chorus of international condemnation on Monday, including from the UN, the United States and European countries, there was fresh criticism of the junta on Tuesday.
The Association of Southeast Asian Nations (ASEAN) bloc, which has led diplomatic efforts to end the crisis, issued a stinging rebuke on Tuesday, calling the executions "highly reprehensible".
In a statement issued by current chair Cambodia, it accused the junta of a "gross lack of will" to engage with ASEAN's efforts to facilitate dialogue between the military and its opponents.
In Bangkok, hundreds of people staged a noisy protest outside the Myanmar embassy.
Some held photos of Ko Jimmy and Phyo Zeya Thaw alongside Aung San Suu Kyi as they chanted "We want democracy".
Malaysia's foreign minister Saifuddin Abdullah slammed the executions calling it a "crime against humanity".
He called for a review of the so-called five-point consensus agreed by Southeast Asian leaders last year aimed at defusing the political crisis in Myanmar following a coup.
He also accused the junta of making a mockery of the ASEAN peace plan and said it should be barred from sending political representatives to any international ministerial level meetings.
"We hope we have seen the last of the executions," he said. "We will try to use whatever channels that we can to ensure this will not happen again."
UN Special Rapporteur on human rights in Myanmar, Tom Andrews, said he was concerned the executions of junta opponents would not be a one-off.
"There is every indication that the military junta intends to continue to carry out executions of those on death row, as it continues to bomb villages and detain innocent people throughout the country," he said in an interview on Monday.
In Myanmar's biggest city Yangon, security was tightened at the jail where the four executed men had been held, a human rights group said on Tuesday, following the global outcry and a demonstration by inmates over the execution.
Two sources told Reuters a protest had taken place in the jail. News portal Myanmar Now said some inmates had been assaulted by prison authorities and were separated from the general population.
Spokespersons for Yangon's Insein prison and the corrections department did not answer calls from Reuters.
Myanmar's shadow national Unity Government (NUG), which the junta calls "terrorists", urged coordinated international action against the junta on Tuesday and said those executed "were martyred for their commitment to a free and democratic Myanmar".