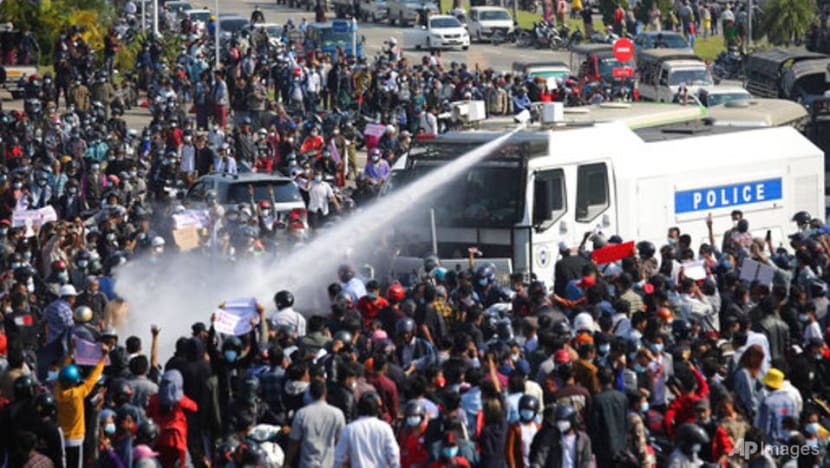 BANGKOK: Myanmar police on Monday (Feb 8) warned protesters to disperse or face force, shortly after state television signalled impending action to stifle mass demonstrations against a military coup and the arrest of elected leader Aung San Suu Kyi.
Tens of thousands of people joined a third day of street demonstrations in towns and cities across the country to denounce the military for its seizure of power last Monday.
In the capital Naypyidaw, three lines of police in riot gear could be seen across a road as protesters chanted anti-coup slogans and told police they should serve the people, not the military, according to media and a live feed of events.
Earlier, police in Naypyidaw briefly turned water cannon on protesters.

"Police used water cannon to clear the (road)," Naypyidaw resident Kyaw Kyaw, who had joined the protest, told AFP.
An AFP photographer also witnessed the incident, the first reported use of water cannon against protesters since rallies kicked off three days ago.
Police fired the water cannon in brief bursts against a group of the thousands of protesters who had gathered. Social media footage showed some protesters appeared to have been hurt when they were knocked to the ground.

Police appeared to stop using the water cannon after protesters appealed to them, but the demonstration continued.
Myanmar state TV later warned that "action" should be taken against protesters who break the law.
"Action must be taken according to the law with effective steps against offences which disturb, prevent and destroy the state stability, public safety and the rule of law," said a statement read by an announcer on state-run MRTV.
Massive crowds joined anti-coup protests across Myanmar as workers went on a nationwide strike, demanding the release of ousted leader Aung San Suu Kyi and the return of democracy.
In Yangon, a group of saffron-robed monks, who have a history of rallying community action in the overwhelmingly Buddhist country, marched in the vanguard of protests with workers and students. They flew multicoloured Buddhist flags alongside red banners in the colour of Suu Kyi's National League for Democracy (NLD), which won a landslide election in November.

"Release Our Leaders, Respect Our Votes, Reject Military Coup," said one sign. Others read "Save democracy" and "Say No to Dictatorship".

Thousands also marched also in the southeastern city of Dawei and in the Kachin state capital in the far north, the massive crowds reflecting a rejection of military rule by diverse ethnic groups, even those who have been critical of Aung San Suu Kyi and accused her government of neglecting minorities.

Rallies over the weekend were largely peaceful, but local media reported that in the southeastern city of Myawaddy, police fired warning shots in the air to disperse a group of protesters.