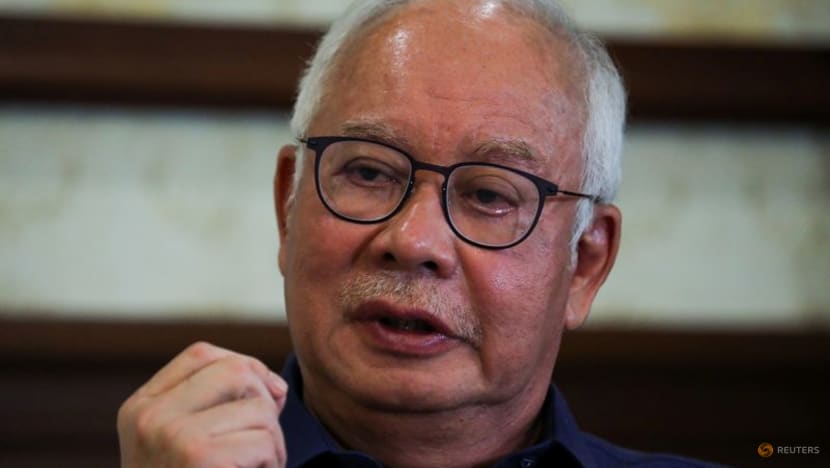 KUALA LUMPUR: Malaysia's Court of Appeal on Monday (Oct 18) granted a request from former prime minister Najib Razak, who was convicted on graft charges last year, to temporarily release his passport so he can attend the birth of his grandchild in Singapore, a prosecutor said.
Najib was sentenced in July 2020 to 12 years' jail for corruption and money laundering in a case linked to a multibillion-dollar scandal at now-defunct state fund 1Malaysia Development Berhad (1MDB). He has denied wrongdoing and is out on bail pending an appeal.
The court on Monday allowed Najib to retrieve his passport from Oct 20 to Nov 22 so that he could be with his daughter who is expected to give birth in Singapore next month, media reported.

"The court finds the reason given for the application as reasonable. The court allows this application and the passport will be returned (to Najib)," said one of the judges, according to Bernama. 
A lower court last week granted a similar request from Najib's wife, Rosmah Mansor, who is also facing graft charges.
When asked about the expiry date of the former prime minister's passport, his lawyer replied that Najib had not seen his passport for some time but it was expected to expire soon.
Najib's lawyer said his client needed his passport earlier to enable him to renew it before leaving for Singapore on Nov 3 as he also needs to complete the debate on Budget 2022 on Nov 2, Bernama reported.
"He will fly on Nov 3, and he needs to be under self-quarantine for 10 days in Singapore. He will return to Kuala Lumpur on Nov 20. The passport will be returned to court by me or my lawyers on Nov 22 as my client would be under self-quarantine once he returns from Singapore," he said.
According to Bernama, Najib said that his daughter Nooryana Najwa, who is living in Singapore with her husband and four-year-old daughter, has no other family members there to support her through the pregnancy until delivery.
Najib said it is his responsibility as a father to ensure that she is well cared for as she had serious complications during the birth of her first child.
Najib was voted out in 2018 amid public anger over allegations that more than US$4.5 billion was misappropriated from 1MDB, a state fund he helped establish in 2009, and that he had received some of the stolen funds.
Dozens of charges were filed against Najib and Rosmah following the election, after police raids found millions of dollars worth of cash, jewellery and luxury handbags in the couple's homes. Rosmah has pleaded not guilty and remains on trial.
Travel bans were also imposed on the pair, though it is unclear whether they have since been lifted.
Najib has said the charges against him were politically motivated and that he was misled on the source of the funds transferred into his accounts.
At least six countries, including Singapore, have opened criminal probes into 1MDB.
Source: Reuters/Bernama/ng