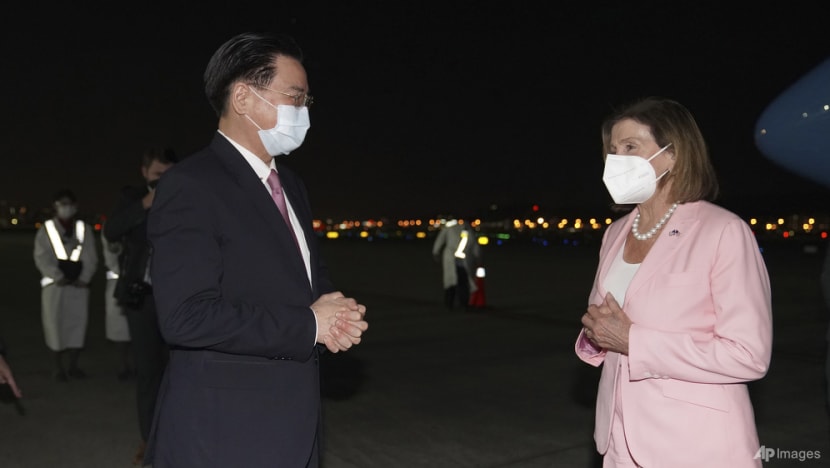 China on Tuesday (Aug 2) slammed the United States' actions in Taiwan as "extremely dangerous", after US House Speaker Nancy Pelosi arrived on the island for a visit that has inflamed tensions between the superpowers.
"The United States, for its part, has been attempting to use Taiwan to contain China," Beijing's foreign ministry said in a statement. 
"It constantly distorts, obscures and hollows out the 'One China' principle, steps up its official exchanges with Taiwan, and emboldens 'Taiwan independence' separatist activities. These moves, like playing with fire, are extremely dangerous. Those who play with fire will perish by it."
The statement called Taiwan an "inalienable part of China's territory".
China said that the United States "should stop its acts of saying one thing but doing the opposite on the Taiwan question".
Pelosi's visit is the highest-profile visit by a US official to the island in 25 years. She flew in on a US military aircraft into Taipei's Songshan Airport and was greeted by Taiwan's foreign minister Joseph Wu.
She said the US delegation's visit to Taiwan "honours America's unwavering commitment to supporting Taiwan's vibrant democracy".
China's foreign ministry said Pelosi's visit is a "serious violation of the one-China principle and the provisions of the three China-US joint communiqués".
"It has a severe impact on the political foundation of China-US relations, and seriously infringes upon China's sovereignty and territorial integrity," it added.
"It gravely undermines peace and stability across the Taiwan Strait, and sends a seriously wrong signal to the separatist forces for 'Taiwan independence'. China firmly opposes and sternly condemns this, and has made serious démarche and strong protest to the United States."
Pelosi said her visit to Taiwan was completely in line with longstanding US policy on Taiwan. 
The visit is part of a broader trip to the Indo-Pacific region including Singapore, Malaysia, South Korea and Japan, she said in a statement shortly after landing.
"Our discussions with Taiwan leadership will focus on reaffirming our support for our partner and on promoting our shared interests, including advancing a free and open Indo-Pacific region.
"America's solidarity with the 23 million people of Taiwan is more important today than ever, as the world faces a choice between autocracy and democracy," she said.