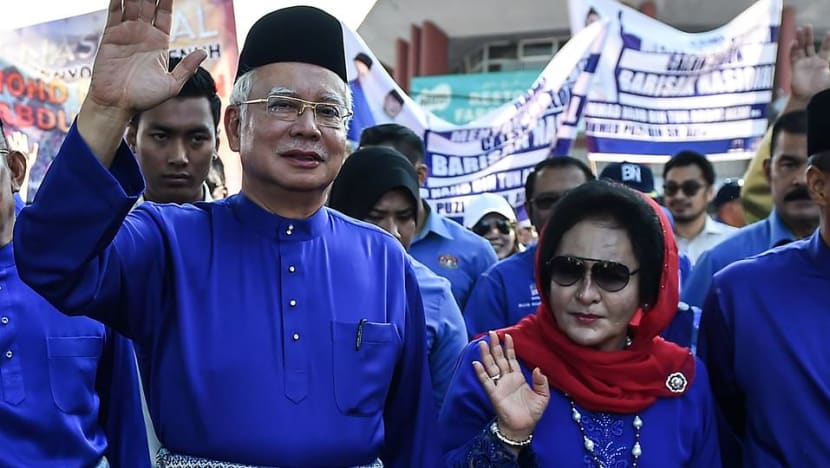 SEREMBAN, Negeri Sembilan: The Negeri Sembilan palace on Friday (Oct 26) stripped former prime minister Najib Razak and his wife Rosmah Mansor of their Datuk Seri titles.
Najib was conferred the award which carries title in 2005 while Rosmah was awarded in 2006. Both titles were withdrawn with immediate effect, said State Registrar of Awards Dr Razali Ab Malik.
"The decision is aimed at safeguarding the honour of the Negeri Sembilan royal institution," Dr Razali said in a statement.
Dr Razali added that the revocation of the titles was decided during a special meeting of the Negeri Sembilan awards and medals conferment.
However, it is understood that Najib still holds Datuk Seri titles from other states, including Pahang, Melaka, Sabah, Sarawak, Penang, Kelantan, Kedah and Perlis, the Star reported.
Rosmah is also understood to still hold Datuk Seri titles from Pahang, Melaka, Sabah, Sarawak, Kedah and Selangor, the Star added.
Najib and Rosmah have both been charged with multiple counts of offences by Malaysia's anti-graft agency.
Rosmah, 66, faces 17 charges, including receiving proceeds of illegal activities as well as failure to declare income tax. She has pleaded not guilty to the charges.
Najib faces 38 charges ranging from money laundering to abuse of power and criminal breach of trust.
Rosmah and her two sons were called in on Friday to give their statements at the police's anti-money laundering unit.