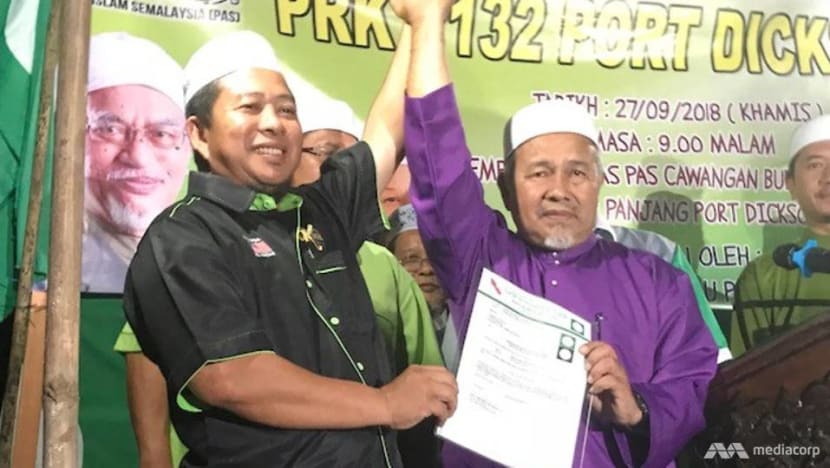 PASIR PANJANG, Negeri Sembilan: Parti Islam Se-Malaysia (PAS) unveiled armed forces veteran Mohd Nazari Haji Mokhtar as its candidate to challenge Anwar Ibrahim at next month's Port Dickson by-election. 

The announcement was made by PAS deputy president Tuan Ibrahim Tuan Man on Thursday night (Sep 27) at a political gathering in Kampong Bukit Tembok, Negeri Sembilan in front of hundreds of supporters. 

Nomination Day for the poll is on Saturday with the by-election set for Oct 13. 

Mohd Nazari, 57, is a former lieutenant colonel who served with Malaysia's air force for 28 years before his retirement in 2008. 

Originally from Batu Pahat in Johor, Mohd Nazari trained as a cadet officer at Port Dickson's Sebatang Karah base when he first joined the army. 

The Port Dickson parliamentary seat was vacated in September by Parti Keadilan Rakyat's (PKR)'s Danyal Balagopal Abdullah, who resigned to pave the way for Anwar to contest the seat and re-enter parliament. 

Malaysia's National Patriots Association (Patriot), an organisation made up of armed forces veterans and retired police officers, has expressed their unhappiness over the manner of Danyal's resignation. 
Danyal was a retired naval officer who fought for issues related to the military, as well as for the welfare of veterans and retired police personnel.

Mohd Nazari, in a press conference with reporters on Thursday, pledged that he would represent the needs of Patriot members if elected as MP for Port Dickson.

"Many of voters in this constituency are army personnel or army veterans," said the businessman who now owns a Musang King durian plantation. 
"As a former military man, I feel close to them and I will fight for their welfare."

Barisan Nasional (BN) chairman Ahmad Zahid Hamidi announced on Monday that the coalition is boycotting the by-election in protest at the way the seat is being vacated to fulfil the political aspirations of Anwar. 

But Tuan Ibrahim expressed hope that supporters from UMNO, which is BN's largest component party, will lend their support to Mohd Nazari for this upcoming by-election. 

"UMNO said they will not be sending personnel here to Port Dickson to campaign," he said. 
"But we hope that UMNO members here in Negeri Sembilan, who represent the voice of the opposition, will vote for PAS in this by-election."

Besides Anwar and Mohd Nazari, former UMNO Teluk Kemang chief Isa Abdul Samad as well as 51-year-old Stevie Chan have announced their intentions to contest as independent candidates.