Philippine fishermen hope to fish freely at China-guarded Scarborough Shoal, as President Marcos visits Beijing
Filipino fishermen say that Chinese coast guard ships have been guarding access to the resource-rich Scarborough Shoal, at times barring their entry or cutting their fishing lines.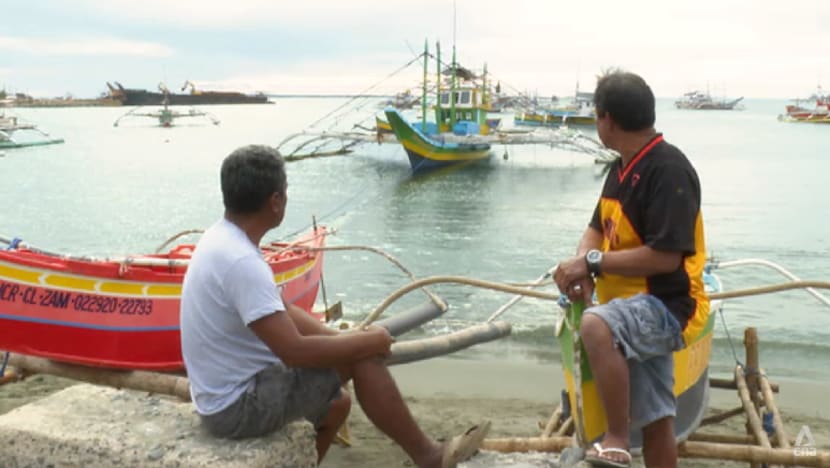 INFANTA, Pangasinan: Philippine fishermen battered by years of territorial disputes in the South China Sea are hoping for full access to a resource-rich lagoon that they say is guarded by the China Coast Guard, as President Ferdinand Marcos Jr kicks off his three-day visit to China.
"I just wish we could freely fish in Scarborough with no one shooing us away," Filipino fisherman Marvin Mayo said in the vernacular, referring to the Scarborough Shoal in the South China Sea.
"I also wish that none would drive us out each time we seek sanctuary in Scarborough when there is bad weather," he added.
The rocks in the 150 sq km shoal serve as a barrier to strong waves, and are claimed by both the Philippines and China.
In his first state visit outside Southeast Asia, President Marcos headed to Beijing on Tuesday (Jan 3) aiming to bolster trade and bilateral ties.
He will meet Chinese President Xi Jinping and other high-ranking officials, and discuss areas of cooperation, including agriculture, renewable energy, infrastructure, and tourism.
Among a number of agreements that the Philippines hopes to sign with Beijing is one aimed at preventing miscommunication over disputed waters in the South China Sea – a move that could cool tensions over the thorniest issue between the two countries. 
The two sides have repeatedly clashed over China's activities in the South China Sea, including Beijing's claims of sovereignty over much of the area's islands and waters.
However, President Marcos faces a "hard balancing act" with Beijing, especially on maritime issues, said Mr Victor Andres Manhit, managing director of strategic advisory firm BowerGroupAsia.
"Marcos needs to be consistent with the policy positions that he has made that he would always assert (the Philippines') territorial integrity and defend its maritime rights," Mr Manhit told CNA938 on Tuesday.
"That would be challenging," he added, saying he expects Beijing to continue to toe "a hard line" on claims that the disputed areas are part of its territory.
 
The Scarborough Shoal, a triangle of reefs and rocks, was the site of a tense standoff between the Philippines and China in 2012.
The standoff led to the Philippines filing a suit before an arbitral tribunal, which ruled in 2016 that China's encompassing of the nine-dash line claim was invalid.
It also ruled that the shoal, which is rich in marine resources, is a common fishing ground for artisanal and small-scale fishermen.
Despite the international panel's ruling, China's Coast Guard still controls access to Scarborough's prized inner lagoon known for its bountiful catches.
FISHERMEN NAVIGATE TRICKY WATERS
Artisanal Filipino deep sea fishermen told CNA that Chinese ships guard the opening of the rich lagoon and block the access of their mother vessels.
They are only allowed to bring smaller boats into the lagoon to fish, while the Chinese have two large ships watching over the area.
The Filipinos use vessels called motherships or base ships to ferry their smaller boats to waters near the lagoon, before making the rest of the journey in the small boats.
Filipino fisherman Joseph Daruca, 51, said each small boat takes about three hours and four litres of diesel to travel each way between the lagoon and the mothership, leading to increased costs on top of other challenges.
He added that they make round trips from the lagoon to their base ship every two to four hours and take turns to have a meal or rest.
"It is better if they (China Coast Guard) are not there, so our mothership can enter (the lagoon) and we won't waste diesel. We travel 15 miles (24km) each time we go back to the ship. Such a waste," Mr Daruca said.
Mr Daruca started fishing in Scarborough in 1990.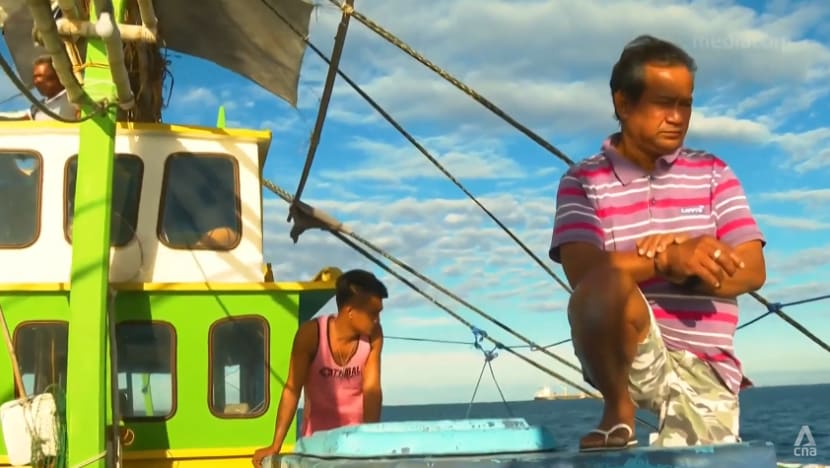 Apart from fishing, the shoal also used to provide sanctuary for fishermen when the seas got too rough. Since the spat, Filipino fishermen said Chinese coast guard personnel patrolling the shoal have blocked their access.
"You can no longer hide there (in the lagoon) during bad weather. You cannot go inside. We just stay further south with the northeast monsoon now. It's hard. If the wind is strong, we go to the other side. It's no longer our safe place," said Mr Mayo.
Still, many in the coastal community of Cato, in Infanta municipality in Pangasinan province, said they make the 18-hour trips to the contested shoal despite the costs and dangers, as marine life in the deep sea is richer compared to the catch within the 15km municipal waters.
GRADUAL CALMER WATERS
Conditions have gradually improved since the standoff in 2012, the fishermen said. Until 2016, Chinese personnel used to take their catch from them, they said. They have also experienced Chinese-manned rubber boats blocking their way.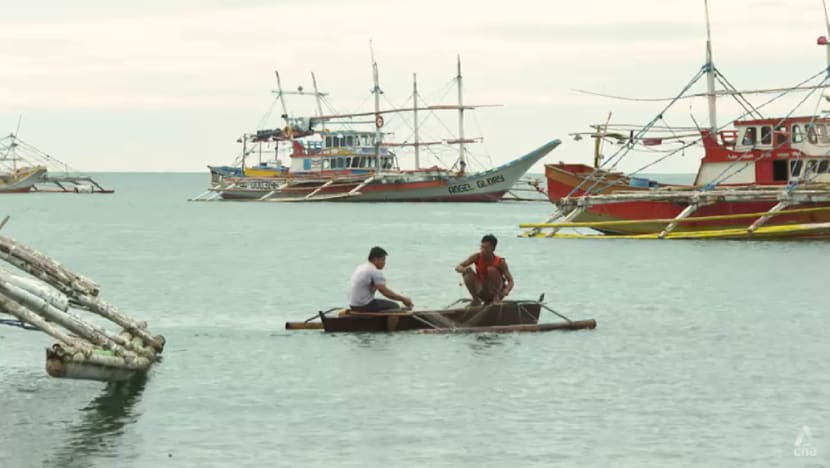 These days, the Chinese personnel are friendlier, with some exceptions, the fishermen said, adding that some Chinese now even know how to speak in broken Filipino.
Filipino fishermen said they now mainly worry about their smaller boats being barred from entering the lagoon or their fishing lines being cut.
"We spend huge money (buying raw materials), (but) they (the Chinese) are cutting our fishing lines. When you get back to your fishing line, it's no longer there... Of course, we can't do anything. That's a coast guard we're dealing with," said Mr Mayo.
"They (Filipino fishermen) would just go home without their fishing lines and hooks. Wiped out. They will need to make new ones," he added.
Still, Mr Mayo said he is not against having coast guards in the area, as there are benefits.
"It's better to have watchers there. Before, when it was open, there were (illegal) forms of fishing using blasts or dynamite and sodium cyanide. Of course, these destroy the corals. Now, with the guards there, only the fishing lines and nets are used," said Mr Mayo.
HOLISTIC STRATEGY NEEDED
Aside from Scarborough, another disputed maritime territory is the Spratly Islands, where the Philippine-occupied Thitu Island, also known as Pagasa Island, is located.
Analyst Lucio B Pitlo III said a holistic strategy is needed to assert sovereignty over the West Philippine Sea, which is what the Philippines calls its territory in the larger South China Sea.
He said: "More than filing diplomatic protests and citing the United Nations Convention on the Law of the Sea (UNCLOS) and the 2016 arbitral award, which we (the Philippines) massively won back in 2016, I think there are efforts that we should be pursuing that will also support our peaceful exercise of jurisdiction over the West Philippine Sea."
"This would include reinforcing our civilian defensive infrastructure in our administered features in the Kalayaan Island group or the Spratlys," added Mr Pitlo, a research fellow from think-tank Asia Pacific Pathways to Progress Foundation.
He suggested turning Pagasa Island, the seat of the Philippines' administration in the Kalayaan, into a logistics hub to reduce the turnaround time to resupply other outposts and provide support and security to fishermen relying on the crucial waterway.
The Philippines' long-time ally, the United States, has committed to come to its aid should its maritime assets come under attack.
"As the competition between major powers intensifies, the room for manoeuvre for small states like the Philippines will increasingly diminish. So it's very important that the Philippines strive to diversify its foreign policy, reach out to more partners," said Mr Pitlo.
As state leaders try to navigate the maritime dispute, fishermen like Mr Daruca and Mr Mayo are preparing for their next trip to Scarborough. They said that for coastal communities whose livelihoods depend on the sea, their wishes are simple: Freedom to fish where international law says they can.