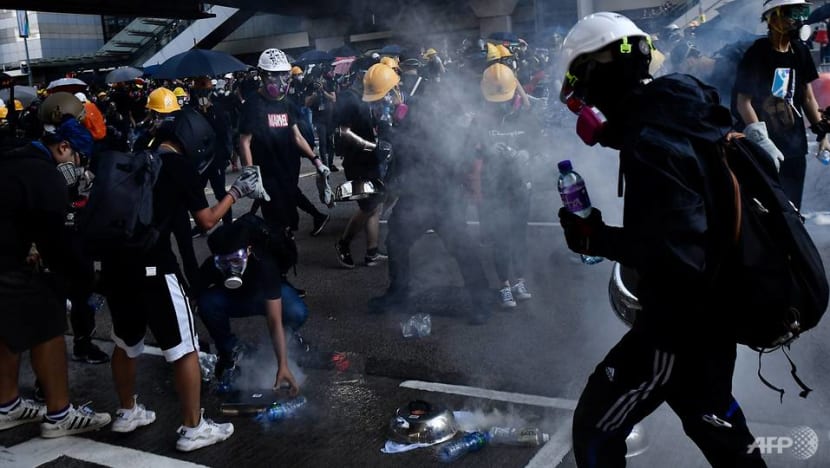 HONG KONG: Riot police fired tear gas and rubber bullets in several locations across Hong Kong in fresh clashes with protesters on Monday afternoon (Aug 5), after a general strike brought parts of the city to a standstill. 
As night fell, thousands of demonstrators blocked roads in several districts. 
Protesters also surrounded police stations, throwing "igniting objects" and "hard objects" at the buildings and damaging the premises, the Hong Kong government said.
"A large group of protesters are blocking roads extensively and setting fire to miscellaneous objects, posing a serious threat to the safety of road users at (the) scene," the government added in a statement at about 8.35pm.

Evening clashes broke out in North Point, a neighbourhood where many Chinese migrants live and is known for its strong Beijing ties.

A group of men armed with long sticks were seen chasing and beating protesters, who threw traffic cones and barricades in return.

Demonstrators had earlier fanned out across several districts, where protests again degenerated into running clashes with riot police.

They held seven simultaneous rallies, stretching the resources of police who have become lightning rods for public anger.
Tear gas was fired in at least four separate locations, with the most sustained volleys outside the city's parliament, making Monday's clashes the most geographically spread out so far.
Police said they fired tear gas to disperse a large group of protesters who were gathering in the Admiralty area, blocking carriageways near Central Government Complex, Harcourt Road and vandalising the Central Government Complex.

Protesters hurled umbrellas and other items at police in the residential district of Wong Tai Sin, where officers responded with pepper spray. 
Wong Tai Sin, known for its famous Taoist temple, was where local residents and protesters had previously fought with police over the weekend. Police also fired tear gas in Tin Shui Wai district, as tension flared.

In an update on Twitter, the Hong Kong police said that a large number of demonstrators have gathered at Lung Cheung Road and Wong Tai Sin to block roads and throw debris at police officers.
The police said that they had repeatedly warned the demonstrators to stop the "illegal acts" and used tear gas and the "least force" to disperse the crowd.
Members of the public were also advised to leave the area and residents in the vicinity were urged to stay indoors and close their windows. 
In a separate news release, the Hong Kong government said that a large group of protesters had also surrounded the Tin Shui Wai Police Station, "hurling stones" at police officers and posing a serious safety threat to members of the public.
"After repeated and futile warnings, in face of the situation, police deployed tear gas and minimum force to disperse protesters outside the Tin Shui Wai Police Station," the statement said. 

Fifteen roads and three tunnels - Cross-Harbour Tunnel, Lion Rock Tunnel and Eastern Harbour Tunnel - were also blocked.

Eight MTR lines have been seriously affected, according to updates. They include the Airport Express, Tseung Kwan O Line, Tseung Wan Line, Kwun Tong Line, Tung Chung Line, Island Line, East Rail Line and West Rail Line.
In an upmarket shopping mall in Sha Tin, scores of shops were shuttered, including clothing retailer H&M as well as luxury brands Chanel and Dior.
Protesters in the shopping centre chanted: "Strike! Support to the end."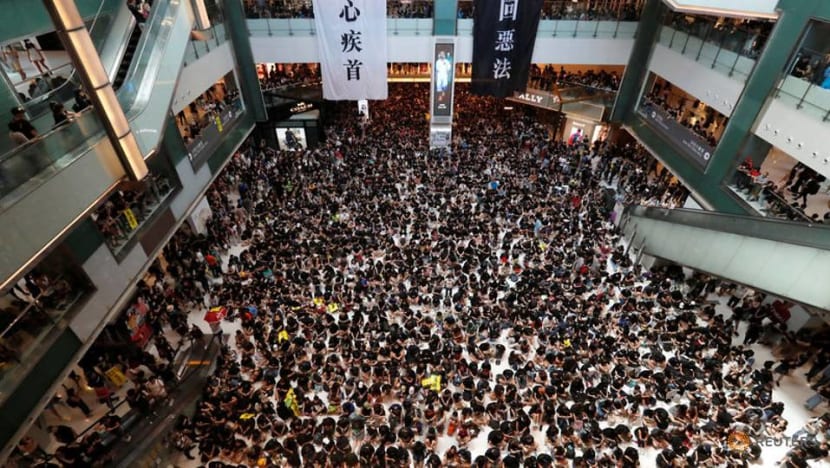 Many stores in the bustling shopping district of Causeway Bay were closed as well as businesses close to the protests.

The demonstrations on Monday mark a third consecutive day of clashes between riot police and pro-democracy protesters in the city, amid rising public unrest. 

In a briefing that highlighted the longevity of the protests, police said they had fired more than 1,000 rounds of tear gas and 160 rubber bullets since rallies began on Jun 9, with 420 people arrested and 139 officers injured so far.
But the protesters remain unbowed.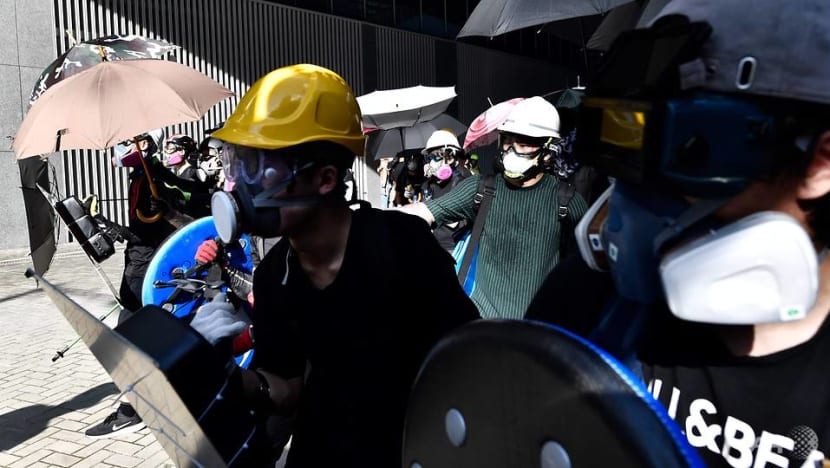 Earlier on Monday, commuters in Hong Kong struggled to get to work amid transport chaos as pro-democracy protesters launched an attempted city-wide strike to ramp up pressure on the financial hub's embattled leaders.
One video, verified by AFP, showed a car smashing its way through a protester roadblock in the northern town of Yuen Long.

Activists descended on key Mass Transit Railway (MTR) stations during the morning rush hour, deliberately keeping open doors to stop trains departing, causing long queues and triggering occasional scuffles between angry commuters and protesters.
The strike - a rare occurrence in a freewheeling finance hub where unions traditionally have little sway - hit the vital aviation sector.
More than 160 flights at the city's airport - one of the world's busiest - were listed as cancelled on Monday afternoon. Many disrupted flights were with Cathay Pacific.
Earlier, in a rare public appearance since the crisis began, chief executive Carrie Lam warned protesters she would not cave to their demands.
"(They) have seriously undermined Hong Kong's law and order and are pushing our city, the city that we all love and many of us helped to build, to the verge of a very dangerous situation," Lam said.
"I dare say they are trying to destroy Hong Kong."
China's cabinet-level State Council said it planned to hold a press conference on Tuesday.

Source: AGENCIES/cna/zl(hm)