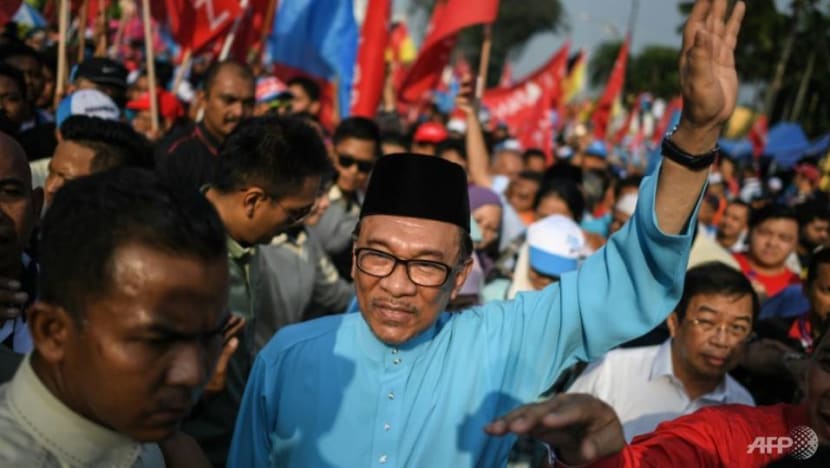 PORT DICKSON, Negeri Sembilan: Promises made by Pakatan Harapan (PH) candidate Anwar Ibrahim during his campaign in the Port Dickson parliamentary by-election do not violate election rules, the People's Justice Party (PKR) said on Tuesday (Oct 9).
This comes after independent candidate Stevie Chan Keng Leong lodged a police report claiming that the PKR president-elect had violated the Election Offences Act 1954 by promising major projects and aid during the election campaign.
Announcements by Anwar on projects and the offer of free tuition were not forms of bribery, PKR communications director Ahmad Fahmi Mohamed Fadzil told reporters.
"A police report has been made by an independent candidate questioning whether Anwar can announce projects to be implemented in Port Dickson and the offer of free tuition," he said.
"As far as I know, in the case of bribes, there must be strong evidence that a person has received a sum of money and this has made him or her change the decision to vote for certain individuals."
Ahmad Fahmi said that the promise was not directed specifically at any individual, and that all the people of Port Dickson would benefit and they could also reject the assistance.
Anwar had previously said at several talks during his campaign that he would bring major investments to Port Dickson should he win the by-election. Last week, he also launched a free online tuition programme for primary pupils and secondary students in Port Dickson.
The seven-cornered contest is set for Oct 13, and is the fourth by-election after the May 9 general election. 

VOTER SEEKS COURT DECLARATION THAT ANWAR NOT QUALIFIED TO CONTEST
Meanwhile, the Attorney-General's Chambers on Tuesday submitted a preliminary objection against an originating summons by a Port Dickson voter regarding Anwar's eligibility to contest the by-election.
Senior federal counsel Suzana Atan, acting for the Federal Territories Pardons Board named as the second respondent in the originating summons, said the objection was submitted on grounds that the court has no power to hear the voter's originating summons as any dispute involving elections must be filed through an election petition.
"As such, the court set Nov 8 to hear the preliminary objection," she said.
Voter Noraziah Mohd Shariff had filed an originating summons on Sep 28 seeking a declaration that Anwar is not qualified to contest any parliamentary seat until his disqualification period is over.
In her supporting affidavit, the woman said Article 48 (1) (e) of the Federal Constitution stated that someone who has been convicted of an offence and sentenced to jail for a term of more than a year and fined not less that RM2,000 is disqualified from being a member of parliament.
She said Anwar was released from prison on May 16 this year after receiving a royal pardon for the criminal offence which disqualified him from being a member of parliament.
However, in granting a full pardon to Anwar, she said, Malaysia's king did not remove Anwar's disqualification from being a member of parliament.

She also claimed that the pardons board, which was set up to advise the king on matters pertaining to Anwar's pardon, was not formed in accordance with the Federal Constitution.
Anwar filed an application to strike out the summons by Noraziah on Monday.