Pregnant mums in Indonesia face health risks, anxiety amid cases of maternal deaths linked to COVID-19
JAKARTA: Afrizal and Iftiyah were high school sweethearts. 
After they graduated from Yogyakarta's Gadjah Mada University, they tied the knot in 2019.
A rosy future awaited them as Mr Afrizal secured a job in the energy industry, and they moved to Bekasi on the outskirts of Indonesia's capital Jakarta.
Everything seemed to go well, especially since they were expecting their first child this year.
But a turn of fate left 27-year-old Mr Afrizal grief-stricken.
As his wife wanted to deliver the baby in her hometown, she travelled to Yogyakarta before the Idul Fitri holiday in May to be with her parents.
Mr Afrizal, who only wanted to be identified by his first name, also travelled to Yogyakarta to spend the festival with them.
In early June, both of them tested positive for COVID-19.
Mr Afrizal barely displayed symptoms and recovered after self-isolating for 10 days.
But 30-week pregnant Mdm Iftiyah had a persistent fever and subsequently suffered from breathlessness.
Due to limited medical resources, she was treated at three different hospitals. The doctors at the third facility eventually decided to perform a Caesarean delivery on Jul 11.
After the C-section, 25-year-old Mdm Iftiyah showed improvements and was even able to communicate with her husband. 
"Her fight to live was incredible. But on Jul 22, at 2pm, the ward staff called. I started to feel there was something wrong. I immediately went to the hospital.
"I was told that she experienced respiratory failure and her heart had stopped beating despite being shocked twice. She was pronounced dead," Mr Afrizal recounted to CNA.
As Indonesia struggles to contain the second wave of COVID-19 infections, the number of maternal deaths caused by the virus is rising, said experts. This has led to more health risks as well as anxiety for those who are with child.
According to the Indonesian Obstetrics and Gynaecology Association (POGI), at least 536 maternal deaths due to the coronavirus have been recorded in Indonesia since the pandemic began. This is about 18 per cent of Indonesia's maternal deaths currently.
"There is clearly an increase in maternal deaths, and we know that the Delta variant which has been spreading in Indonesia is very contagious," said Dr Ari Kusuma Januarto, head of POGI.
"And we also know that pregnant women are vulnerable."
Dr Januarto said that between January and May, they tested about 15,000 pregnant women in Jakarta. Out of this, 1,600 tested positive.
He said that one out of nine pregnant women who had COVID-19 displayed severe symptoms. 
As of Saturday (Aug 14), the country has more than 115,000 deaths and more than 3.8 million infections.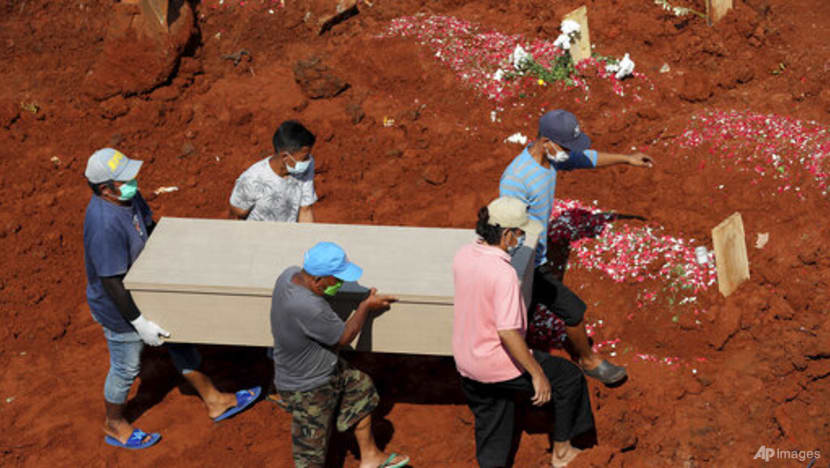 "I FEEL ANXIOUS AND SAD"
For some who are pregnant, feelings of anxieties and hopelessness can become more acute as the pandemic drags on. 
Jakartan Dita, who only wanted to be known by her nickname, has heard about the increasing maternal mortality.
The 37-year-old is in her second semester, and she describes herself as being very paranoid.
"I mostly feel anxious and also sad as many in my nearest environment have contracted COVID-19 and died from it.
"I am also angry because many people are still ignorant, they don't believe COVID-19 exists, and don't want to be vaccinated," she told CNA.
She said that 11 people in her family had contracted COVID-19, with two of them passing away. This made it an especially stressful time for her, she said.
All 11 of them tested positive in early July, though they lived in different places including Jakarta, Bekasi as well as Banyumas, Central Java which is her mother's hometown.
Mdm Dita felt very upset when she learnt that they were ill but she couldn't do much to help them.
To protect herself, she stayed at home as much as possible while pursuing hobbies in her free time to keep herself calm.
She also discussed with her doctor where she might be able to give birth if she tested positive.
Mdm Valda Wibowo, 27, who is 31-week pregnant, is also concerned about the growing maternal mortality issue.
She lost an acquaintance who was seven months pregnant with triplets. None of them could be saved. 
"Honestly, I'm getting more and more scared. At the beginning of the pregnancy, I felt normal because COVID-19 was not raging as it is now.
"But when entering the final trimester of my pregnancy, the COVID-19 cases began to increase and more vicious variants started to emerge, plus there was a lot of news that many pregnant women who were positive for COVID-19 died with the baby they were carrying."
These days, she barely leaves her East Jakarta home and only ventures out for her pregnancy check ups or to do groceries twice a month.
This worrisome period came just as health and humanitarian organisation Project HOPE claimed that maternal deaths in parts of Indonesia in June and July alone have surpassed last year's total.
In Central Java's regencies of Grobogan and Banyumas, the hometown of Mdm Dita's mother, there have been at least 85 maternal deaths this year, double the figure in 2020, according to Project HOPE. Nearly 70 per cent of them died due to COVID-19 this year, it said.
"It is extremely troubling, and a significant reminder that we cannot let up on safety and control measures as cases drop," said Project HOPE's Executive Director for Indonesia Edhie Rahmat.
He said that Project HOPE is concerned that the increase in maternal deaths may also occur in other districts. "We know that many pregnant women in Indonesia also suffer from chronic malnutrition and anemia," he added.
Dr Januarto of POGI noted that 40 per cent of pregnant women in Indonesia suffer from anemia. He also said that 21 per cent of pregnant women are obese while 15 per cent suffer from hypertension. "So clearly, all these affect the pregnancy," he said.
A pregnant woman who contracts COVID-19 and suffers from inflammation affecting her lungs may have to deliver a premature birth to save herself and the fetus, he said.
Additionally, the new mother and child would require treatment in an intensive care unit (ICU). But many ICUs are currently full. 
"This is also why the maternal mortality rate has increased," Dr Januarto said.
"I have known cases where some pregnant women are dead on arrival (at the hospital) because they struggled to find a hospital, fainted while on the way to a hospital … and just died."
There are also cases where the pregnancy must be aborted to save the mother, he noted.
VACCINATION DRIVE FOR PREGNANT WOMEN
How can more of such cases be prevented?
Dr Januarto urged the government to add more beds and hospitals specifically for pregnant women and infants.
He also said it may be a good idea to hold off pregnancy planning during the pandemic.
Previously, pregnant women in Indonesia were not allowed to be vaccinated but on Aug 2, the health ministry approved COVID-19 vaccination for them with immediate effect.
It is advised that the first dose is given in the second trimester, and they can be jabbed with vaccines based on inactivated viruses like Sinovac as well as mRNA based ones such as Moderna and Pfizer.
Other requirements include the fetus being at least 42 g and 9 cm long, said the government's spokesperson for COVID-19 Dr Reisa Broto Asmoro.
"The bones and skull should also be hard enough and the hearing ability and brain development well enough," she said during a press conference on Aug 4.
Mdm Dita looks forward to being vaccinated as she noticed that her relatives who contracted COVID-19 but displayed light symptoms were all vaccinated, while those who died were not.
She believes it will give her better protection.
Mr Afrizal shares the same view. "I think vaccination would be very, very effective ... although it is not a guarantee that a person won't contract COVID-19."
He hopes nobody needs to go through what he has experienced. He said that he is very affected and unable to concentrate fully at work. 
"For the time-being I am separated from her (his baby in Yogyakarta) because I have to go back to work and I now live alone. Without my wife, there is no one who can take care of her."