Protesters block departure hall at Hong Kong airport day after rally led to mass flight cancellations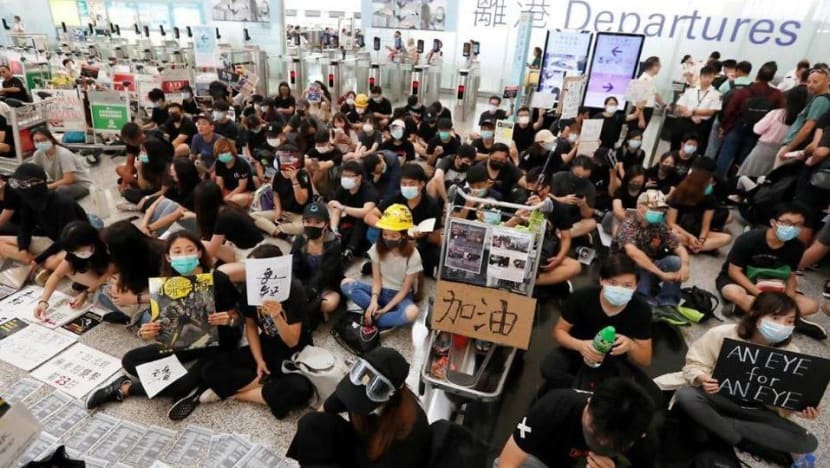 They took their sit-in to the departure hall, blocking the entrance to the check-in counters, as well as the departure hall at the airport.
In both terminals, protesters blocked the entrances to the departure area, though several dozen passengers were able to push through.
The protests "seriously disrupted" terminal operations, said the Hong Kong airport authority as it announced that all check-in services for departure have been suspended since 4.30pm local time.
"I support your cause ... but I need to see my family," a man shouted as protesters dressed in black surrounded him, preventing him from reaching the gates.
Some passengers said they had been told to check their bags in at Terminal 1 and then move to Terminal 2 to take-off, but when they arrived they found more protesters also blocking the way.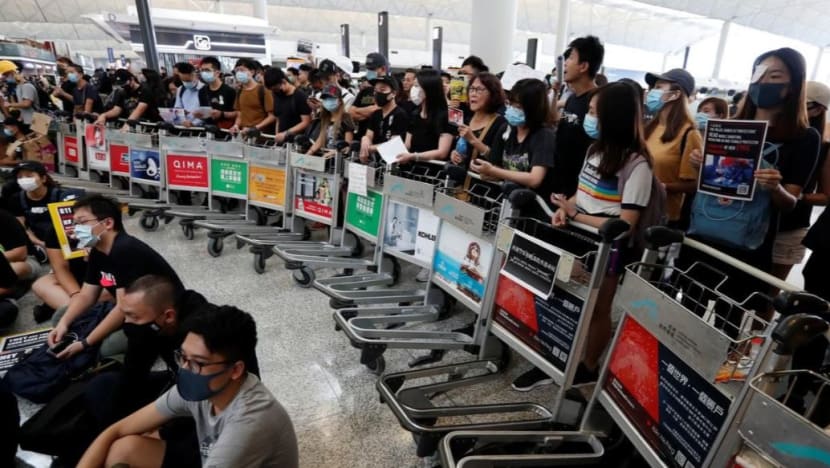 The demonstrators moved luggage trolleys to prevent passengers using an elevator or escalator leading down to the departure gates on the bottom floor of Terminal 2.
Then they formed a human chain, linking arm-in-arm to stop passengers from getting to the departures area.
A crowd of angry passengers, among them families with children, tried to push through without success.
"Come on you're being really selfish now," shouted one man.

Other stranded tourists expressed their frustrations by making their own posters. One poster read: "I don't have (a) home here."
Protesters were wearing the signature black of the movement that began in opposition to a now-suspended Bill that would allow extradition to mainland China, but has morphed into a broader call for democratic freedoms.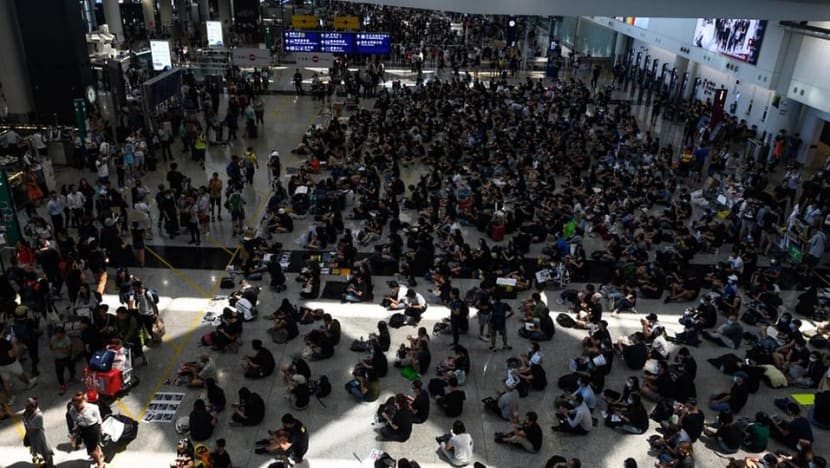 Operations resumed early Tuesday morning, but a massive backlog of cancelled flights meant many take-offs were being delayed or cancelled.

Flag carrier Cathay Pacific urged passengers to postpone non-essential travel on Tuesday and Wednesday.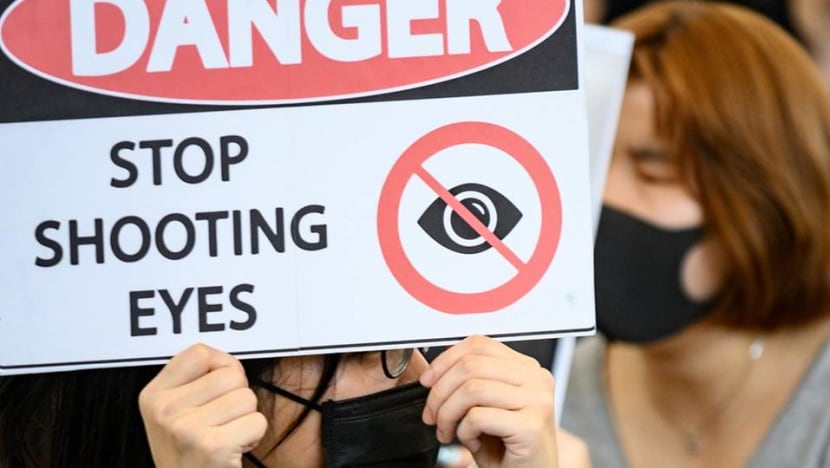 Unrest has roiled Hong Kong for 10 weeks this summer, as thousands of residents chafe at a perceived erosion of freedoms and autonomy under Chinese rule.

"Take a minute to look at our city, our home," Chief Executive Carrie Lam told a news conference at the government headquarters complex earlier in the day.

"Can we bear to push it into the abyss and see it smashed to pieces?" she added, her voice wavering.

On Monday China said the protests had reached a critical juncture, after a weekend of street clashes in which both police and protesters appeared to toughen their resolve.
Police fired tear gas at the black-shirted crowds in districts on Hong Kong island, Kowloon and the New Territories.
A senior Chinese official said "sprouts of terrorism" were emerging in Hong Kong, given instances of violent attacks against police officers.
Hong Kong legal experts say Beijing might be paving the way to use anti-terror laws to restrain the protesters.

Source: AGENCIES/cna/aa(hm)