RM70,000 for a 3-bedroom terrace house: Johor royal family comes up with 'affordable' housing project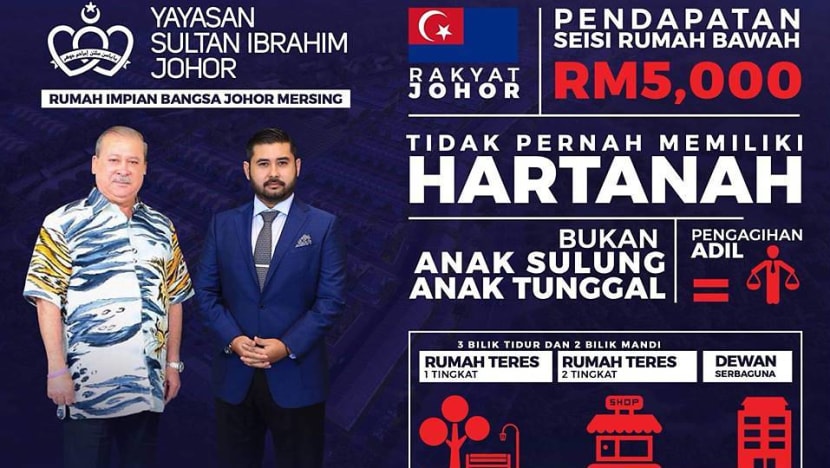 JOHOR BAHRU: The Johor royal family has come up with an "affordable" housing project - where a three-bedroom terrace house costs as little as RM70,000 (US$16,800).
The crown prince of Johor, Tunku Ismail Sultan Ibrahim, announced the scheme in a Facebook post on Sunday (Oct 21), saying it is an effort by the state's royal family to "ease the burden of the people". 
The non-profit project, called Rumah Impian Bangsa Johor, will offer single or double-storey terrace houses with three bedrooms and two bathrooms.
The price of a single-storey unit will start at RM70,000, while double-storey units will be below RM200,000.
To be eligible, applicants must be a Johorean, have never been a home owner, and must not be an eldest or only child, said the crown prince. 
The applicant's household income should also be below RM5,000. 
"His Majesty Sultan of Johor decrees for a fair distribution amongst Malays, Chinese and Indians," Tunku Ismail said, adding that the sultan intended to build a strong social spirit. 

The project will also include amenities such as a multi-purpose hall, a park, shops and a motel - all of which will be funded by the sultan and the crown prince. 
Tunku Ismail added that the selection process will be implemented with a computerised vetting system by Malaysia's economic affairs planning unit (UPEN). 
The selection committee will include the Secretary of State and board members from the Sultan Ibrahim Foundation.