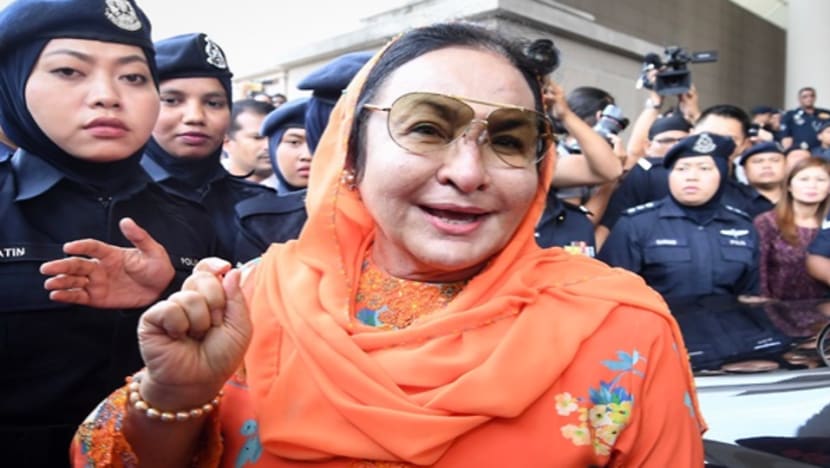 PUTRAJAYA: Malaysia will file additional charges against Rosmah Mansor, the wife of former Prime Minister Najib Razak, the anti-graft agency said on Wednesday (Nov 14), as authorities step up investigations into the former first couple.
Najib and his wife, Rosmah Mansor, who was for years criticised for her extravagant lifestyle, are at the centre of a wide-ranging graft investigation launched after a stunning election victory and return to power as prime minister in May by veteran leader Mahathir Mohamad.
Rosmah will face several charges on Thursday regarding solar power supply and installation projects in schools in the state of Sarawak, Malaysian Anti-Corruption Commission said in a statement.
Authorities did not say what the charges would be.
Rosmah spent almost four hours at the MACC on Wednesday giving her statement on a contract for the supply of solar energy to schools in Sarawak.
When asked if the charges related to her statements to MACC on Wednesday, her lawyer K Kumaraendran said "you will find out tomorrow in court", The Star reported.
"I do not want to take any questions. I can only confirm that my client will be charged in the Jalan Duta court tomorrow," Kumaraendran said.
Rosmah will be charged at 3pm, he added.
In June, reports emerged of suspected irregularities in the award of a RM2.5 billion contract for a solar energy supply project in Sarawak, alleging that a car rental company in Bintulu was given the contract in January 2017 to supply solar energy to 369 schools in the interior of the state.
The car rental company, Jepak Holdings, had no track record in the industry, the Malay Mail reported. 
Rosmah, 66, already faces 17 charges, including receiving proceeds of illegal activities as well as failure to declare income tax. She has pleaded not guilty to the charges.
Her husband Najib faces 38 charges ranging from money laundering to abuse of power and criminal breach of trust.