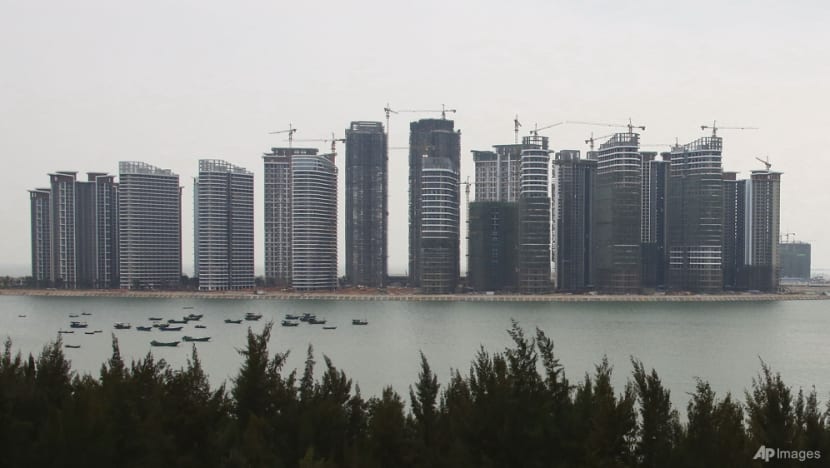 China's older generation invested considerable savings in property, buying up homes and flats that would hopefully appreciate over the years, but times are changing
While Chinese leaders still consider real estate to be a pillar of the nation's economy, investor confidence appears to be waning among members of Generation Z
Once a primary means of wealth accumulation for China's middle class, real estate is rapidly losing its appeal among the younger generation, and experts say the change highlights how the nation's rapid demographic shift has far-reaching implications.
Patrick Lu, 32, a lawyer in the southern metropolis of Guangzhou, is disinterested in investing in housing, unlike his parents who own a couple of two-bedroom apartments in the city.
"In the past, a majority of Chinese people - those born between the 1960s and 1980s - invested most of their income in the real estate market. The stock of houses is huge," said Lu, who is single and rents a flat with colleagues, close to their law firm. "But we no longer think like the older generation.
"We don't think the properties our parents leave us will be worth as much as they used to be, especially in lower-tier cities. That's the reality, whether you accept it or not. There will be fewer young buyers."
The demographic changes in China will have "increasingly significant repercussions" on the country's property market, as well as on the various social, economic and political sectors, and those repercussions will extend well beyond its shores, according to Joseph Chamie, a demographer and former director of the United Nations' Population Division.
"As has been the case in many other countries worldwide, the combination of demographic ageing and population decline typically translate into serious negative consequences for the property market," Chamie explained.
China's population growth started to slow in 2016, and the total population fell by 850,000 last year, to 1.4118 billion, marking the first drop in six decades. Many demographers warn that the trend is irreversible, and they say that effective fertility support measures are critically important to stem the tide.
The UN forecasts that China's population will drop to 1.313 billion by 2050, and to below 800 million by 2100. The working-age population, aged 15 to 64, stood at 882.22 million last year, but this total is expected to be more than halved by the end of the century.
The number of China's young adults, aged 25 to 39, is forecast to fall from 325 million to 220 million by 2050.
"It's just 27 years away. That's a fall of a third in the cohort of first-time property buyers," said George Magnus, a research associate with Oxford University's China Centre.
"This means that, while people always want more space to live in, and housing demand can respond well for a short time to credit creation or deregulation, for example, the underlying trends in the first-time population and in new household formation are unequivocally bearish for the property sector," Magnus said.
The number of newly married couples also dropped for eight straight years to 2021, and the 7.64 million marriages that year were a record low dating back to the earliest available data in 1985, according to China's Ministry of Civil Affairs. The peak came a decade ago, with almost 13.5 million marriages in 2013.
China's fertility rate has also plunged, from 2.6 births per woman in the late 1980s to 1.15 in 2021 - lower than 1.6 in the United States and 1.3 in Japan.
"The declines in Chinese getting married at young ages and having children are coupled with the country's declining and ageing population. China's once 'sizzling' property sector will likely become China's 'chilling' property sector. While that 'chilling' might not bring about a property market collapse, it could certainly become 'cold' for the property sector," Chamie said.
Li Feng, 37, who lives with her 75-year-old mother in the city of Suzhou located just west of Shanghai, has made it a priority this year to sell one of the two flats she owns.
"I don't think there will be enough demand supporting the bubbly property market," said Li, a bank manager.
"I'll live alone after my mother passes away. There's no need to keep a two-bedroom apartment," Li said, explaining that she is single and has no intention of getting married or having kids.
With around 1.8 million yuan (US$265,000) expected from the property sale, she plans to renovate the smaller flat, travel a bit each year and keep most of the rest in her savings account.
"I don't want to take the risk and worry about housing market fluctuations," she said. "So, selling is the best option."
Chinese authorities have loosened the reins on property developers' financing and have lifted restrictions on home purchases since last year, in a bid to prop up the beleaguered property sector amid fears of the devastating impact it could have on the already weakened economy.
China's economic tsar, Vice-Premier Liu He, has reiterated that the real estate sector is a pillar of the Chinese economy, as it accounts for 40 per cent of bank loans, half of local government revenue, and 60 per cent of Chinese household assets.
But without solid economic growth and residential income, a recovery of the property market will be limited, and the deepening demographic crisis may also tarnish investor confidence.
"While the property sector in China must shrink from its current oversized state, it would make a lot of sense if the income of the household sector were bolstered over time so that people could afford to upgrade housing space ... to compensate for other drags on demand. However, there is no sign that this is intended or desired," Magnus said.
Zheng Xiao, a 22-year-old university student in Shenzhen, said his parents, both of whom are private entrepreneurs, just sold a large 360sqm piece of housing for 18 million yuan in the city.
"My parents spent several months to finally close the deal, with a price far lower than what they had expected," Zheng said. "Young buyers don't seem to be interested in large homes because they come with considerable stress in paying the high mortgages, with high property taxes but low usage for small families."
Magnus expects the property market to find some support this year after the amount of sold floor space plunged last year, but he ruled out a complete recovery in the sector.
"I sense that the government must prevent a collapse, as such, in property because the middle class would be angry and badly affected - which is politically dangerous - but there's no question that the sector will be materially smaller as a share of [gross domestic product] in the years to come. What takes its place is, as of yet, unclear," he said.
Generation Z believes that striking a work-life balance is more important than accumulating wealth, Zheng said.
"Perhaps in the future we will see a lot of foreign labourers in China's services market," he said, noting how a similar situation has unfolded in Japan because of its ageing population.
Meanwhile, much of the money that Chinese people have invested into homes could become unrecoverable. "Many houses will become sunk costs, deserted in places where there are fewer and fewer young people," he predicted.
This article was first published on SCMP.
Source: South China Morning Post/rc