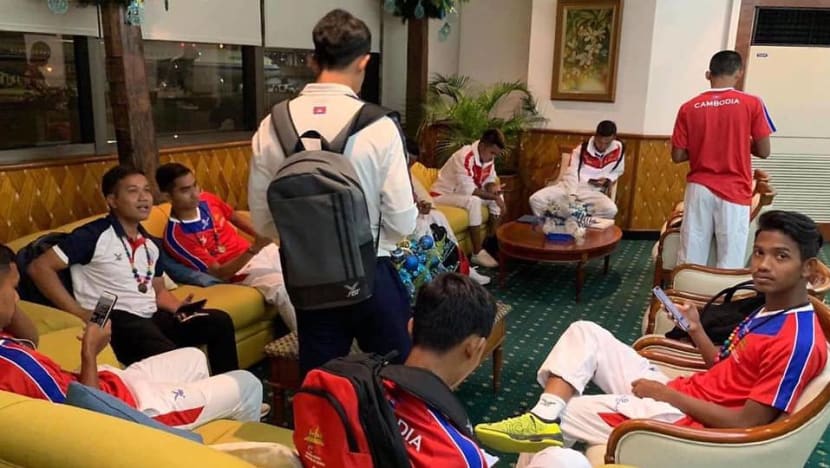 MANILA: Southeast Asian Games host the Philippines apologised on Sunday (Nov 24) after some arriving athletes were left stranded for hours at the airport or were driven to the wrong hotel, a logistical snafu that drew criticism just days before the competition starts.
Athletes have begun flying into Manila ahead of Saturday's opening, but for Cambodia and East Timor's football squads the arrival was not what they were expecting.

"We had to wait maybe like eight, nine hours to get our hotel," coach Felix Dalmas of Cambodia told a press conference Sunday, adding that they had also waited hours for the shuttle service.
Late on Sunday, one of the hotels hosting the athletes put out a statement that said one delegation arrived ahead of the 2pm check-in time that had been agreed with the organisers. 
"We were told that team members from Cambodia were coming in early on Nov 23, 2019 the night before. As much as we wanted to accommodate the request, it was not possible due to full occupancy," said Century Park Hotel Manila. 

"Standard check out is until noon. However, as early as 8.25am, some members were given an early check-in due to availability of rooms.

"As goodwill, we offered our function rooms to serve as their temporary holding area after their breakfast. We asked them if they needed more chairs but they declined, preferring the floors so they could lie down to rest. Lunch was also served to them accordingly."

"All nations deserve respect and what happened yesterday was not so beautiful," East Timor's coach Fabiano Flora told reporters.
The Philippines SEA Games organising committee offered an explanation of the hiccups, putting blame on a last-minute change in travel plans and the afternoon check-in time of the hotel.
"We sincerely apologise to our athlete guests ... for the inconvenience caused to them by the confusion," the committee said in a statement. "We ... vow to do better."
The games, the first hosted by the Philippines since 2005, are expected to draw thousands of athletes, journalists and dignitaries over their nearly two-week run.
Local athletes were also affected, as Philippine footballer Hali Long took to Facebook on Sunday to say that rooms were not ready even after 2pm at the hotel where her team was staying. 
"Rooms weren't ready yet, so we ate lunch while they fixed our rooms. Instead of 2 per room, we've adjusted to 4-5 per room," she wrote. 
"It's now 2.15pm and the rooms aren't ready. They moved us to a function room, so we wouldn't crowd the lobby for other arriving teams. 
"Sad that we're the host team and this is how we're being treated. I can't imagine how other countries must feel."
Smooth functioning logistics will be key to the success of the 56 sports spread across dozens of venues in and around Manila.
The hotel and pick up problems came as organisers were already under fire over a nearly US$1 million cauldron that will hold the games' flame.
Critics said the money it cost to build the 50-metre cauldron at the main stadium in Clark, north of Manila, would have been better spent helping the nation's children and poor.