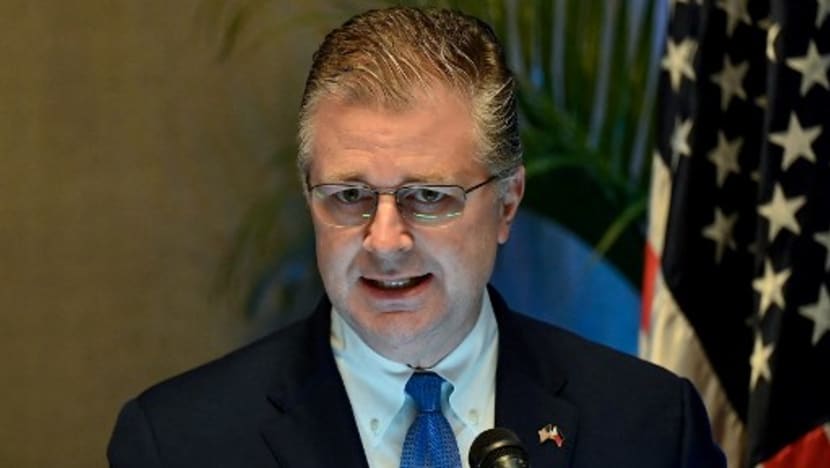 WASHINGTON: A senior US State Department official arrived in Beijing on Sunday (Jun 4) with meetings planned for the coming week as Washington seeks to boost communication with China at a time of tense relations between the two countries.
Assistant Secretary of State for East Asian and Pacific Affairs Daniel Kritenbrink will discuss "key issues in the bilateral relationship" during his visit to China, the State Department said in a statement on Saturday.
He will be joined by the White House National Security Council's senior director for China and Taiwan affairs, Sarah Beran, the statement said.
Ties between the world's two largest economies are strained over issues ranging from Taiwan and China's human rights record to military activity in the South China Sea.
During his travels through Jun 10, Kritenbrink will also visit New Zealand to participate in the US-New Zealand Strategic Dialogue, the department said.
Kritenbrink's official meetings will begin on Monday, a State Department spokesperson said.
While in Beijing, Kritenbrink will raise human rights in his meetings as always, and continue to advocate for people's fundamental freedoms in China, the spokesperson said.
The US embassy in Beijing did not immediately respond to a request for further details on Kritenbrink's itinerary.
Kritenbrink's arrival coincides with the anniversary of the 1989 crackdown by Chinese troops on demonstrators in and around Beijing's Tiananmen Square that rights groups say killed hundreds, if not thousands, of protesters.
Secretary of State Antony Blinken issued a statement on Saturday marking the anniversary of the crackdown, saying, "The victims' bravery will not be forgotten and continues to inspire advocates for these principles around the world."
Discussion of the Tiananmen Square crackdown is taboo in China and heavily censored on social media.
Kritenbrink's trip follows a visit last month to China by CIA Director William Burns. A US official said Burns had "emphasised the importance of maintaining open lines of communication in intelligence channels" in meetings with his Chinese counterparts.
In contrast, US Defense Secretary Lloyd Austin rebuked China on Saturday for refusing to hold military talks.
Speaking at the Shangri-La Dialogue in Singapore, Asia's top security summit, Austin said Beijing's reluctance to talk undermined efforts to maintain peace in a region where the two rivals are increasing their military firepower.
Blinken postponed a planned February trip to China after an alleged Chinese spy balloon flew through US airspace over sensitive military sites, kicking off a diplomatic crisis.
But the White House has said further efforts were being made to facilitate visits by Blinken, as well as Treasury Secretary Janet Yellen and Commerce Secretary Gina Raimondo.