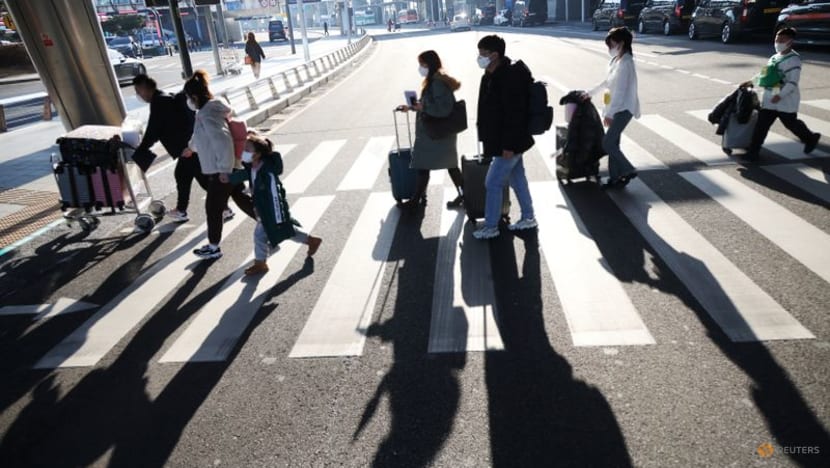 SEOUL: South Korea's prime minister suggested on Tuesday (Jan 31) that COVID-19 visa restrictions on travellers from China could be lifted earlier than scheduled if infections ease, as the travel and tourism sectors hope for a rebound in visitors.
Prime Minister Han Duck-soo said Seoul could consider lifting the restriction on short-term visas for travellers from China before the end of February if the number of COVID-19 infections in China is manageable, Yonhap news agency reported.
"If (the situation) is endurable given the PCR COVID-19 test results, the lifting (of restrictions) could be considered earlier," Han said.
His comment comes as the tourism and aviation sectors have been hit by both countries' decision to suspend issuing short-term visas.
China plans to require all passengers on direct flights from South Korea to undergo a PCR test upon arrival, starting from Feb 1, the South Korean embassy in Beijing said.
Chinese foreign ministry spokeswoman Mao Ning said: "It is regrettable that individual countries persist on implementing discriminatory entry restrictions against China, to which China is firmly opposed and has reason to take reciprocal measures against."
She was responding to a query about China mandating COVID-19 tests for inbound travellers from South Korea.
South Korea's foreign ministry said its quarantine measures were based on scientific grounds for people's protection.
"There should never be any restrictions based on factors other than quarantine, and we are also communicating with the Chinese side as necessary," the ministry added in the transcript of a news briefing.
The curbs have hit air traffic links, one airline official said.
"China used to account for 20 to 25 per cent of Korean Air's passenger and cargo businesses before COVID-19," Korean Air's deputy general manager Kim Ah-hyun said. "We hope travel restrictions between the two countries are eased soon to allow more routes and flights."
Duty free shops have also been hit hard.
"Chinese peddlers known as 'Taigong' used to buy duty-free goods and supply them to China," a Lotte Duty Free spokesperson said. "But given the suspension of short-term visa issuance and travel restrictions, they can't travel easily and our revenue will likely take a hit."
South Korea has suspended issuing short-term visas to Chinese visitors since early January, after China abruptly ended its stringent "zero-COVID" policy, leading to a wave of infections. Seoul's move prompted Beijing to also suspend issuing short-term visas in South Korea.