South Korea flooding death toll rises to nine after record rainfall
Seoul's posh Gangnam district was particularly hard hit by the floods.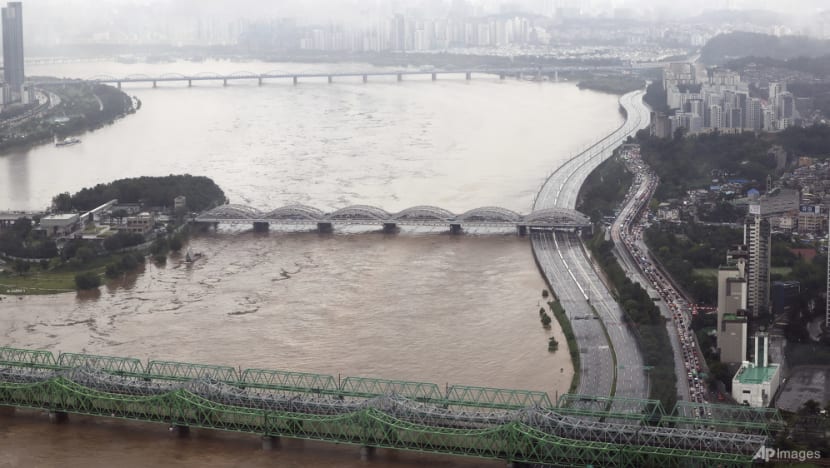 SEOUL: At least nine people were killed and seven others missing in South Korea after record downpours flooded major roads, metro stations and homes, officials said Wednesday (Aug 10).
The rain that began Monday is the heaviest since South Korea's weather observations began 115 years ago, according to President Yoon Suk-yeol, who apologised for the "inconveniences". 
Seoul's posh Gangnam district was particularly hard hit, with cars left half submerged.
Images shared on social media earlier this week showed people wading through waist-deep water and overflowing metro stations.
At least five people were killed in Seoul as of early Wednesday, as well as three in the neighbouring Gyeonggi Province and one in Gangwon Province, according to the Central Disaster and Safety Countermeasures Headquarters.
At least 17 people have been injured.
During a disaster response meeting Wednesday, President Yoon apologised on behalf of the government over the deaths and disruption caused by the heavy rains. He urged the central government to provide more financial help and personnel assistance to cities and regional governments to speed up recovery efforts.
He also called for significant improvements to the country's flood management systems, including building more rain tanks and tunnels and improving flood-prediction technologies, citing the growing challenges posed by extreme weather events.
"It's certainly true that (the rainfall) was abnormal weather, but we have come to a point where we can no longer call abnormal weather abnormal," Yoon said. "We could see new record levels (of rain) at any time. We need to build our response so that we are ready for a situation that's worse than we had imagined."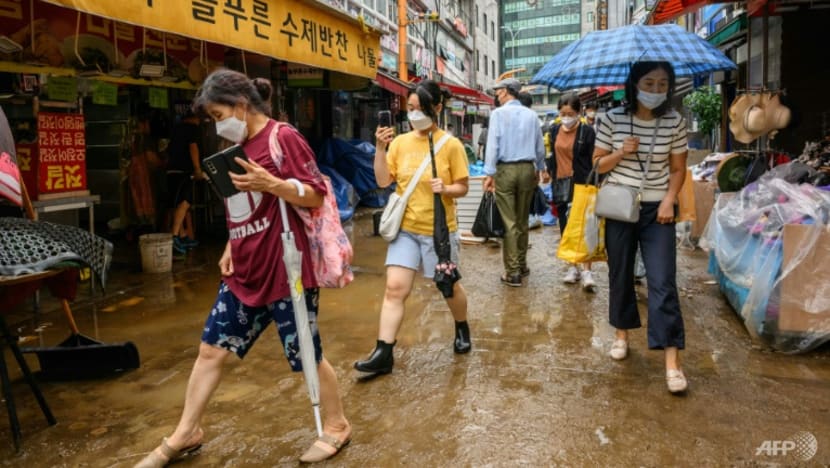 The Ministry of the Interior and Safety said workers had finished restoring more than 90 per cent of some 2,800 buildings, homes, roads and other facilities in the capital area that had been prioritised in emergency recovery plans.
Nearly 3,000 government workers, including police and fire department personnel, and dozens of excavators and dump trucks have been deployed in the recovery efforts. The military has separately deployed around 1,300 troops, some of whom were seen cleaning debris and salvaging furniture in flooded neighbourhoods in southern Seoul.
Among the nine victims, three died while trapped in their flooded semi-basement apartment, known as a banjiha, according to the ministry.
Local reports say the victims were a teenager, her mother and her aunt.
Another victim died while removing a tree that had fallen onto a sidewalk, and is believed to have been electrocuted.
Another died after a landslide buried his home in the mountainous Gangwon Province.
President Yoon, who on Tuesday visited the banjiha apartment, acknowledged South Koreans have "suffered a lot of damage".
At a separate government meeting, he told officials to pay special attention to the most vulnerable.
"Those who struggle financially or with physical difficulties are bound to be more vulnerable to natural disasters," he said.
The accumulated rainfall in Seoul since midnight Monday stood at 525mm as of 7am on Wednesday, according to the Korea Meteorological Administration (KMA), with more forecast. In neighbouring Yangpyeong County, total rainfall hit 532.5mm.
The KMA expects rain to continue in most parts of the country, with especially heavier rain in Chungcheong Province. The agency predicted that rainfall would gradually subside in many parts of the greater Seoul area and Gangwon Province.