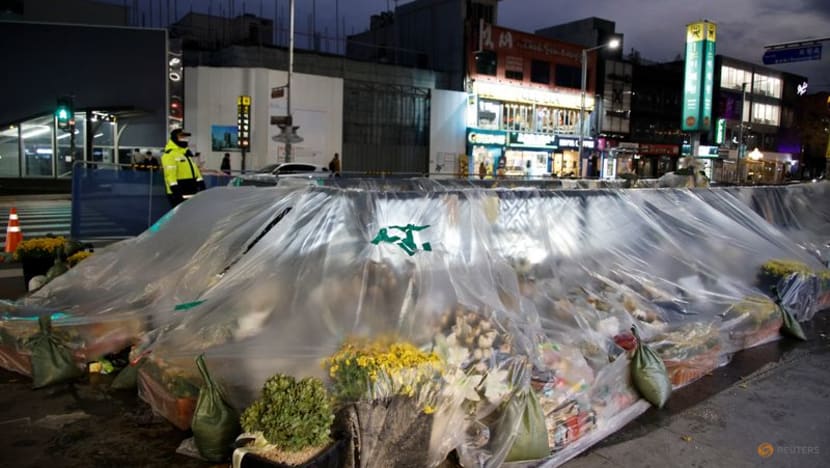 SEOUL: South Korean lawmakers voted on Wednesday (Feb 8) to impeach the interior minister over his responses to a deadly Halloween crush, setting the stage for him to become the country's first cabinet member ousted by the legislature.
The impeachment motion was passed by a widely expected 179-109 margin in a secret ballot in the 300-member single chamber, where the main opposition Democratic Party holds a 169-seat majority. The support of at least 150 members of the assembly was required to pass it.
The parliament's justice committee will review the motion before sending it to the Constitutional Court, which would decide whether to uphold the impeachment, a process that could take up to six months.
The Democrats and other opposition parties had pushed to expel the interior minister, Lee Sang-min, urging him to bear responsibility for botched responses to the crush.
The Oct 29 incident killed 159 people and injured 196 when revellers flooded narrow alleyways in the popular nightlife district of Itaewon to enjoy the first coronavirus mask-free Halloween festivities in three years.
Lee and the police have faced criticism over their handling of the tragedy, especially after publicly released transcripts of emergency calls showed that many citizens warned of impending danger and called for help hours before the stampede.
Listen: Halloween crowd crush in Itaewon
Lee has apologised for the flawed responses but said on Monday when asked whether he was willing to resign that his priority is to devise steps to prevent such a tragedy from recurring and ensure their implementation.
President Yoon Suk-yeol had rejected the opposition's demand he sack Lee, and his office and ruling party denounced the Democrats for abusing their majority power to press ahead with the impeachment.
"It is the renunciation of parliamentary democracy. It will be recorded as a shameful history in parliamentary politics," Yoon's office said in a statement after the motion's passage.
Tensions flared between families of the crush victims and the Seoul government this week after they set up an unauthorised memorial in front of city hall.
City officials said on Tuesday that the memorial violated rules and ordered its removal within a week.
In 2017, President Park Geun-hye became South Korea's first elected leader to be expelled from office when the Constitutional Court upheld her impeachment.
The court dismissed an impeachment motion in 2014 for President Roh Moo-hyun.