South Korea marks deadliest day, more than 1,000 COVID-19 cases
South Korea reported 1,014 new coronavirus cases on Thursday, the Yonhap news agency reported, citing a senior Seoul city official.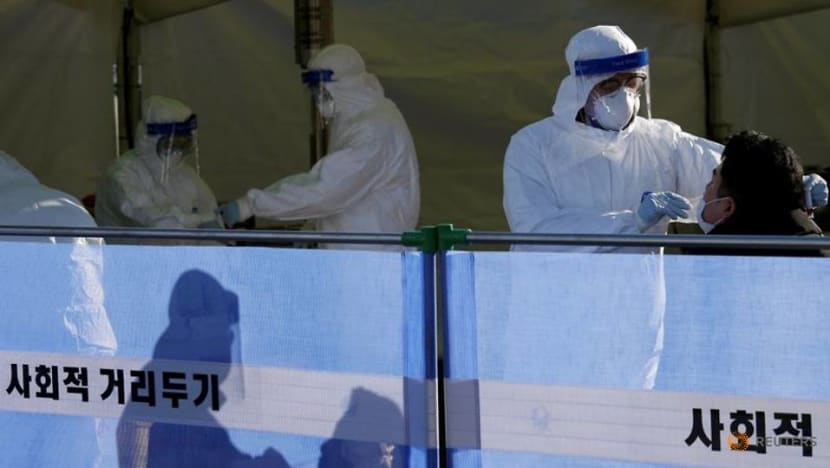 SEOUL: South Korea has added more than 1,000 infections to its coronavirus caseload for the second straight day amid growing fears that the virus is spreading out of control in the greater capital area.
The COVID-19 death toll is now at 634 after 22 patients died in the past 24 hours, said the Korea Disease Control and Prevention Agency (KDCA) on Thursday (Dec 17).
It is the deadliest day since the emergence of the pandemic. Among 12,209 active patients, 242 are in serious or critical condition. 
Nearly 800 of the 1,014 new cases were reported from the densely populated Seoul metropolitan area, where health officials have raised alarm about a looming shortage in hospital capacities. Thursday marked the 40th consecutive day of triple-digit daily jumps, which brought the national caseload to 46,453.
The viral resurgence came after months of pandemic fatigue, complacency and government efforts to breathe life into a sluggish economy.
Officials are now mulling whether to raise social distancing restriction to maximum levels, which could possibly include bans on gatherings of more than 10 people, shutting tens of thousands of businesses deemed non-essential and requiring companies to have more employees work from home.
Many residents of Seoul have started stocking up on food and other essential supplies in anticipation the city will be locked down for the first time to halt the spread of the disease.
"I have already ordered dozens of instant rice packages online, and many of my friends and their families are rushing to large supermarkets," one resident, who only gave her surname Lee, told Reuters.
Another resident said she had her hair cut shorter than usual because she had heard that social distancing would soon be tightened to Level 3, which would shut about 150,000 beauty and barber shops across the country.
The government said it would give people plenty of warning before imposing Level 3 curbs.
"There won't be a situation where all the supermarkets are closed and you can't buy necessities," Lee Sang-won, a senior official at the KDCA, told a briefing.
For much of the year, South Korea had managed to keep cases low through aggressive tracing and testing.
This new wave emerged from multiple clusters in the capital city of Seoul, as well as in its densely populated suburbs.
Hospitals were at a breaking point with only three critical care beds available as of Wednesday in greater Seoul, an area with a population of almost 26 million people.

Download our app or subscribe to our Telegram channel for the latest updates on the coronavirus outbreak: https://cna.asia/telegram