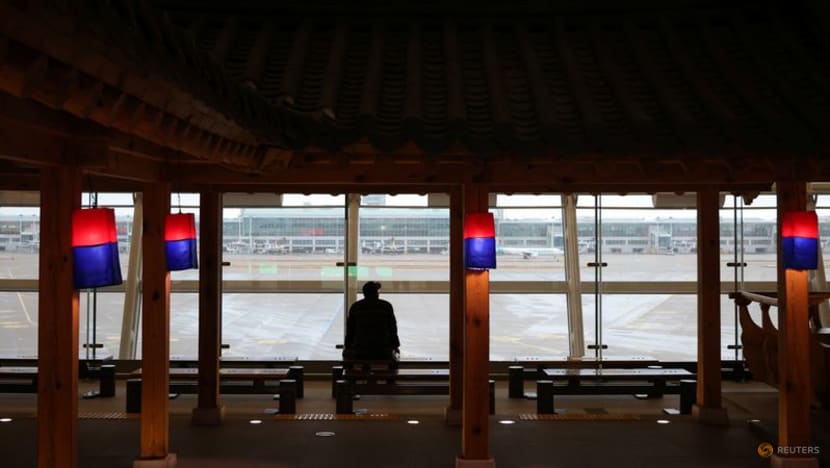 SEOUL: South Korea authorities said on Wednesday (Jan 4) they were trying to track down a China national who tested positive for COVID-19 on arrival but went missing while waiting at a quarantine facility.
The person tested positive after arriving at Incheon International Airport near Seoul late on Tuesday and was transferred to a nearby hotel to await admission to quarantine, but then went missing, a health official said.
The individual, who was not identified, has been placed on a wanted list, the official, Kim Joo-young, said. The person could be subject to up to one year in prison, or 10 million won (US$7,840) in fines, if convicted of violating the Infectious Disease Control and Prevention Act, he said.
"And the person would be deported and banned from entering the country for a certain period of time," Kim told a media briefing.
On Tuesday, South Korea announced mandatory coronavirus tests on Chinese arrivals, joining a growing list of countries imposing restrictions amid concerns over a wave of infections following Beijing's decision to lift stringent zero-COVID policies.
Starting this week, South Korea required travellers from China to undergo a PCR test upon arrival. From Jan 5, arrivals can submit a negative result from a PCR test taken no more than 48 hours before departure, or a negative rapid antigen test no more than 24 hours before departure.
A total of 2,189 people have arrived from China since Jan 2.
The 590 test results so far showed that 136 people, or 22.7 per cent, were infected with COVID-19, the Korea Disease Control and Prevention Agency (KDCA) said.
On Tuesday alone, 26 per cent of 281 people tested produced a positive result, KDCA data shows.
The case of the missing Chinese national triggered questions in the media about South Korea's system to control and manage infected inbound travellers.
Kim, the health official, expressed regret that authorities could not head off such an incident, calling it a "disgrace."
"Going forward, we will dispatch more personnel including police to prevent this from recurring," he said.