South Korea President Yoon declares mourning period after Halloween stampede kills at least 153 people
Another 82 people were injured in the crush in Seoul's Itaewon district, which happened when a huge crowd celebrating Halloween surged into an alley.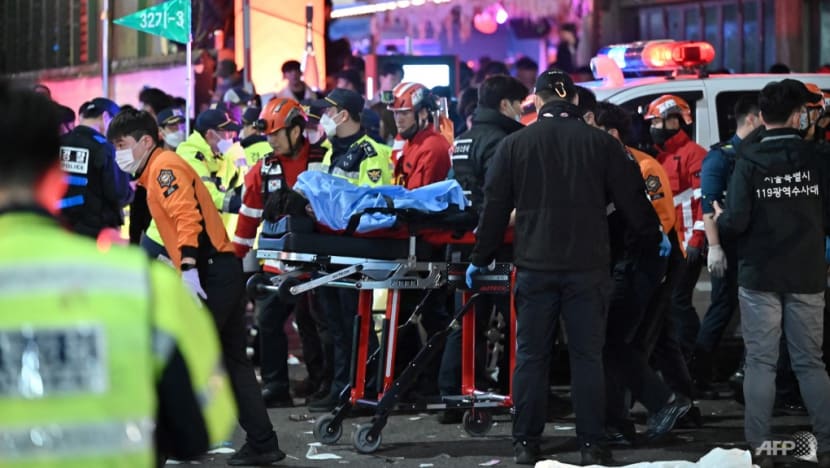 SEOUL: South Korea's President Yoon Suk-yeol declared a period of national mourning on Sunday (Oct 30) after a Halloween crush killed at least 153 people in a packed nightlife area in Seoul.
Yoon expressed condolences to the victims, mostly teenagers and people in their 20s, and his wishes for a speedy recovery to the many injured in one of the South Korea's worst disasters and the world's worst stampedes in decades.
"This is truly tragic," he said in a statement. "A tragedy and disaster that should not have happened took place in the heart of Seoul last night."
A huge crowd celebrating in the popular Itaewon district surged into an alley on Saturday night, emergency officials said, adding the death toll could rise.
Choi Sung-beom, head of the Yongsan Fire Station, said more than 150 deaths had been confirmed, including 22 foreigners. He told a briefing at the scene that 82 people were injured, 19 of them seriously.
Families and friends desperately sought word of loved ones at community centres that had become makeshift facilities for missing persons.
As of midday, the Interior Ministry said at least 90 per cent of the victims had been identified, with delays affecting some foreign nationals and teenagers who did not yet have identification cards.
Yoon said the government "will thoroughly investigate the cause of the incident and make fundamental improvements to ensure the same accident does not occur again in the future".
"My heart is heavy and it is difficult to contain my sorrow," he added.
NO CLEAR IDEA WHAT CAUSED CRUSH
The crowd surge and crush happened in the capital's popular Itaewon district, where local reports said as many as 100,000 people had gone to celebrate Halloween on Saturday night, clogging the area's narrow alleyways and winding streets.
"The high number of casualties was the result of many being trampled during the Halloween event," Choi said, adding that all the deaths were likely from the crush in the single narrow alley.
It was the first Halloween event in Seoul in three years after the country lifted COVID-19 restrictions and social distancing. Many of the partygoers were wearing masks and Halloween costumes.
The dead included 97 women and 54 men, the fire department said. Among them were foreigners from countries like China, Iran, Uzbekistan and Norway.
Russia's Tass news agency said two of the victims were Russian, while the Chinese Embassy in Seoul confirmed on its official WeChat account that three Chinese citizens had died in the stampede.
Officials said on Sunday they had no clear idea of what caused the crush.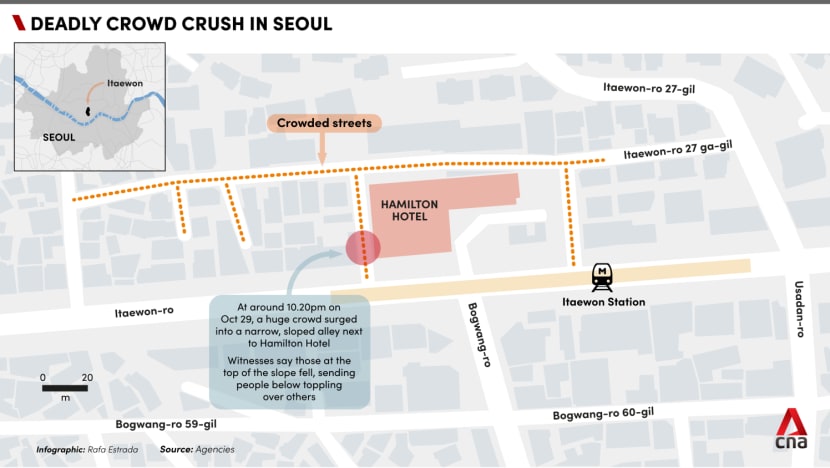 Eyewitnesses described scrambling to get out of the suffocating crowd as people ended up piling on top of one another, with paramedics, quickly overwhelmed by the number of victims, asking passers-by to administer first aid.
"There were so many people just being pushed around and I got caught in the crowd and I couldn't get out at first too," 30-year-old Jeon Ga-eul told AFP. "I felt like an accident was bound to happen."
Moon Ju-young, 21, said there were clear signs of trouble in the alleys before the incident.
"It was at least more than 10 times crowded than usual," he told Reuters.
Others said smaller people had struggled more in the crowds.
"A short person like me could not even breathe," a woman said, adding that she survived as she was at the edge of the alleyway while "people in the middle suffered the most".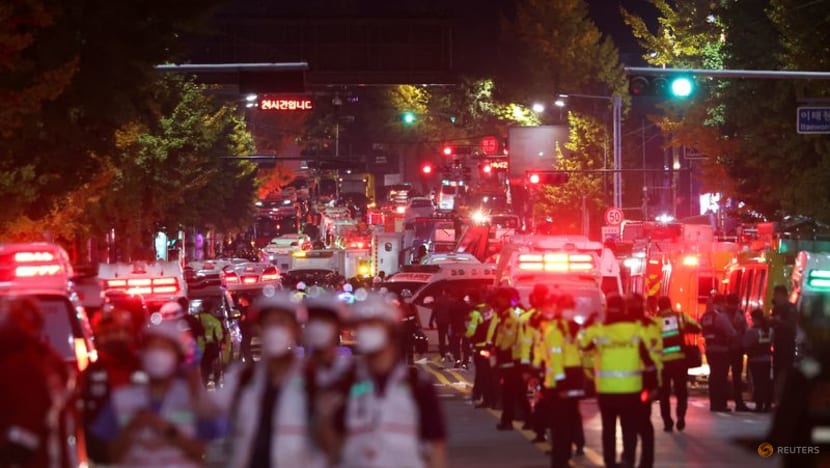 As questions began to emerge over the lack of security at the event, Interior Minister Lee Sang-min told a briefing that the police force had been occupied on the other side of town.
"I am not certain about the exact number of police personnel deployed (to Itaewon) but a considerable number had been deployed at Gwanghwamun where a large crowd was expected for a protest," he said.
Police had also not expected such a large crowd at the Halloween event, he said.
"The expected size of the crowd in Itaewon did not deviate much from the previous years, so I understand that the personnel were deployed at a similar scale as before."
Social media footage showed hundreds of people packed in the narrow, sloped alley crushed and immobile as emergency officials and police tried to pull them free.
AFP photos from the scene showed scores of bodies spread on the pavement covered by bed sheets and emergency workers dressed in orange vests loading even more bodies on stretchers into ambulances.
"People were layered on top of others like a tomb. Some were gradually losing their consciousness while some looked dead by that point," one eyewitness told the Yonhap News Agency.
In an interview with local broadcaster YTN, Lee Beom-suk, a doctor who administered first aid to the victims described scenes of tragedy and chaos.
"When I first attempted CPR there were two victims lying on the pavement. But the number exploded soon after, outnumbering first responders at the scene," Lee said. "Many bystanders came to help us with CPR."
"It's hard to put in words to describe," he added. "So many victims' faces were pale. I could not catch their pulse or breath and many of them had a bloody nose. When I tried CPR, I also pumped blood out of their mouths."
Fire officials and witnesses said people continued to pour into the narrow alley that was already packed wall-to-wall, when those at the top of the sloped street fell, sending others below them toppling over others.
An unnamed woman who said she was the mother of a survivor said her daughter and others were trapped for more than an hour before being pulled from the crush of people in the alley.
Choi said the victims' bodies were being transferred to a gym not far from the site of the stampede and to area hospitals to be identified.
Local television showed scores of ambulances streaming to the Soon Chun Hyang University Hospital, where some of the victims had been taken.
President Yoon ordered officials to dispatch first aid teams and to swiftly secure hospital beds for those affected, the presidential office said.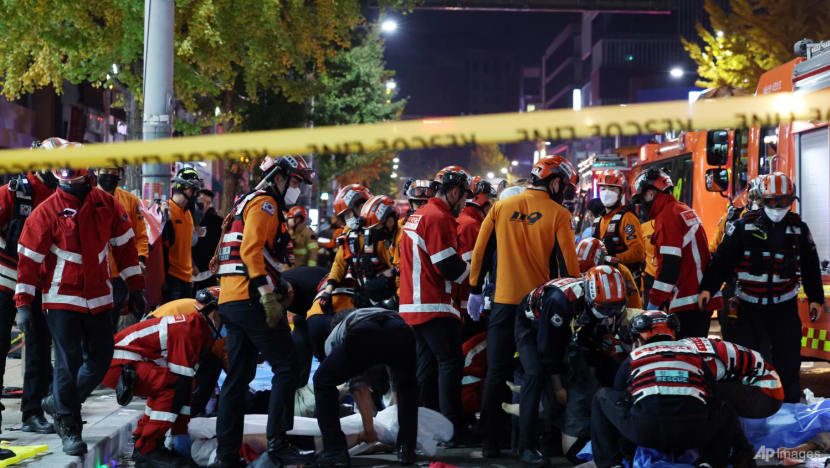 The Itaewon district is popular with young South Koreans and expatriates alike, its dozens of bars and restaurants packed on Saturday for Halloween after businesses had suffered a sharp decline over three years of the pandemic.
"You would see big crowds at Christmas and fireworks ... but this was several ten-folds bigger than any of that," Park Jung-hoon, 21, told Reuters from the scene.
Foreigners were among those transferred to nearby hospitals.
With the easing of the COVID-19 pandemic, curfews on bars and restaurants and a limit of 10 people for private gatherings were lifted in April. An outdoor mask mandate was dropped in May.
Authorities said they were investigating the exact cause of the incident.
At the scene, which had been cordoned off by the police and was bathed in red from hundreds of flashing lights, music continued to play from some bars.
Dazed passers-by sat on the sidewalk, checking their phones. Others comforted themselves, hugging each other even as others - seemingly unaware of the scale of the tragedy that had unfolded just next to them, continued to celebrate.
Ju Young Possamai, a bartender in the Itaewon district, said he had been to several Halloween celebrations in Korea and was shocked by the tragedy.
"It was very sad to see something that we never, never expected," Possamai, 24, told AFP. "It's always crowded, but nothing like this has ever happened before."