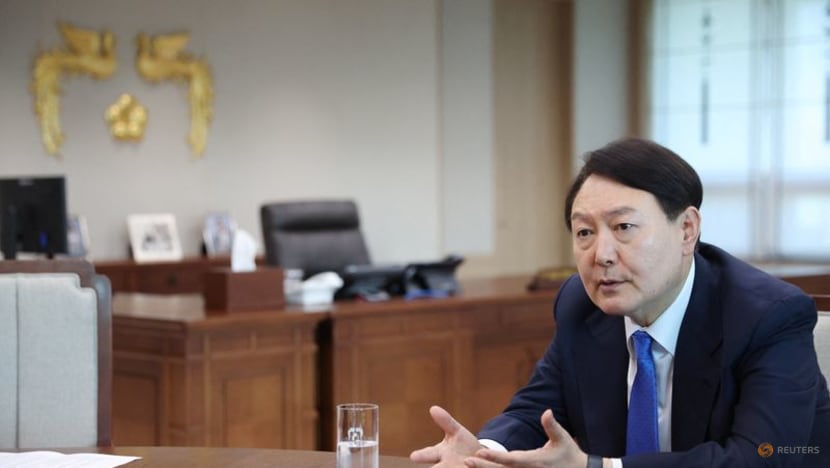 BEIJING: China's Vice Foreign Minister Sun Weidong has lodged solemn representations with the South Korean ambassador over "erroneous" remarks by the South Korean president about Taiwan, China's foreign ministry said on Sunday (Apr 23).
In an exclusive interview with Reuters, South Korean President Yoon Suk Yeol said increased tensions around Taiwan were due to attempts to change the status quo by force, and he opposed such a change.
"The Taiwan issue is not simply an issue between China and Taiwan but, like the issue of North Korea, it is a global issue," Yoon said.
Yoon's remarks are "totally unacceptable," Sun said, according to a Chinese foreign ministry statement.
"The South Korean leader made no mention of the One China principle, but equated the Taiwan issue with the Korean Peninsula issue," Sun said.
"Both North and South Korea are sovereign states that have joined the United Nations. It is a well-known fact that the Korean Peninsula issue and the Taiwan issue are completely different in nature and in latitude and longitude, and are not comparable at all."
China says democratically ruled Taiwan is part of its own territory, a position Taipei strongly rejects, and demands that countries with which it has ties must adopt its position that Taiwan is Chinese territory.
Sun's complaint followed criticism from the Chinese foreign ministry last week that South Korea should "prudently" handle matters related to Taiwan. South Korea hit back by summoning China's ambassador to protest at Beijing's remarks.