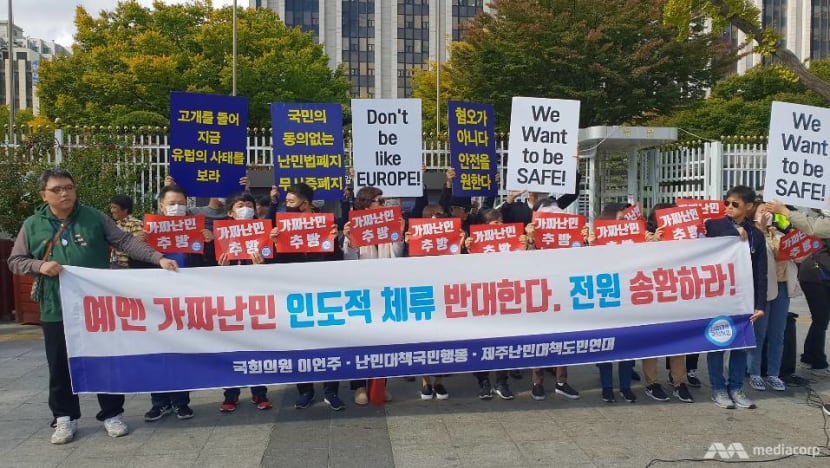 JEJU ISLAND, South Korea: Nineteen-year-old Almesri Hemyar and his friends arrived in Jeju Island in May, hoping that it would become their new home.
They are among many Yemeni nationals seeking refugee status in Jeju.  
Although he missed his hometown, where his parents live with his younger brothers and sisters, Almesri knew that he could not go home.
But settling down in Jeju has not been easy.

"I thought I would be able to settle down here with the government giving me support," said Almesri. 
"I'm running into lots of problems because of the language and I'm having trouble communicating with people." 

"I FEEL SCARED WHEN I SEE THEM"
Almesri is part of a group of more than 500 Yemeni nationals who have arrived in Jeju from Malaysia, where they did not need visas. 
But they could not stay in Malaysia for more than 90 days and they knew they would not be granted refugee status there.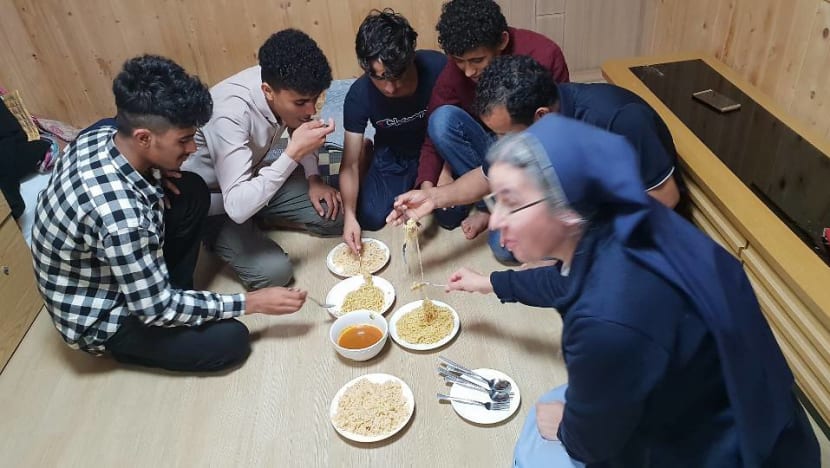 Things changed when AirAsia began running direct flights to Jeju from last December.
These Yeminis in Malaysia decided to try their luck in Jeju where there is a no-visa policy that was introduced in 2002 to attract foreign visitors.

However, the island was not expecting these asylum seekers.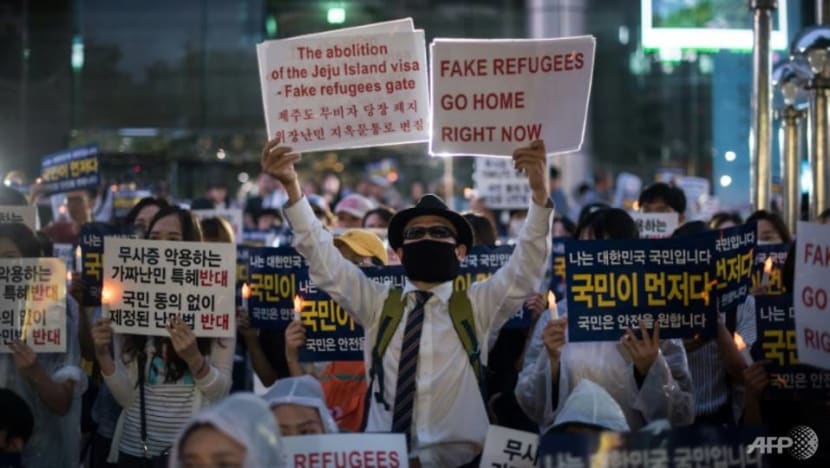 The arrival of hundreds of them in Jeju – referred to as the Hawaii of Korea - saw Koreans taking to the streets on the island and across the country to protest. 
There was even an online petition by more than 700,000 South Koreans asking President Moon Jae-in to deport the Yemenis and stop taking them in.
One protester said she was afraid to go out at night with her two daughters. "I know this is discrimination but I feel scared when I see them going around in groups," she said. "I'm sure if I know they won't harm me, it won't be a problem. But I feel afraid."

Experts said the reaction was understandable.

"They are strangers to them. They are not tourists but refugees, and so they were shocked," said Kim Dae-yong, a professor of tourism at Cheju Halla University. 
"This is the first situation of its kind. But I think it will get gradually get better."
After promising to revise immigration laws, the government on Jun 1 included Yemen in a list of 11 countries that required a visa to enter Jeju.

MISCONCEPTION OF REFUGEES, LACK OF GOVERNMENT SUPPORT
Professor Kim, who also runs the Jeju Islamic Cultural Center, said that to outsiders the number of Yeminis there might be small, but South Koreans would disagree, their perception of refugees shaped by media reports on the problems asylum seekers brought to countries that had taken them in.
Most of the Yeminis on the island are young single men. But there are a few who were able to come with their families - like Jamal Alnasiri, a former government official who arrived with his wife and four daughters.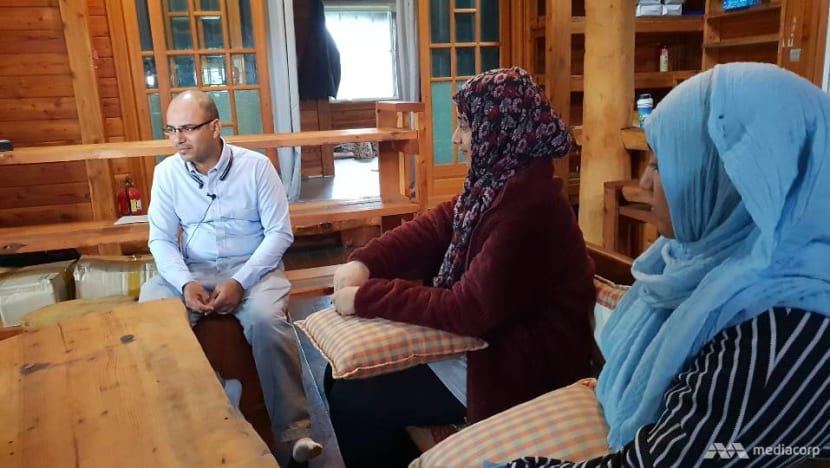 He said he wanted to come to Jeju a long time ago as he had heard it was visa-free. At the same time, he had also heard stories of how many asylum seekers were sent back.
"I was scared. But in May, many Yeminis had come here and nobody was turned back. And so I decided to come with my family," he said.
He is now looking for a job, but it has not been easy since he does not speak the language. 
He is also hoping his daughters would be able to go to school soon and make friends.
Currently, he is staying at a convent-turned-shelter provided by Sister Cristina Evelina Gal of the Naomi Migrant Pastoral Center. 
The organisation helps more than 100 Yeminis by providing them with food and lodging.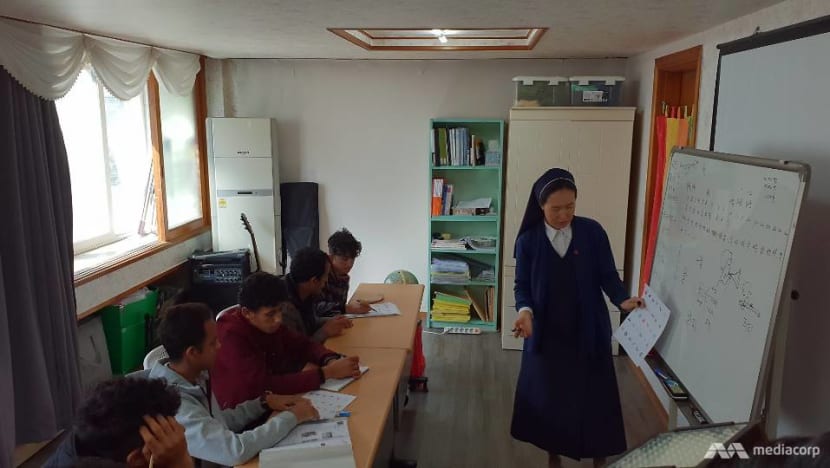 Sister Cristina said it was very difficult for them, although many are trying to adapt in different ways, like learning the Korean language and making Korean friends.
"There are some people who are even living with Koreans. That is the best thing for them. But for many it's not easy," she said. 
"It's why sometimes I feel pity for them. Because they are very hopeful in the beginning, thinking they will have a better life. But then soon, they start getting stressed. Some get very depressed."

She said many of the Yeminis there also needed medical treatment. However, because they are not recognised as refugees, they do not get any support from the South Korean government.

DESPERATE TO BE GRANTED REFUGEE STATUS
On May 17, 2018, the Korean government granted one-year temporary visas to 339 Yeminis on humanitarian grounds, but denied them refugee status. 
The Justice Ministry acknowledged their "right to life and personal liberty" would be put at risk if they were sent back home. With the temporary visas, the Yeminis could now leave Jeju Island and travel to the Korean mainland. 
After one year, they would be able to seek an extension and their papers will be reviewed again by the government.

However, some refugees still stand very little chance.
Although South Korea, in 1992, joined the Convention relating to the Status of Refugees that guarantees human rights and fundamental freedom, only about 4 per cent of the 42,000 people who have since applied for refugee status have been accepted. 

In the case of Abohdra Qaisqaid, he said he is desperate to be recognised as a refugee because only then would he be able to bring his wife and children to South Korea from Yemen.

"Life is difficult without family. I hope they can accept us as refugees so I can bring my family," he said.