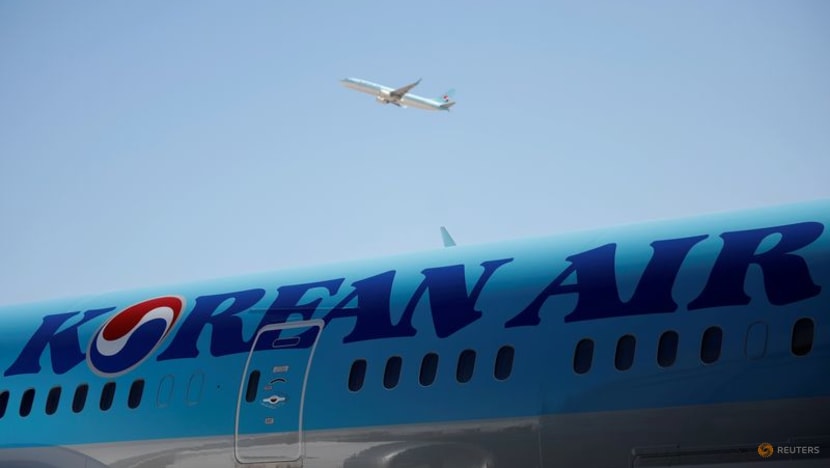 SEOUL: South Korea's Korean Air and Asiana Airlines are cancelling flights to Taiwan for one or two days because of Chinese military exercises in the area, local media reported on Thursday (Aug 4).
Korean Air cancelled flights between Incheon and Taiwan on Friday and Saturday, while Asiana Airlines cancelled Friday's direct flight to Taiwan and will monitor the situation, news agency News1 and other local media reported.
Spokespeople for Korean Air and Asiana could not be immediately reached, Reuters reported.
On Thursday, China launched military drills in six areas that ring Taiwan. It comes a day after a visit by US Speaker Nancy Pelosi to the island that Beijing regards as its sovereign territory.
China's Eastern Theatre Command said it had completed multiple firings of conventional missiles on waters off the eastern coast of Taiwan on Thursday as part of planned exercises.

The relevant sea and airspace controls have been lifted after the firing was completed, a spokesperson at the Eastern Theater Command said in a statement.
Singapore carriers are also avoiding areas affected by China's live firing exercises near Taiwan, said the Civil Aviation Authority of Singapore (CAAS) on Thursday.
In response to a query from CNA, CAAS said China had sent out a notice to airmen on Tuesday, prohibiting aircraft from flying into identified areas affected by live firing exercises taking place from Thursday to Sunday.
"Singapore carriers have taken note of the (notice) as part of their standard operating procedures and are avoiding the affected areas," CAAS said.
A spokesperson for Singapore Airlines (SIA) told CNA that with the exception of flights SQ878 and SQ879, the company's passenger and cargo flights "currently do not traverse Taiwanese airspace".