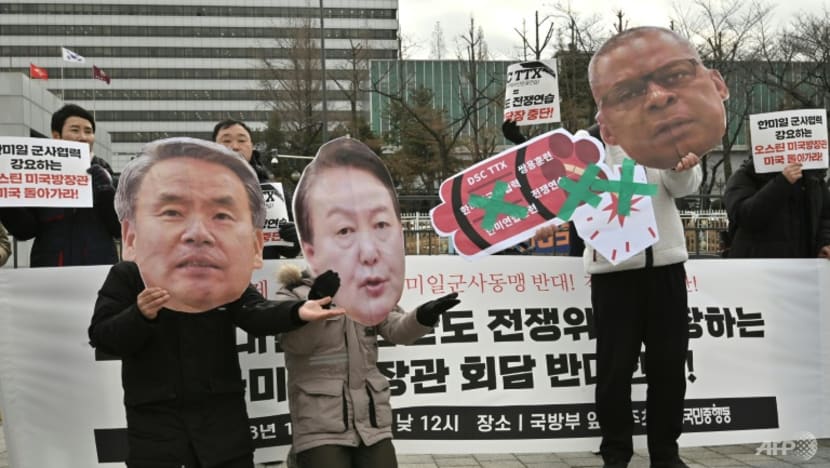 SEOUL: US Defence Secretary Lloyd Austin met his counterpart in Seoul on Tuesday (Jan 31), pledging to beef up joint drills and security cooperation as South Korea seeks nuclear reassurances in the face of growing North Korean threats.
Seoul is eager to convince its increasingly nervous public of America's so-called extended deterrence commitments, after a year in which North Korea declared itself an "irreversible" nuclear power and conducted a banned weapons test almost every month.
Austin and South Korean Defense Minister Lee Jong-sup agreed to "expand and bolster the level and scale" of joint military exercises, in light of "continued provocations" from Pyongyang, including a recent drone incursion, they said in a statement.
Military tensions on the Korean peninsula intensified sharply in 2022 as the North conducted a record-breaking number of weapons tests, including firing its most advanced intercontinental ballistic missile.
Pyongyang sent five drones across the border on Dec 26, the first such incident in five years, prompting Seoul to scramble warplanes.
Austin and Lee agreed to "further expand and strengthen the scale and level of combined exercises and drills this year", Lee said at a press briefing in Seoul.
This was necessary due to "changes in the security environment, including North Korea's recent attempts to upgrade its nuclear and missile programmes", he said.
The two security allies will conduct a "tabletop exercise" in February to improve communication on "deterrence and response options" to Pyongyang's nuclear threats.
"We will do a number of tabletop exercises to ensure that we're seeing things eye to eye," Austin said at the briefing.
Any joint US-South Korean military exercises infuriate Pyongyang, which views them as a rehearsal for an invasion and has often responded with threats and drills of its own.
NUCLEAR DETERRENT 
Austin is visiting Seoul for the third time as defence secretary and met with both Lee and South Korean President Yoon Suk-yeol.
This month Yoon suggested his country consider acquiring its own nuclear weapons - the first time in decades a sitting South Korean president has floated the idea, reflecting growing domestic concern over the reliability of US security commitments.
But Yoon's administration has since walked back those comments, emphasising that South Korea supports global nuclear non-proliferation.
Austin reiterated Tuesday America's commitment to extended deterrence, saying US military assets, especially nuclear forces, deter attacks on allies.
The commitments include "the full range of US defence capabilities, including our conventional nuclear and missile defence capabilities", he said.
The North's leader Kim Jong Un recently called for an "exponential" increase in Pyongyang's nuclear arsenal, including mass-producing tactical nuclear weapons and developing new missiles for nuclear counterstrikes.
Kim said his country must "overwhelmingly beef up military muscle" in 2023 in response to what Pyongyang calls US and South Korean hostility.
Austin's visit aims "to ease growing concerns among the South Korean public and politicians over whether the United States can be trusted in its extended deterrence against North Korea's nuclear threats", Hong Min of the Korea Institute for National Unification told AFP.
"With a detailed set of US assets agreed to be deployed for joint exercises, Washington seems eager to put to rest such concerns."