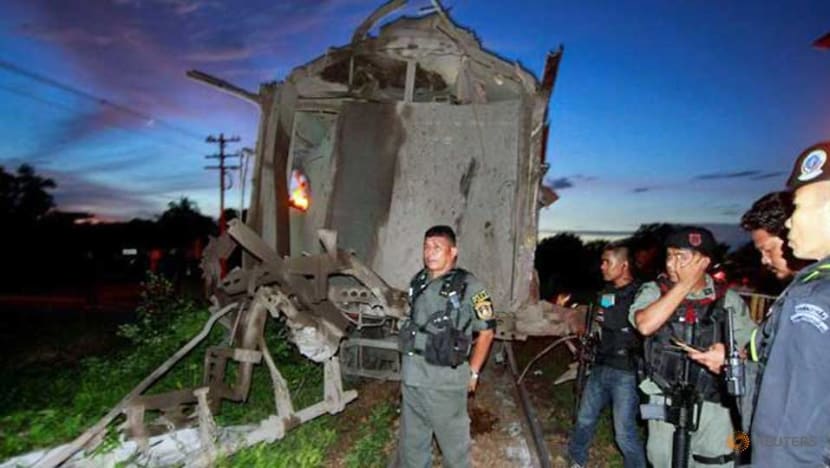 KUALA LUMPUR: During his years of retirement from 2003 to May 2018, Malaysian Prime Minister Mahathir Mohamad spent his time building mosques and an orphanage in Muslim-majority provinces in southern Thailand.
"There was one mosque which he built from scratch and an undisclosed number that was assisted financially, also an orphanage home where he built three blocks of accommodation to house some 100 students," an official from the Prime Minister's office told Channel NewsAsia.
With his return to power following a stunning election victory last May, Mahathir, 93, is again finding himself involved in southern Thailand. This time, he is attempting to revive stalled peace talks in the region where a long-running insurgency in the provinces of Yala, Narathiwat and Pattani has killed 7,000 people since 2004.
"Southern Thailand is very close to his heart. He sees the peace talks as his last regional peace effort," Kadir Jasin, media adviser to Mahathir, told Channel NewsAsia.
During Mahathir's official visit to Thailand last week, he pledged to "help in whatever way possible" to end the violence.
BRINGING BRN, THE LARGEST INSURGENT GROUP, BACK TO THE NEGOTIATING TABLE
Observers, however, are not optimistic that peace will come anytime soon in Thailand's deep south as the largest insurgent group there, Barisan Revolusi Nasional (BRN), has stayed out of the talks.
"The prospects are very slim. The BRN has said that it will continue to sit out of the talks, which it has done since October 2016," said Professor Zachary Abuza of the National War College of Washington DC.
The peace talks are held between the Thai government and Mara Pattani, an umbrella grouping of insurgents which previously included BRN.
As the largest insurgent group, BRN controls nearly all the combatants on the ground and has the strongest military capacity. Although it has refused to return to the talks, some BRN members have joined Mara Pattani of their own accord.
One of the biggest challenges for Thailand is to bring BRN back to the negotiating table.
BRN wants independent international organisations to be observers in the peace talks as one of the conditions for returning to negotiations.
"The biggest obstacle that seems difficult to overcome is the call for international observers," said Rungrawee Chalermsripinyorat, an independent analyst monitoring southern Thailand's conflict.
"The Thai government fears that such a step (international observers) would lead to further internationalisation of this conflict, which may open the door to secession," she added.
The Thai military has often cited East Timor as an example where the United Nations' involvement led to the territory breaking away from Indonesia in 1999, Rungrawee said.
But she pointed out that several countries have successfully ended conflicts via peace processes without resulting in separation. "Take for example Aceh in Indonesia and southern Philippines," she said.  
Some observers believe that with Malaysia and Thailand undergoing a leadership transition, this blunts the effectiveness of the talks.
"I'm not optimistic. An election will be held soon in Thailand and it's not clear what a new government in Bangkok would look like," said Don Pathan, a security and development consultant based in southern Thailand.
"In Kuala Lumpur, Mahathir and Abdul Rahim Noor (the former Inspector-General of Police who is Malaysia's new facilitator for the peace talks) have about 18 months before the PM-in-waiting, Anwar Ibrahim, takes over."
Mahathir has said that he would step down after two years and hand over power to Anwar.
Add to that, Mara Pattani, the umbrella grouping which is party to the peace talks, has said that it would only negotiate when a democratic government is in place following the general election which is widely expected to be held in February next year. 
The military has been running Thailand since a May 2014 coup that ousted the civilian government of Prime Minister Yingluck Shinawatra. It has promised to hold a general election but has repeatedly pushed back the date.
"The Thai junta is unwilling to make even the most minimal of concessions; they have shown little interest or will in negotiating in good faith. Their idea of "peace" is that the rebels lay down their weapons without having to address any of their core grievances," added Prof Abuza.
Southern Thailand's Muslim-majority provinces are seeking greater autonomy and freedom.

DECLINE IN VIOLENT INCIDENTS IN 2018
According to Prof Abuza, the violence in southern Thailand has abated this year. In 2009, over 430 people were killed and some 800 were wounded. In the first 10 months of 2018, 61 people have been killed and 130 wounded.
"The attacks are fewer (but) they are extremely intense," said independent analyst Pathan. "As long as the insurgents exist, Thailand can't claim victory."
He pointed out that Islamist groups like Jemaah Islamiyah had tried in the past to exploit the insurgency by recruiting militants, but they came out empty handed. "The conflict in Thailand's far South is an ethno-nationalist one and the banner has always been Patani Malay nationalism," said Pathan.

But there is another concern: That the conflict in southern Thailand is providing IS militants in Malaysia with a source for weapons.
"The Malaysian government has been concerned that weapons have cascaded out of southern Thailand into the hands of IS militants (in Malaysia)," said Prof Abuza.
In May 2017, Malaysian police arrested two men in Kelantan for smuggling arms from southern Thailand into Malaysia to be used by Islamic State terrorists in the country.