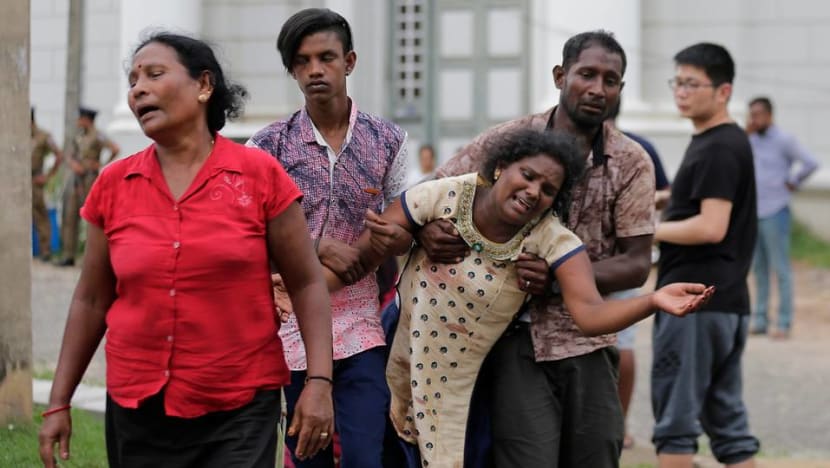 COLOMBO: At least 290 people are now known to have died in a series of bomb blasts on Sunday (Apr 21) that tore through churches and luxury hotels in Sri Lanka, in the worst violence to hit the island since its devastating civil war ended a decade ago. 

The Sri Lankan government imposed a nationwide curfew after the blasts that also left 500 wounded. The curfew was lifted on Monday.

Soldiers armed with automatic weapons stood guard outside major hotels and the World Trade Center in the business district.

The news came hours after it was revealed that an improvised bomb discovered at the main airport in Colombo had been defused.

Sri Lankans accounted for the bulk of those killed or injured, although government officials said 32 foreigners were also killed. These included British, US, Turkish, Indian, Chinese, Danish, Dutch, Portuguese and Japanese nations. 

"Additionally, while nine foreign nationals are reported missing, there are 25 unidentified bodies believed to be of foreigners," the Sri Lankan foreign ministry said.
The attacks were mostly targeted at high-end hotels in the capital and churches where worshippers were attending Easter services.

Social media access, including Facebook and WhatsApp, has also been curbed to restrict "wrong information" spreading in the country.

Sri Lanka's small Christian minority - just 6 per cent of the 21 million-strong population - has been targeted by violence in the past, but never to such brutal effect.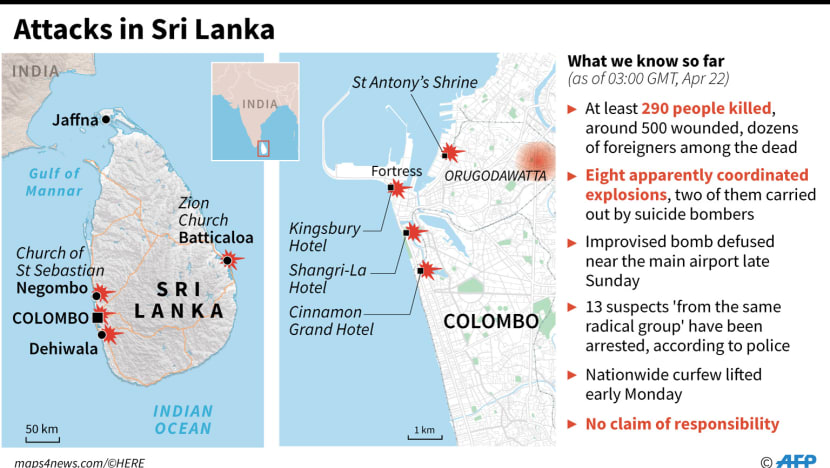 There was no immediate claim of responsibility but the police on Monday said 24 people have been arrested.

Prime Minister Ranil Wickremesinghe said "so far the names that have come up are local", but that investigators would look into whether the attackers had any "overseas links".

Police spokesperson Ruwan Gunasekera said the police were investigating whether suicide bombers were involved in all of the blasts.

In a video on his Twitter account, Sri Lanka's State Minister for Defence Ruwan Wijewardene said the country's Criminal Investigations Department is working with the police and the military to investigate the attacks.

"We believe that all the culprits who have been involved in this unfortunate terrorist incident will be taken into custody as soon as possible," he said, adding that suspects have been identified.

"A LOT OF FEAR"
Documents seen by AFP show that Sri Lanka's police chief Pujuth Jayasundara issued an intelligence alert to top officers 10 days ago, warning that suicide bombers planned to hit "prominent churches".
"A foreign intelligence agency has reported that the NTJ (National Thowheeth Jama'ath) is planning to carry out suicide attacks targeting prominent churches as well as the Indian high commission in Colombo," the alert said.
The NTJ is a radical Muslim group in Sri Lanka that was linked last year to the vandalisation of Buddhist statues.
Prime Minister Ranil Wickremesinghe acknowledged that "information was there" about possible attacks and that an investigation would look into "why adequate precautions were not taken".
Ethnic and religious violence has plagued Sri Lanka for decades, with a 37-year conflict with Tamil rebels followed by an upswing in recent years in clashes between the Buddhist majority and Muslims.
While there have been attacks on Christians, their community had been left relatively unscathed until now.
Rucki Fernando, a Christian Sri Lankan, told AFP: "We haven't experienced anything like this in the last 10 years."
"There is a lot of fear, not just in the Christian community, but among everyone," he added.
8 BLASTS IN A DAY
One of the explosions was at St. Anthony's Shrine, a Catholic church in Kochcikade, Colombo, a tourist landmark.
A second blast hit St Sebastian's Church during Easter Mass, killing dozens. Pictures from the site showed bodies on the ground, blood on the church pews and a destroyed roof.

Soon after the first two church blasts, police confirmed that the Zion church in the east coast town of Batticaloa had been hit, along with three high-end hotels in the capital - the Cinnamon Grand, the Shangri-La and the Kingsbury.

Later in the afternoon, two people died in a strike at a hotel in the south of Colombo, and a suicide bomber killed three police officers as they raided a house in a northern suburb of the city.

There were fears the attacks could spark a renewal of communal violence, with police reporting late on Sunday there had been a petrol bomb attack on a mosque in the northwest and arson attacks on two shops owned by Muslims in the west.

VICTIMS
Singapore's Ministry of Foreign Affairs confirmed there were no Singaporean casualties after the attacks.

US Secretary of State Mike Pompeo confirmed that "several US citizens" were killed.
"While many details of the attacks are still emerging, we can confirm that several US citizens were among those killed," he said in a statement. 
"The US Embassy is working tirelessly to provide all possible assistance to the American citizens affected by the attacks and their families."
Three Danish citizens are also dead, according to the Ministry of Foreign Affairs of Denmark.
Two Turkish citizens were killed in the attacks on Sunday, according to Turkey's state media Anadolu.

Chinese state paper People's Daily said one Chinese national was killed during the attacks, while Xinhua reported four others were injured and in a stable condition in hospital.

A Portuguese man also died, according to the nation's LUSA news agency.
Hospital sources told AFP British, Dutch and American citizens were among those killed, while Britons and Japanese nationals were also injured.
US President Donald Trump tweeted his condolences about the "horrible terrorist attacks", and Pope Francis in his Easter address at the Vatican spoke of his "affectionate closeness with the Christian community, attacked while it was at prayer".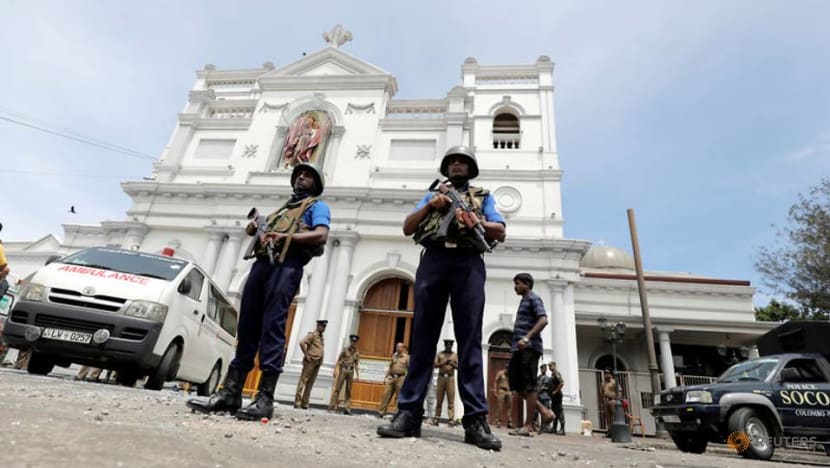 President Maithripala Sirisena said he had ordered the police special task force and military to investigate who was behind the attacks and their agenda.
The military had been deployed, according to a military spokesman, and security stepped up at Colombo's international airport.
Embassies in the capital warned their citizens to stay inside, while there were chaotic scenes at Colombo airport as worried travellers who had just arrived in the country formed huge lines at the only taxi counter that was open, and watched a TV screen for updates.

Pietro Gunesekera, who works for The Kingsbury, said guests who had bookings there were being taken to other hotels while a worker manning the Cinnamon Grand's desk at airport arrivals said several foreign tourists had opted not to stay because of the attacks.
"PM (Prime Minister) met with ministers and senior military personnel; all measures taken to maintain peace," Sri Lanka's Minister of Economic Reforms and Public Distribution, Harsha de Silva, said in a tweet on his verified account.
"Security tightened. Please stay calm. Please act responsibly. Please no politics. We must all act together as Sri Lanka citizens. My condolences to all families who lost loved ones."
He said in another tweet he had been to two of the attacked hotels and was at the scene at St Anthony's Shrine, and described "horrible scenes."

"Please stay calm and indoors," he added.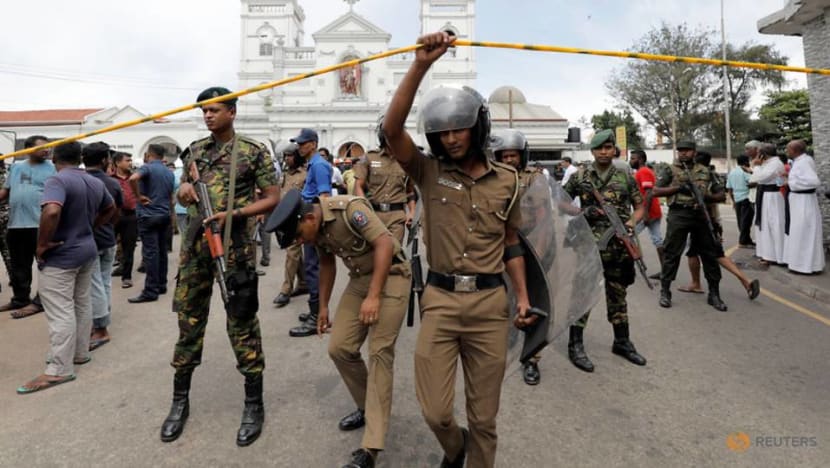 Source: AGENCIES/mn/mi/de/zl