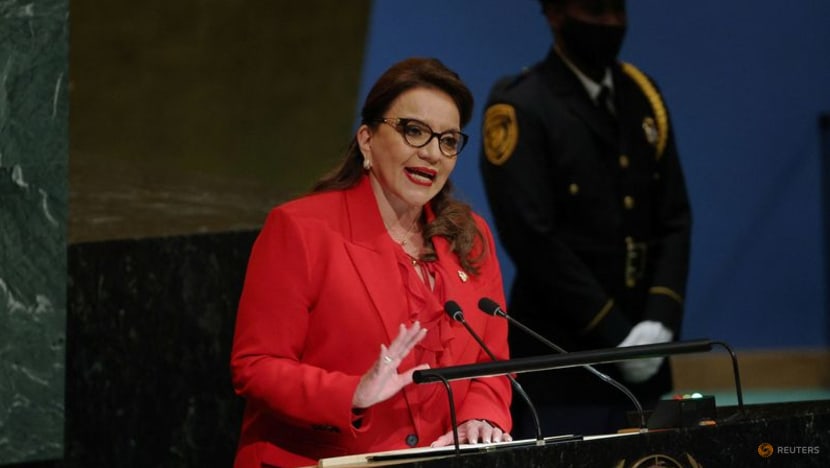 TEGUCIGALPA, Honduras: Honduran President Xiomara Castro said on Tuesday (Mar 14) that she had instructed the country's foreign minister to bring about the opening of official relations with China, a move that threatens to further diminish Taiwan's dwindling pool of allies.
The leader of the Central American country had floated the idea of cutting ties with Taiwan and starting relations with China during her electoral campaign, but said in January 2022 that she hoped to maintain ties with Taiwan.
China does not allow countries with which it has diplomatic relations to maintain official ties with Taiwan, which it claims as its own territory with no right to state-to-state ties.
If Honduras does end relations with Taiwan, it will leave the island with only 13 diplomatic allies.
Opposition Honduran lawmaker Tomas Zambrano told local TV that the decision would likely affect the country's relationship with the US, its top trade partner, noting that many families depend on remittances sent from the north.
The US has no formal diplomatic ties with Taiwan but is its most important international backer and arms supplier, a consistent source of friction in Sino-US relations.
"We have to look at things very pragmatically and seek the best benefit for the Honduran people," Honduran Foreign Minister Eduardo Reina told local TV on Tuesday.
Taiwan's Foreign Ministry said that it had expressed serious concern to the Honduran government and urged it to consider its decision carefully and not "fall into China's trap".
A source familiar with the situation in Taiwan said that the island needed to exhaust "every possible means" to maintain diplomatic ties with Honduras.
China's Foreign Ministry has yet to comment, but the Chinese ambassador in Mexico, Zhang Run, tweeted that the "One China" principle, which holds that China and Taiwan are part of one country, is the consensus of the international community.
"Congratulations Honduras on this correct decision to embrace that principle! Hopefully it will be fulfilled," Zhang said.
The announcement comes ahead of Taiwan President Tsai Ing-wen's planned trip to Central America next month, where she is expected to visit Guatemala and Belize.
In December 2021, Nicaragua broke its long-standing ties with Taiwan, switching allegiance to China and declaring that "Taiwan is an inalienable part of the Chinese territory".
The US State Department had at the time encouraged countries to maintain their ties with Taiwan and said that Nicaragua's decision did not reflect the will of the people as its government was not freely elected.
The US State Department did not immediately respond to a request for comment regarding Honduras.
Taiwan could lose another Latin American ally, Paraguay, if the opposition wins the presidential election in late April.
Paraguay would cut ties with Taiwan and open relations with China, the opposition's presidential candidate Efrain Alegre has said, hoping to boost economically important soy and beef exports.