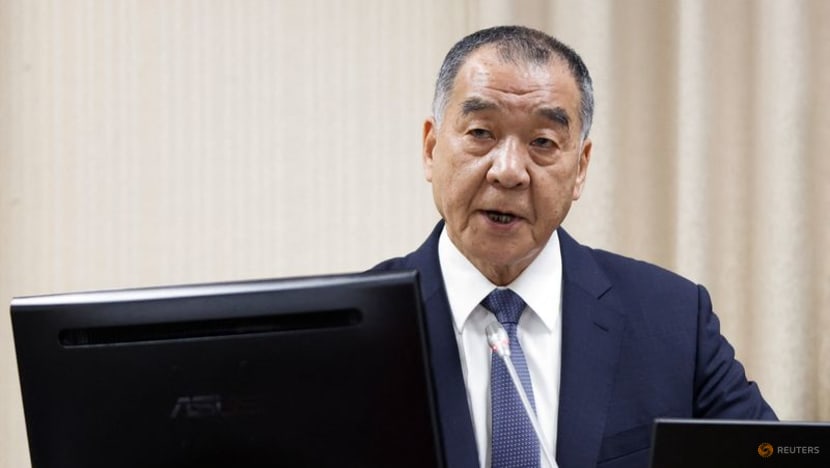 TAIPEI: Taiwan Defence Minister Chiu Kuo-cheng said on Thursday (May 4) that the delivery of 66 advanced new F-16Vs from the United States has been delayed due to supply chain disruptions and the ministry was working to minimise the damage and "makeup deficiencies".
The United States in 2019 approved an US$8 billion sale of Lockheed Martin Corp F-16 fighter jets to Taiwan, a deal that would take the island's F-16 fleet to more than 200 jets, the largest in Asia, to strengthen its defence in the face of a stepped-up threat from China, which claims Taiwan as its own.
Taiwan has been converting 141 F-16A/B jets into the F-16V type and has in addition ordered 66 new F-16Vs, which have new avionics, weapons and radar systems to better face down the Chinese air force, including its J-20 stealth fighter.
The first of the new F-16Vs was meant to be delivered in the fourth quarter of this year but that has been delayed to the third quarter of next year due to pandemic-related supply chain disruptions, the ministry said.
Speaking to reporters at parliament, Chiu said Taiwan had asked the United States to "make up the deficiency", including prioritising spare part deliveries for the existing fleet.
"Multiple channels are being used, and we are minimising the damage from this," he said, adding they still expected to get the full order delivered before 2026.
The ministry is using diplomatic channels, such as via the de facto US embassy in Taipei, to resolve the problem, Chiu said.
The de facto embassy, the American Institute in Taiwan, did not respond to a request for comment.
Lockheed Martin said it has a long-standing partnership with Taiwan, supporting its national defence, interoperability with the United States and ensuring regional security. The company said further questions regarding Taiwan foreign military sales should be directed to the US government and the Taiwan Ministry of National Defense.
Taiwan has since last year complained of delays to US weapons deliveries, such as Stinger anti-aircraft missiles, as manufacturers turn supplies to Ukraine as it battles invading Russian forces, and the issue has concerned US lawmakers.
Michael McCaul, chairman of the US House Foreign Affairs Committee, said during a visit to Taipei last month he was doing everything possible to speed up arms deliveries.