Japan to consider new COVID-19 emergency declaration
The Tokyo Metropolitan Government will request the central government to declare a new state of emergency over a resurgence of COVID-19 cases, the Nikkei newspaper reported on Saturday.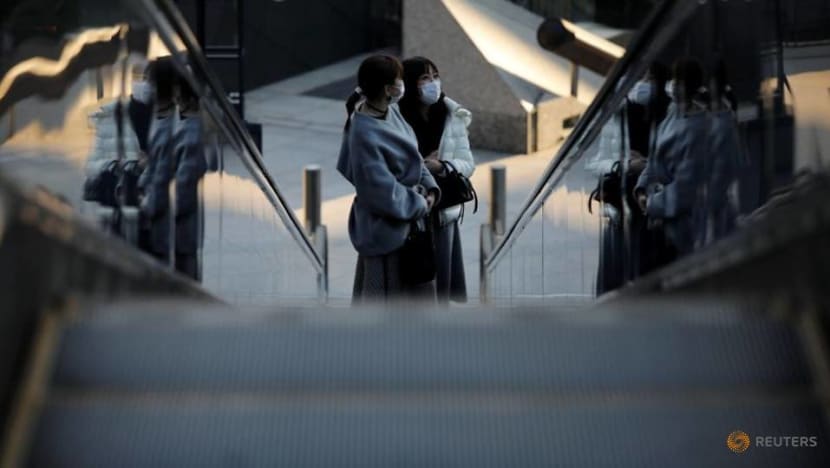 TOKYO: Japan will consider issuing a new emergency declaration after governors in the capital region urged action to tackle a record surge in COVID-19 cases, the head of the nation's pandemic response said on Saturday (Jan 2). 
The government needs to consult with health experts before deciding on a new declaration, Economy Minister Yasutoshi Nishimura told reporters after a meeting with Tokyo Governor Yuriko Koike and leaders from three neighbouring prefectures.
"The national government and the three governors shared the view that the situation in the Tokyo area is getting more severe such that an emergency declaration may be necessary," Nishimura said.
As an interim measure, restaurants and karaoke parlours in the Tokyo area would be asked to close at 8pm, while businesses that serve alcohol should close at 7pm, he said. 
Japanese officials have in recent weeks asked restaurants and businesses to close early and urged people to stay at home, measures that Koike said were having "some effect".
"But considering the number of cases and the situation of the medical system in Tokyo and the three neighbouring prefectures, we decided it was necessary to immediately and thoroughly curb the movement of people," she told reporters.

Prime Minister Yoshihide Suga has resisted calls to reinstate a national state of emergency, which the government had introduced in April during an earlier wave of the pandemic. Suga is next scheduled to speak publicly on Jan 4.
It relied on voluntary business closures and travel restrictions rather than the sort of rigid lockdown measures seen in parts of Europe and the United States.
Tokyo raised its COVID-19 alert level to its highest measure on Dec 17. New infections in the capital hit a record 1,337 on Dec 31, and on Saturday numbered 814. A nationwide record was also set on Dec 31 with 4,520 new cases.
The rise in COVID-19 cases is compounding a seasonal increase in hospitalisations, said Fumie Sakamoto, infection control manager at St Luke's International Hospital in Tokyo.
"The Japanese government has not done a great deal to control the infection," Sakamoto said. "I would expect the (infection) numbers will get bigger in the coming days, and the emergency declaration should have come earlier, probably during December or November." 
SIX MONTHS UNTIL OLYMPICS
There was no immediate word on whether the governors would seek school closures. Japan was one of the first countries in the world to shutter schools, with then prime minister Shinzo Abe calling for closures in February.
Japan has had a milder pandemic than many other countries, with about 3,500 deaths since its first case in January.

Prime Minister Yoshihide Suga, who took office this autumn after Abe resigned, has been criticised for his government's response to the new wave of infections, and in particular its support of a controversial programme promoting domestic travel.
The programme has been suspended over the new year - when many Japanese travel to visit family - and government officials have urged people to stay home to help suppress the new wave.

The new spike in infections comes little more than six months before Tokyo is set to host the virus-delayed Olympic Games.

Tokyo 2020 was postponed last spring as the scale of the pandemic became clear, but despite optimism from officials and organisers, most of the Japanese public is opposed to holding the Games this summer, favouring a further delay or outright cancellation.

Download our app or subscribe to our Telegram channel for the latest updates on the coronavirus outbreak: https://cna.asia/telegram