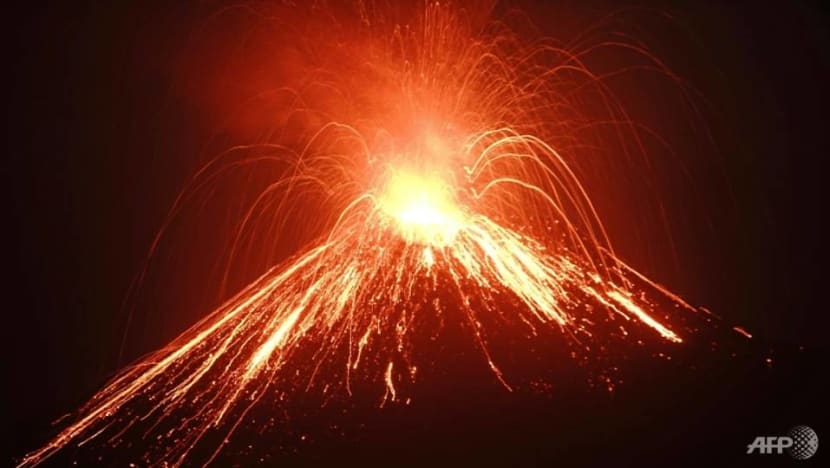 JAKARTA: At least 222 people were killed and hundreds injured, after a deadly tsunami struck the coastlines of Indonesia's Sumatra and Java islands on Saturday (Dec 22) night.
Within minutes, the shores became the scene of tragedy and devastation as the wave crashed into the beaches, leaving a trail of destruction in its path.
The aftermath left hundreds of homes destroyed and several people still missing. The death toll, authorities said, is expected to rise.
Experts have pointed to a volcano, situated between the two islands along the Sunda Strait. Here's what they think happened:

HOW IT COULD HAVE HAPPENED

The ongoing eruption of Mount Anak Krakatau, the "child" of the legendary Krakatoa, is being seen as the likely cause of the deadly tsunami.

Volcanic activity from the Anak Krakatau could have triggered an underwater landslide that led to an abnormal tidal surge and the resulting tsunami, national disaster agency spokesman Sutopo Purwo Nugroho said on Sunday.
Explaining this phenomenon to Channel NewsAsia, Professor Benjamin P Horton, principal investigator at the Earth Observatory of Singapore said: "According to this mechanism, tsunami waves are generated by the sudden displacement of water caused by a volcanic explosion, by a volcano's slope failure, or by an explosion and collapse/engulfment of the volcanic magmatic chambers."
Although relatively rare, submarine volcanic eruptions can cause tsunamis due to the sudden displacement of water or slope failure, according to the International Tsunami Information Centre.
Anak Krakatau is a small volcanic island that emerged from the ocean half a century after Krakatoa's deadly 1883 eruption which killed more than 36,000 people.
According to Indonesia's geological agency, Anak Krakatau had been showing signs of heightened activity for days, spewing plumes of ash thousands of metres into the air.
The volcano erupted again just after 9pm on Saturday, the agency said.
An eruption just before 4pm on Saturday lasted around 13 minutes and sent plumes of ash soaring hundreds of meters into the sky.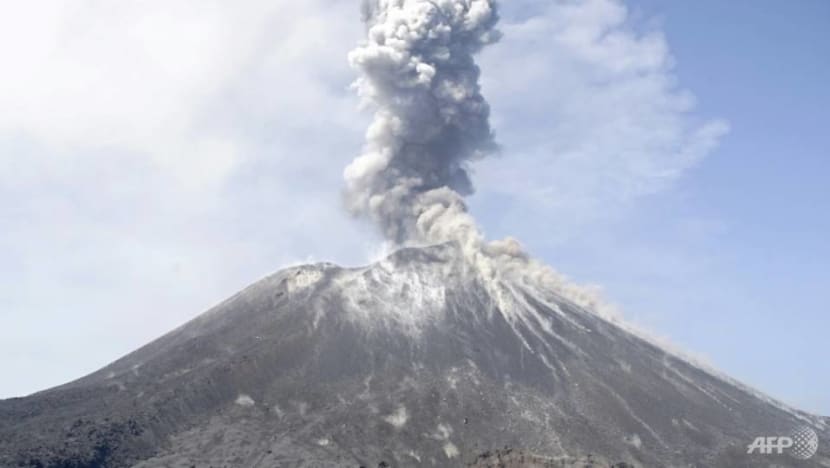 WHY IT WAS SO DESTRUCTIVE
Although volcano-triggered tsunamis have occurred before, it is a "very rare" occurrence, said Prof Horton.
But they can be destructive when they happen.
"As landslides can often involve vast amounts of rock, and they can fall into relatively shallow bodies of water, the tsunamis they produce can be breathtakingly high, and are sometimes nicknamed mega-tsunamis.
"The world's most potent mega-tsunami took place on Jul 9, 1958, when an earthquake-triggered landslide (or landslides) fell into Alaska's Lituya Bay; the ensuing tsunami reached a maximum height of 524m."
He added that the Krakatoa volcano had a catastrophic eruption in 1883 which resulted in 30-metre high waves that inundated the surrounding coastlines.
"It should also be noted that the tsunami occurred during high tide during a full moon, which would have boosted the tsunami height more than it otherwise would have been," he added.
WERE THERE ANY WARNING SIGNS?
Moreover, tsunami waves caused by volcanoes also have longer wavelengths than normal surf waves and move at very high speed through the open ocean, Associate Professor Adam Switzer, another principal investigator at the Earth Observatory of Singapore, told Channel NewsAsia.

"When they reach the coast, they rise dramatically in height and carry a huge mass of water over the coast," he said. "The heavy water mass and the high velocity at the shore cause the destruction we commonly see from tsunamis."
He added that the "scariest thing" about volcanic tsunamis was that their warning signs were often very subtle. 
"If the tsunami was generated by a submarine landslide it would be unlikely there would be an explosion or notable earthquake," he said. "The wave would literally appear at the surface and make its way to shore."
For the tsunami on Dec 22, the only warning sign was that the volcanic activity on Mount Anak Krakatau had been ongoing for some time, said the associate professor.
"This event underscores how little we know about tsunamis generated by volcanoes," he said.
Meanwhile, the desperate search for survivors continues as authorities scour the areas of impact amid the rubble. 
Heavy equipment was being transported to badly-hit areas to help search for victims, as evacuation posts and public kitchens were being set up for evacuees.
Indonesia, one of the most disaster-prone nations on earth, straddles the so-called Pacific "Ring of Fire", where tectonic plates collide and a large portion of the world's volcanic eruptions and earthquakes occur.
Most recently in the city of Palu on Sulawesi island, a quake and tsunami killed thousands of people.
In 2004, a tsunami triggered by a magnitude 9.3 undersea earthquake off the coast of Sumatra in western Indonesia killed 220,000 people in countries around the Indian Ocean, including 168,000 in Indonesia.
Anak Krakatau is one of 127 active volcanoes which run the length of the archipelago.

Source: CNA/agenices/mn/na/nc