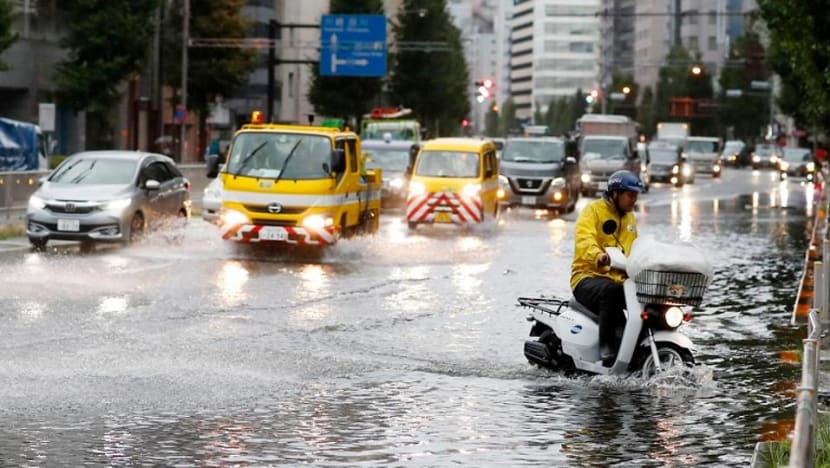 TOKYO: One of the strongest typhoons to hit Japan in recent years struck just east of the capital Tokyo overnight, killing one person, said police on Monday (Sep 9). 
More than 160 flights were cancelled and scores of train lines were closed for hours, snarling the morning commute for millions in a greater Tokyo area that has a population of some 36 million, with authorities warning it was dangerous to venture outside.
Typhoon Faxai, packing winds of up to 207kmh, made landfall in Chiba just east of the capital before dawn, after barrelling through Tokyo Bay.

A woman in her 50s was confirmed dead after she was found in a Tokyo street and taken to hospital. Footage from a nearby security camera showed she had been smashed against a building by strong winds, national broadcaster NHK reported.
Another woman in her 20s was rescued from her house in Ichihara, east of Tokyo, after it was partly crushed when a metal pole from a golf driving range fell on it. She was seriously injured.

More than 30 people were injured in the storm, the Kyodo news agency said.
Non-mandatory evacuation orders were still in place at 8am (2300 GMT) for nearly 340,000 people, and authorities said more than 2,000 people had taken refuge in shelters.

COMMUTERS STRANDED
Some minor landslides occurred and a bridge was washed away, while as many as 930,000 houses lost power at one point, NHK said, including the entire city of Kamogawa.
"I've never seen a situation like this, the whole city without power," an official told NHK.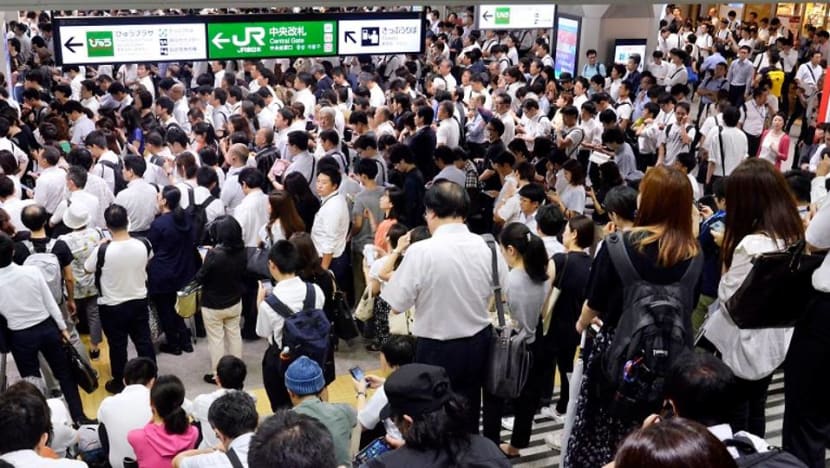 And at least 10 homes were damaged in Shizuoka, with windows shattered and cars flipped on their sides, local media reported.

Elsewhere, scaffolding was torn from buildings and protective sheeting hung to keep construction debris off the streets was crumpled and torn by the storm.
Metal signs were torn from buildings, trucks overturned, the metal roof of a petrol station torn off and glass display cases destroyed, scattering sidewalks with broken glass. Twenty-four hour fast food restaurants in central Tokyo closed, protecting their windows with plywood.

While the damage was relatively light given the wind speeds, it was enough to cause chaos in the capital's notoriously busy morning commute.

The overland East Japan Railway train system was largely halted in the early hours of operation while tracks were checked for fallen trees and other debris from the storm.
"We need to inspect tracks and check if there is any damage," a train company spokesman told AFP earlier.
The storm also caused delays and stoppages on subway lines, leading to massive crowds at some stations in the busy metropolitan area that is home to 36 million people.
Bullet train services that were suspended during the storm were largely resumed, though some were operating on a reduced schedule. Some roads were blocked by downed trees.
Some concrete electric poles were snapped off at their bases, while electricity towers in Chiba were toppled over. Some panels of a floating solar power plant southeast of Tokyo were on fire.
The Japan Atomic Energy Agency said in a statement that a cooling tower at its research reactor at Oarai, which has not been in operation since 2006 and is set to be decommissioned, had fallen, but there was no radiation leakage, impact on workers or the surrounding environment.
A Sony Corp spokesman said operations at its plant in Kisarazu, southeast of Tokyo, were suspended due to power outages. The company could not say when the plant, which assembles PlayStation gaming consoles, would reopen, he said.

Two Nissan plants west of Tokyo, including its Oppama plant, suspended operations, suspended operations due to flooding, NHK said.

FLIGHTS DELAYED
At least 138 domestic flights were cancelled, with the weather delaying the arrival of the Australian rugby team due to arrive in Tokyo Monday ahead of the Rugby World Cup that kicks off on Sep 20.
The French team managed to sneak in just ahead of the typhoon and reach their training camp near Mount Fuji.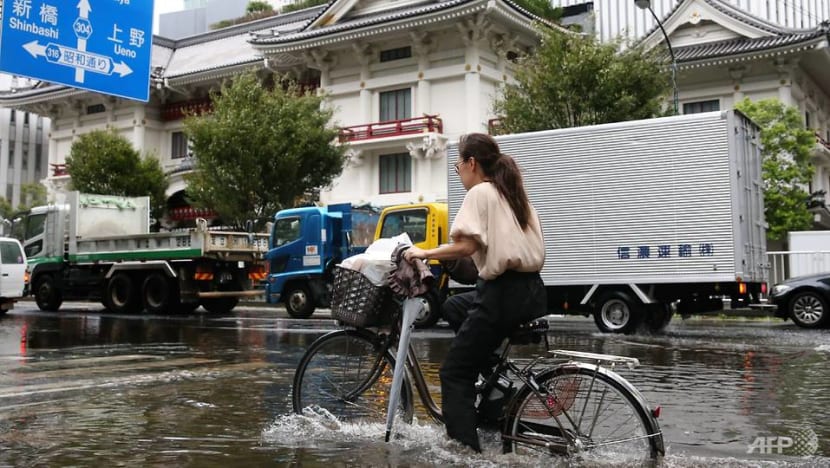 However, the Wallabies squad found their preparations disrupted by Faxai's arrival.
By mid-Monday morning, the storm had moved back offshore and was headed northeast away from Japan, back into the Pacific.
The weather agency warned that landslides were still possible in Chiba as well as the northern Fukushima region as the storm headed away from land.
Around four to five typhoons make landfall in Japan every year, but it is unusual for them to do so near Tokyo.

Strong typhoon Krosa lashed western Japan in mid-August, bringing strong winds and torrential rain that claimed one life.
And in late August, heavy rains left three people dead when massive floods also hit western Japan.

Source: Agencies/mn/nr(hm)