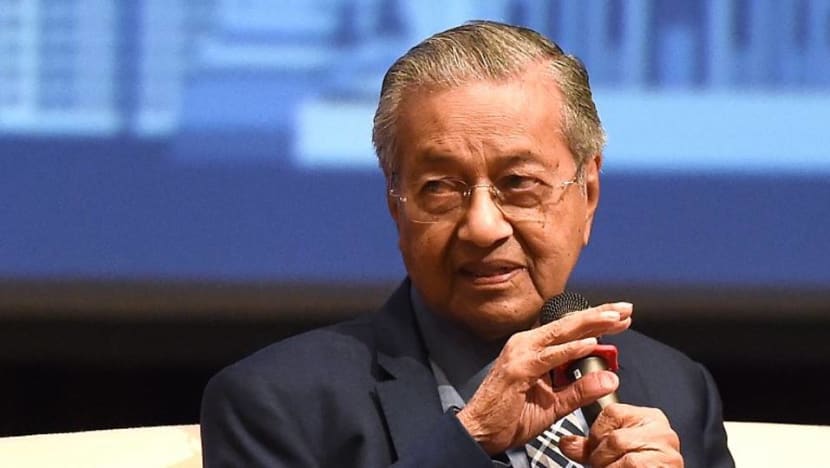 BANGKOK: Parti Pribumi Bersatu Malaysia (Bersatu) welcomes any UMNO member who is "disgusted" with their party to join Bersatu, but they will be barred from contesting in party elections for a certain period of time, Malaysian Prime Minister and Bersatu chairman Mahathir Mohamad said on Thursday (Oct 25).
This is because Bersatu was formed mainly to get rid of corruption, and it intends to stay corruption-free, said the prime minister.
"We hope people who are disgusted with UMNO would eventually join us, but we cannot give them leading roles as leaders of Bersatu," he said during a dialogue session in Thailand with the Malaysian diaspora. 
"They have to stay for (some time), barred from contesting in party election(s), because we don't want Bersatu to become like UMNO, to become corrupt."

UMNO, or the United Malays National Organisation, was the main party in the previous Barisan Nasional ruling coalition before it was defeated in May's general election. 
UMNO's previous president, former prime minister Najib Razak, is facing more than 30 charges for corruption, money laundering and criminal breach of trust.
Although Bersatu was a fair copy of UMNO in terms of membership, it had a different philosophy and ideas, said Mahathir.

While he did not reject the idea of Bersatu becoming like a new UMNO, he said the party must stay away from the practice of the past UMNO leadership led by Najib who - according to Mahathir - had gone astray from the purpose of the party's formation in 1946.

Mahathir officially launched Bersatu in January last year, pledging to unite the opposition to overthrow Najib's government.

"REMEMBER MALAYSIA ALSO NEEDS YOUR INVESTMENT"
Mahathir is on a two-day official visit to Thailand.
In his opening remarks at a meeting with the Malaysia-Thailand Chamber of Commerce, the prime minister called on the Malaysian business community in Thailand to consider investing back in Malaysia to contribute to its recovery and economic growth.

"Please do not forget that, while you are investing in Thailand, once in a while please remember that Malaysia also needs your investment," he said. "Being a successful business(man), you can contribute to the growth and recovery of Malaysia."