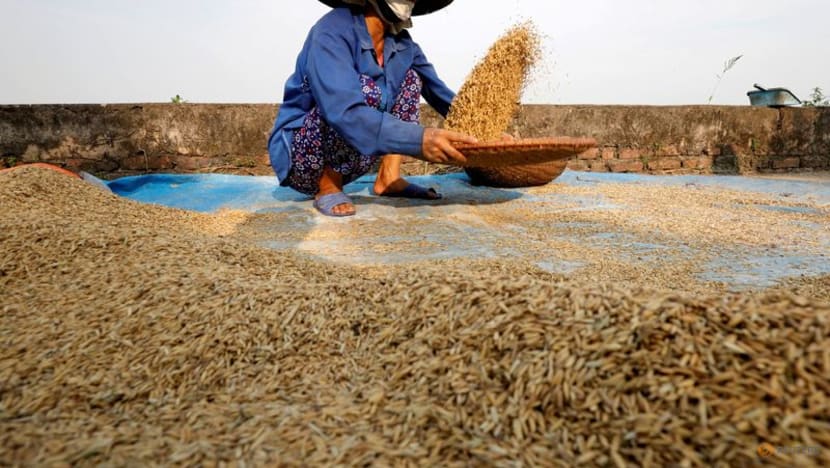 HANOI: Vietnam has no immediate plans to restrict its rice exports, a senior official of the country's food association said on Monday (Jul 31), after India's export curbs sparked worries about global supplies of the staple.
"At the moment, Vietnamese companies are exporting rice normally," said the official of the Vietnam Food Association, which represents the country's rice processors and exporters and works closely with the government, under condition of anonymity.
India, which accounts for 40 per cent of world rice exports, ordered a halt to its largest export category more than a week ago to calm domestic prices, which have climbed to multi-year highs in recent weeks as erratic weather threatened production.
The official said prices of Vietnamese rice had soared since India's move on Jul 20, adding that the harvest of the summer-autumn crop was ongoing in Vietnam, which is the world's third largest rice exporter after India and Thailand.
Vietnam's 5 per cent broken rice prices rose to US$550 to US$575 per metric tonne on Monday, traders said, their highest since 2011, from a range of US$515 to US$525 before India's move.
A day after India's export curb announcement, Vietnam's Ministry of Industry and Trade called on the association to ensure sufficient domestic rice supplies and food security, and asked traders to balance between exports and domestic sales to stabilise domestic prices.
Rice shipments from Vietnam in the first seven months of this year were estimated to have risen about 18.7 per cent from a year earlier to 4.84 million tonnes, according to the government's preliminary data. Revenue from rice exports in the period was seen up 29.6 per cent at US$2.58 billion.
On Friday, the United Arab Emirates announced it would ban rice exports and re-exports for four months, including rice of Indian origin.