'It's all Anwar': Port Dickson by-election voters say future premier seems destined for win
Locals have been impressed by his efforts on the campaign trail, believing he will deliver on his promises.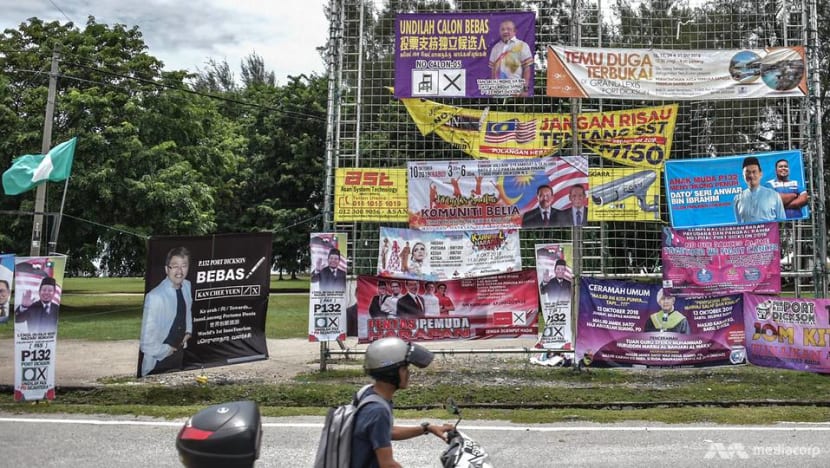 PORT DICKSON, Malaysia: These are early days but in some parts of Port Dickson, Anwar Ibrahim is already being referred to as menteri (Malay for minister) - or even perdana menteri, prime minister.
The leader of the ruling Pakatan Harapan coalition is contesting a by-election to be held on Oct 13 here in the Malaysian coastal town. Victory will secure a parliamentary seat and pave the way for him to succeed Mahathir Mohamad as the country's premier.

While seven candidates are vying for the Port Dickson seat, people Channel NewsAsia spoke to a day before the polls believe it is not so much about who will win but what the margin of victory will be.
"When I hear people talking, it's all Anwar," said a wonton noodle seller who would only give her name as Mdm Liew. "It looks like he'll win - and by a lot."

The same sentiment was borne out in surveys conducted by Institut Darul Ehsan, a think-tank under the Selangor state government helmed by Anwar's Parti Keadilan Rakyat (PKR).

Out of 1,084 respondents, 74 per cent expressed support for Anwar with Parti Islam Se-Malaysia (PAS) representative Nazari Mokhtar and independent Isa Samad trailing in the dust at 11 per cent and 10 per cent, respectively. The other four candidates did not receive any support.

"PAKATAN POWER"

Port Dickson, or PD as it is dubbed locally, has 75,770 registered voters spread across five state seats. And Anwar has received praise for his stamina in pounding the ground and keeping with a relentless daily schedule.

"He's been everywhere visiting and speaking, and a lot of people who didn't already know him, they do now," said Mdm Liew.

Said Siti Aisyah, 42: "You can see Anwar going around non-stop to meet the PD people. My friends say he is very warm towards everyone."

"I was a bit sceptical at first when I heard that Anwar is coming to contest here," P Ratnam, 35, admitted. "I was worried, there were too many rumours about him.

"But after weeks of campaigning, you can see how he is still so in high spirits, attending event after event and being well-received by the people."

Mohd Amri, 25, said Anwar was hands-down the "most popular and well-known". "In the villages, he seems to have the most impact and received the most support … And only PKR and PAS come around daily. The other candidates have rarely appeared."

Razali Ghafar, 40, declared: "Anwar is going to win because you can see in this campaign, no other candidate has the same reception at their events.

"Isa is still big in some villages, but he is no longer with the government so he might not be accepted by the average voter."

For 22 years, Isa was chief minister of the Negeri Sembilan state which Port Dickson falls under. He is also a former vice-president of the deposed United Malays National Organisation (UMNO) coalition.

"Isa had such a long time in office but his performance was not great, he's got nothing to show for it," said Mdm Liew. "And nobody is familiar with the rest of the candidates - sure, they're saying they'll do for us this and that, but we don't know them."

Said Baharuddin, 58: "Isa won't be able to make a comeback here - people have been ignoring him, and UMNO is the past.

"PAS members are here but there aren't many, and their candidate and level of support is just not as strong. They also haven't addressed local issues.

"I used to help UMNO and PAS but for now, Pakatan (Harapan) has more power."

"200% WIN"

While Mdm Liew concluded she would vote for "whoever can help the most", Indra, 53, was more cautious. "Until now, I don't know what is the real reason Anwar choose PD as the constituency for him to be PM," she commented.

"And before this, the former PKR MPs of this place also promised to bring more development to PD - but they couldn't do it.

"Now they are the government. Can they bring change? That is more important."

Abdul Rahman Abdullah, 45, replied in the affirmative.

"I think Anwar can bring good things to PD. I see him as a passionate guy, he looks really up to the task," said the businessman. "I believe he will deliver and be a good leader after Tun Mahathir."

Former PAS member Sidek Hasan, 59, added: "Anwar and Pakatan are the only real ones who can help the people, bring the change we want, and do what's right for PD."

Professor James Chin, a leading commentator on Malaysian politics, said an Anwar triumph was "200 per cent" in the bag.

"But don't forget, the majority of PD voters don't take this as a real contest," he added. "Everybody knows Anwar is going to win - it's just the margin of victory."