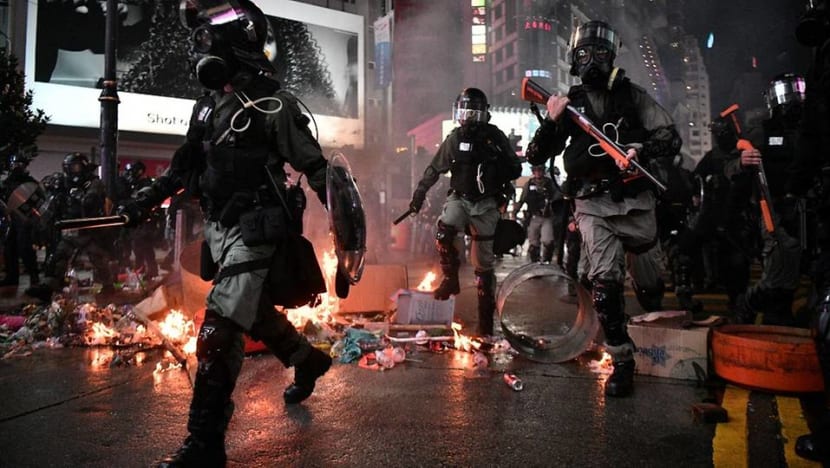 HONG KONG: Hong Kong police on Saturday (Aug 31) confirmed that two officers had fired warning shots into the air while under "serious threat" to their lives while responding to the latest anti-extradition Bill demonstration at Victoria Park.

"Two police officers were surrounded and attacked by a large group of violent protesters who once attempted to snatch police pistols," Hong Kong police said in a statement on Sunday.

"With their lives under serious threat, the officers fired two warning shots into the sky to protect their own safety."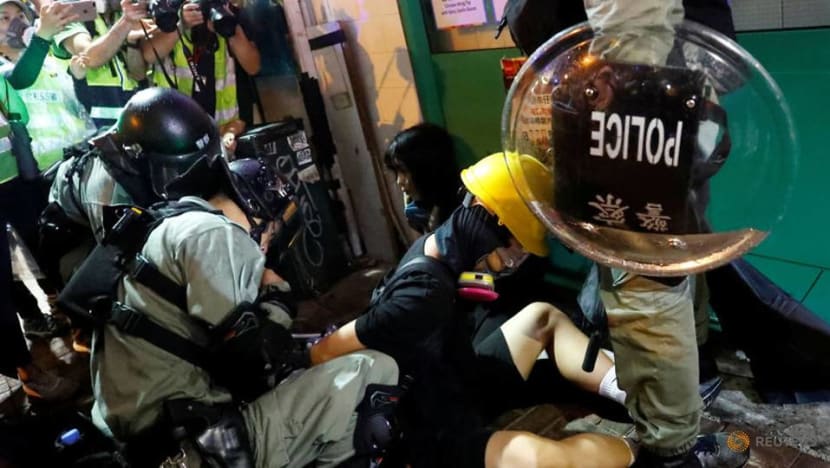 Chaos engulfed the heart of Hong Kong late Saturday, as police fired tear gas and water cannon at protesters who defied a ban on rallying, set fires, and hurled petrol bombs.

Riot police entered several MTR underground metro stations in an attempt to arrest protesters, after a ban on rallying in the city centre was defied.

TV footage showed people being beaten as they cowered on the floor behind umbrellas. Five rail lines were closed.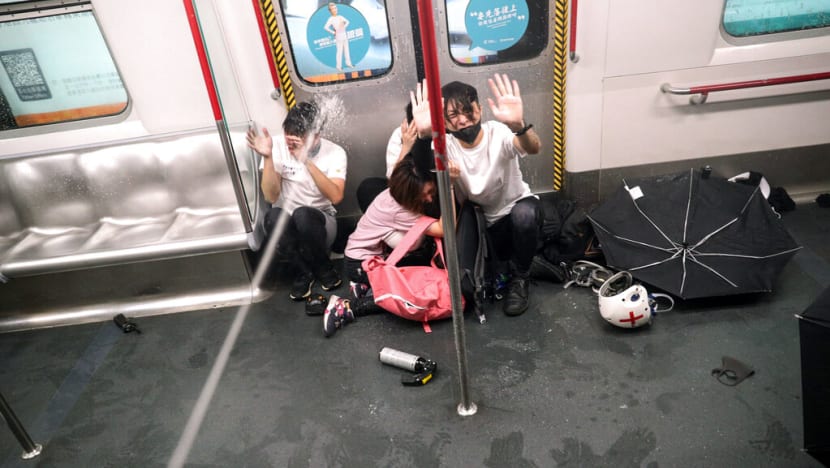 Video on social media showed people - believed to be protesters - being arrested en masse inside a train carriage at a metro station as they left demonstrations. Police later confirmed the arrest of "radical protesters" at two city stations.

Police said that a number of the stations had been "vandalised".

"Some protestors even hurled miscellaneous objects and iron railings into MTR railroad and committed arson inside MTR station, completely disregarding the safety of other passengers," said the police statement.

Three stations - Mong Kok, Prince Edward and Kowloon Bay - were still closed for investigations and an evidence search as of Sunday morning.

"With such escalating violence and progressively lethal weapons of protestors, the safety of police officers and other members of the public is seriously threatened," police said in the statement.

On Saturday afternoon tens of thousands of protesters under a colourful canopy of umbrellas - many in their signature black T-shirts - marched through Hong Kong island chanting "reclaim Hong Kong, revolution of our times".

As evening fell, violence ricocheted through the city's commercial centre, with a minority of hardcore protesters unleashing a barrage of petrol bombs and rocks at riot police.
The crowds grew after dusk in Wanchai, where demonstrators built roadblocks and banged iron sticks. Firemen battled a huge blaze outside a Methodist church in the main Hennessy Road where water cannon moved in.
The fire was extinguished as demonstrators were pressed into the neon-lit shopping hub of Causeway Bay, under a hail of tear-gas rounds and sporadic firing of rubber bullets.
There were also standoffs in North Point and Fortress Hill, to the east of Causeway Bay, and police fired tear gas at fire-bomb throwing protesters over the harbour in Tsim Sha Tsui.

Police - some undercover, dressed as protesters - made numerous arrests as the night deepened into a cat-and-mouse chase across the city.
Police also fired tear gas at protesters who gathered outside government headquarters on Saturday.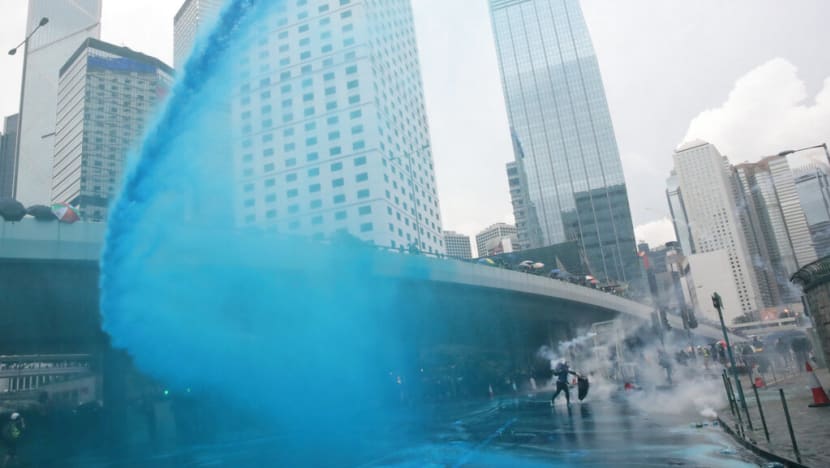 A water cannon with blue-dyed liquid was used briefly on a hardcore group of protesters who were throwing rocks and were armed with shields. Blue-dyed water is traditionally used elsewhere in the world to make it easier for police to identify protesters later.
Other protesters started fires, threw petrol bombs and pointed lasers at riot police as they smashed down a barrier erected around the government's parliament building.
The hospital authority said Sunday that 31 people were admitted with injuries following the clashes, including five who remain in a serious condition.
Protesters were preparing to demonstrate again on Sunday, with plans to rally at a bus terminal outside the city's airport, with disruption also expected at train stations enroute to the airport.
There have been frequent clashes between protesters and police, who have fired tear gas and rubber bullets amid accusations of excessive force.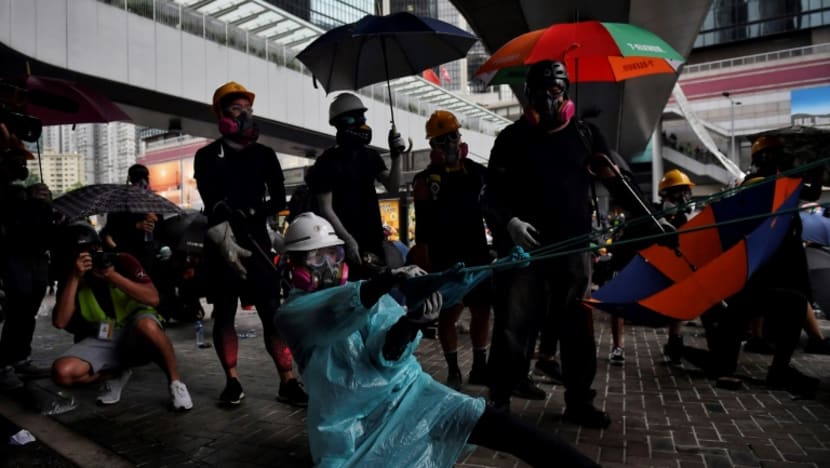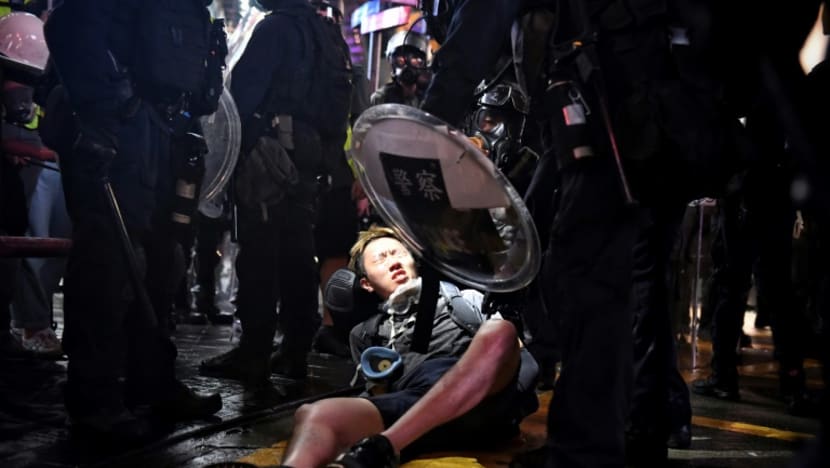 "A lot of people from the outside think it is the police who escalate (the violence) first," a police officer told a media briefing. "This is not true."
An off-duty policeman was attacked on Friday night by three unidentified men with a knife, suffering wounds to his limbs and back, police said. The news was a top-trending topic on China's Twitter-like Weibo.
The protests in Hong Kong have gone on for three months, sometimes turning violent, and have targeted the airport, the legislature and the Liaison Office, the symbol of Chinese rule.
Saturday's clashes came on the fifth anniversary of Beijing's rejection of a call for universal suffrage in the semi-autonomous city, sparking the 79-day Umbrella Movement in 2014.

The latest clash between police and demonstrators marked the 13th straight weekend of protests.
With Hong Kong facing its first recession in a decade, speculation has grown that the city government may impose emergency laws, giving it extra powers over detentions, censorship and curfews.

Follow us on Telegram for the latest on Hong Kong: https://t.me/cnalatest
Source: CNA/agencies/nh(hm)