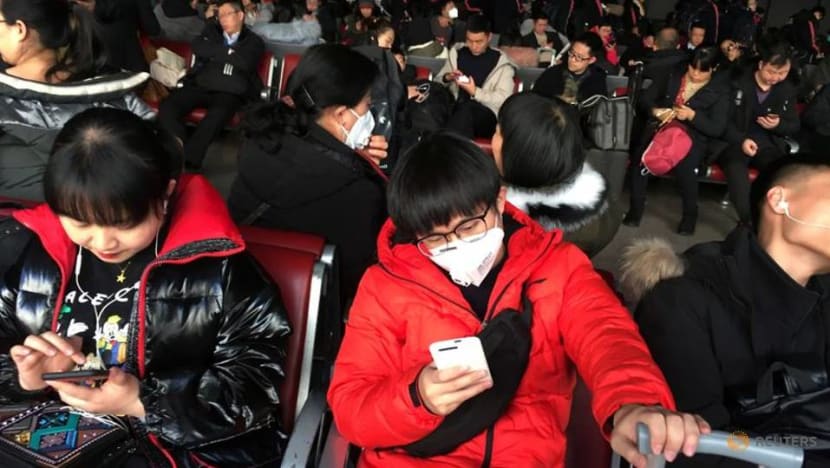 BEIJING: A new coronavirus, a mysterious SARS-like disease, has spread around China and to other countries since first emerging in the central Chinese city of Wuhan.
A timeline of how the virus has spread:
ALARM RAISED BY CHINA
The World Health Organization (WHO) is alerted on Dec 31, 2019, by Chinese authorities of a string of pneumonia-like cases in Wuhan, a city of 11 million people.
Patients are quarantined and work begins on identifying the origin of the pneumonia.
The US Centers for Disease Control and Prevention (CDC) identifies a seafood market suspected to be at the centre of the outbreak. The market is closed on Jan 1, 2020.
SINGAPORE STARTS SCREENINGS AT AIRPORT
On Jan 2, Singapore's Ministry of Health (MOH) says it is aware of the pneumonia outbreak and is monitoring the situation closely.
Temperature screening will be implemented for all travellers arriving at Changi Airport from Wuhan and suspected cases will be referred to hospitals for further assessment.

NEW CORONAVIRUS
On Jan 9, the WHO says that the outbreak in Wuhan was caused by a previously unknown type of coronavirus, which is a broad family ranging from the common cold to more serious illnesses like SARS.
Fifty-nine people have been infected, of whom seven are in a serious condition, according to an official toll.
FIRST DEATH
Chinese health authorities say a first person has died of the virus on Jan 11. They revise downwards the number of sick people to 41.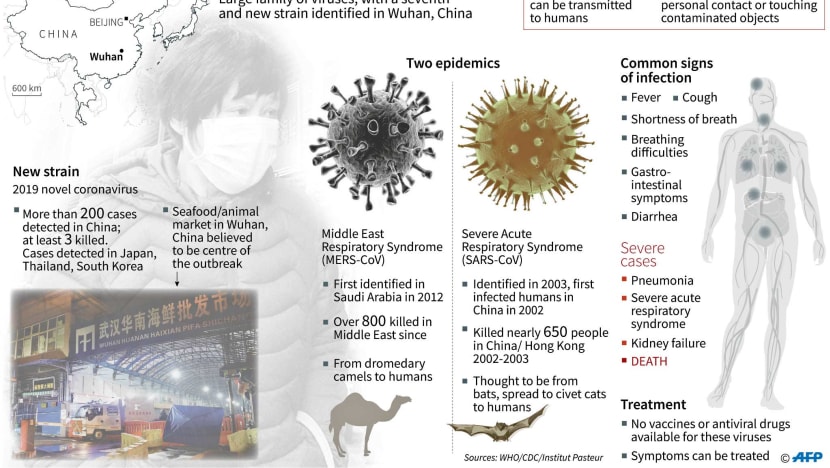 SPREADS BEYOND CHINA
On Jan 13, the virus spreads beyond China's borders for the first time, with a case emerging in Thailand, according to the WHO. 
The victim is a Chinese woman diagnosed with mild pneumonia who was returning from a trip to Wuhan.
On Jan 15, China's health commission says no human-to-human transmission of the virus behind the Wuhan outbreak has been confirmed so far, but the possibility "cannot be excluded".
The next day a first case of the virus is confirmed in Japan in someone who had stayed in Wuhan in early January.
US CONTROLS
On Jan 17, a second person, a 69-year-old man, dies in Wuhan, according to authorities.
The same day, the US CDC announces that it will begin screening passengers arriving from Wuhan at three airports: San Francisco, New York's JFK and Los Angeles.
HUMAN-TO-HUMAN TRANSMISSION CONFIRMED
On Jan 20, a third death and more than 100 new cases are announced in China, sparking concerns ahead of the annual Chinese New Year holiday which begins on Jan 25 and sees hundreds of millions of Chinese people travel nationwide.
The virus is present in Beijing in the north, Shanghai in the east and Shenzhen in the south. More than 200 cases have been recorded. 
The virus is also detected in South Korea in a Chinese person who has arrived by plane from Wuhan.
China's President Xi Jinping says that the virus must be "resolutely contained", in his first public comments on the outbreak.
Human-to-human transmission is "affirmative", a top Chinese expert on infectious diseases Zhong Nanshan tells state broadcaster CCTV.
COUNTRIES STEP UP AIRPORT SCREENINGS
Singapore's MOH says on Jan 20 that temperature screening at Changi Airport will be extended to all travellers arriving from China.
Individuals with pneumonia who had travelled to Wuhan within 14 days before the onset of symptoms will be isolated in hospital.
On Jan 21, Australia announces it will begin screening passengers from some flights from China.
DEATH TOLL AT 6, MEDICAL WORKERS ILL
Wuhan's mayor tells state television that the death toll has risen to six.
According to state media, the number of infected patients has spiked to 291, a jump of more than 70 cases from the previously reported 218 patients.
It also confirms 15 medical workers in Wuhan have been diagnosed with pneumonia, with an additional worker suspected of having the disease.
Separately, China's eastern Zhejiang provincial health authority says a total of five cases of new coronavirus were confirmed as of noon on Jan 21.
VIRUS SPREADS BEYOND ASIA FOR THE FIRST TIME TO THE US
On Jan 21, the CDC announces the US' first case of the virus.
A US resident in his 30s who lives near Seattle approached authorities after reading about the SARS-like virus in news reports.
The man entered the country on Jan 15 after travelling to Wuhan, two days before the US began deploying health officials at major airports to screen passengers arriving from that central Chinese city which is at the heart of the outbreak. The efforts are to be extended now to a total of five US airports.
DEATH TOLL CLIMBS
On Jan 22, an official from China's national health commission says the death toll as of Jan 21 is nine.
There are a total of 440 confirmed cases across 13 provinces in China and more than 2,000 cases of close contact have also been detected.
The commission's deputy head Li Bin tells reporters the coronavirus is transmitted via the respiratory tract and there is "the possibility of viral mutation and further spread of the disease".
MORE CASES OUTSIDE CHINA
Two new cases are reported in Thailand on Jan 22 - a Thai woman who visited Wuhan and a male Chinese tourist. Both are being treated in medical facilities outside Bangkok.
Macau confirms its first case, a 52-year-old businesswoman from Wuhan who went to hospital on Jan 21. Local authorities announce temperature checks at entry points, with visitors required to fill in a health declaration form. Casinos have also been provided with portable screening devices and all casino staff are required to wear surgical masks. 
North Korea announces it will ban tourists in a bid to keep the virus out of the country.
Singapore announces it has set up a ministerial task force to deal with the Wuhan virus. Health Minister Gan Kim Yong says an imported case reaching its shores is "inevitable".
DEATH TOLL NEARLY DOUBLES
State television reports on the night of Jan 22 that the death toll has risen to 17, with the number of confirmed cases in Hubei rising to 444 as of 8pm local time.
The next day, China confirms a further spike in the number of people who have the disease, taking the number of cases to 571.
WUHAN QUARANTINED
An effective quarantine in Wuhan kicks in at 2am on Jan 23, with flights and trains out of the city suspended and the city's public buses, subway and long-distance coaches also halted until further notice.
The city has also warned people to avoid entering or leaving Wuhan.

SINGAPORE CONFIRMS ITS FIRST CASE
Singapore confirmed its first case of the Wuhan virus on the evening of Jan 24. 
A 66-year-old male Wuhan resident, who arrived in Singapore with his family on Jan 20, is currently in isolation at the Singapore General Hospital (SGH) and is in stable condition. 
The man went to SGH on Jan 22 and was immediately isolated. 
He was identified by the Ministry of Health as a suspect case at 10pm on Jan 22 and was tested positive for the new coronavirus at 6pm on Jan 23. 
The man stayed at Shangri-La's Rasa Sentosa Resort and Spa and indicated that he kept within the hotel vicinity. 
Shangri-La Group who managed the hotel said that the hotel room at the resort that the man occupied has been "thoroughly disinfected and sanitised".
CHINA SEALS OFF MORE CITIES
China shuts the city of Huangang on Jan 23. The city had reported at least 12 cases of the coronavirus. 

Indoor entertainment venues including movie theatres and internet cafes to shut, and asked citizens not to leave the city other than under special circumstances.
By Jan 24, China suspended public transportation in at least 14 cities around the epicentre of a deadly virus outbreak, affecting the movement of about 41 million people ahead of Chinese New Year this weekend.

SINGAPORE BEGINS TEMPERATURE SCREENING AT LAND AND SEA CHECKPOINTS
Temperature screening for travellers arriving at Woodlands and Tuas checkpoints began at noon on Jan 24.

The screening is also being implemented in anticipation of increase in travel volume leading up to the Chinese New Year holidays, according to Immigration and Checkpoints Authority.

Singapore's sea checkpoints temperature screening also started at noon, the Maritime and Port Authority of Singapore said in response to CNA's queries.

SECOND DEATH OUTSIDE OF EPICENTRE
China on Jan 24 confirmed a second death outside of Wuhan. The SARS-like virus outbreak has infected hundreds of people, raising the overall death toll to 26 dead.

The number of confirmed cases had leapt to 830, according to the National Health Commission said on Jan 24.

TWO MORE CASES CONFIRMED IN SINGAPORE
Two more people tested positive for the Wuhan virus in Singapore, bringing the total number of cases to three, the Ministry of Health announced on Jan 24.
The new patients included the 37-year-old son of the first confirmed case, MOH said in a media briefing in the afternoon. 
The second new confirmed case was a 53-year-old woman from Wuhan who arrived in Singapore on a Scoot flight at 5.30am on Jan 21.
She was flagged by the ministry on Thursday as a preliminary positive case.
MOH said that the woman had reported that she was asymptomatic during the flight to Singapore.
She sought medical attention at Raffles Hospital the next day and was later taken to the emergency department at Tan Tock Seng Hospital and immediately isolated.

For full coverage and latest developments on the Wuhan virus outbreak: https://cna.asia/wuhan-virus
Follow us on Telegram for the latest updates: https://cna.asia/telegram