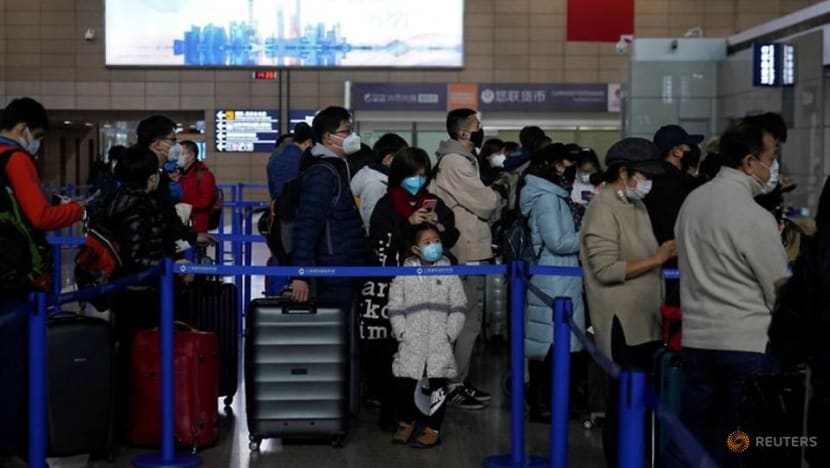 BEIJING: The Chinese government has decided to send charter planes to bring citizens from virus-hit Hubei province who are overseas back "as soon as possible", the foreign affairs ministry said Friday (Jan 31).
"In view of the practical difficulties that Chinese citizens from Hubei, especially Wuhan, have faced overseas, the Chinese government has decided to send charter flights to take them directly back to Wuhan as soon as possible," said Ministry of Foreign Affairs spokeswoman Hua Chunying.
The ministry's comments come as a number of airlines announced they were halting or reducing flights to China as the country struggles to contain the spread of a deadly new virus.
The topic was trending online on Friday, with more than 35 million views and 15,000 discussion posts on China's Twitter-like platform Weibo.

"These people probably don't want to go back (to Wuhan)," said one.

Another questioned if they should be brought back if they were not infected.
China has advised its citizens to postpone trips abroad and cancelled overseas group tours, while several countries including Germany and Britain have urged their citizens to avoid travel to China.
The United States told its citizens Thursday night "do not travel" to China, raising its advisory status to the highest level of alert.
The State Department issued a level four warning - up from urging Americans to "reconsider" travel to China - and said any nationals in China now "should consider departing using commercial means."
Japan on Friday also raised its travel warning for China to a level two on Japan's four-point warning system, advising people to "avoid travel that is not urgent or is not necessary".
Japan had already raised its travel alert for Hubei province where the outbreak began to a level three, warning against any travel to the region.

The top end of the scale advises against all travel and calls for immediate evacuation.

The outbreak of the coronavirus has sickened nearly 10,000 people in China with the death toll at more than 200, prompting the World Health Organization to declare an international emergency.
As fears of the outbreak have spread overseas, prominent figures in Chinese communities in Italy warned this week of episodes of "latent racism" against their compatriots by Italians fearful of catching the virus.
China has taken extreme steps to stop the spread of the virus, including effectively quarantining more than 50 million people in Wuhan and surrounding Hubei province.
Thousands of foreigners have been trapped in Wuhan since it was sealed off last week.
Hospitals have been overwhelmed in the city. AFP reporters saw long queues at hospitals, with some patients saying they queued for two days to see a doctor.
The pathogen is believed to have emerged in a market that sold wild game, and spread during a Chinese New Year holiday season in which hundreds of millions of Chinese travel at home or abroad.
Download our app or subscribe to our Telegram channel for the latest updates on the Wuhan virus outbreak: https://cna.asia/telegram