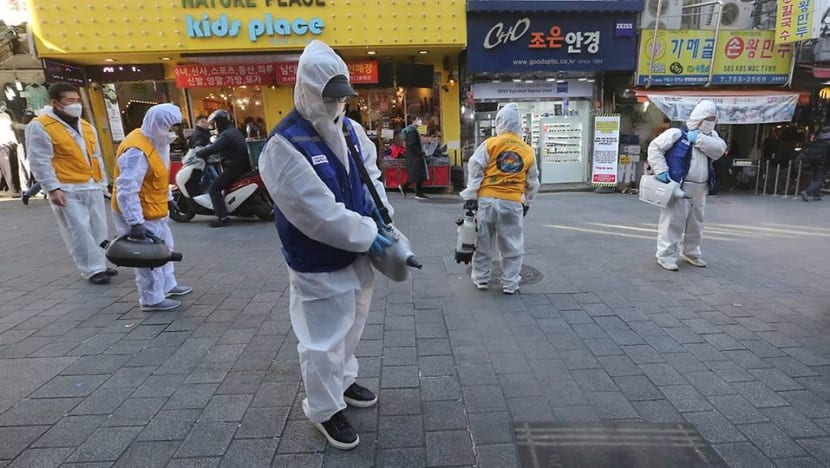 SEOUL: South Korea has confirmed three more cases of the novel coronavirus, including two men who had attended a business meeting at Singapore's Grand Hyatt hotel last month.
South Korean media reported that they were in Singapore for work and came into contact with a Malaysian who has since tested positive for the virus.
The Korea Centers for Disease Control and Prevention (KCDC) said on Wednesday (Feb 5) that the 17th case, a 38-year-old Korean man, visited Singapore for a conference from Jan 18 to Jan 24. 
The man had a meal with the Malaysian man, as well as several other South Koreans during the conference, reported newspaper Joongang Ilbo. 
The 38-year-old developed a fever two days after he returned to South Korea, Korea Joongang Daily reported. He went to hospital, but was not classified as a suspected coronavirus patient as he had not been to China recently, said the report.
However, he did not get better and went to two other hospitals.
On Monday, he got a call from the Malaysian man who told him he had been diagnosed with the novel coronavirus, reported the news outlet.
The South Korean then contacted a community health centre on Tuesday and was subsequently taken to hospital. He tested positive for the coronavirus on Wednesday.
The 42-year-old Malaysian man was the country's first citizen case of the novel coronavirus, bringing the total number of infected patients in Malaysia to 10. 
He was in Singapore from Jan 16 to Jan 23 for a business meeting at the Grand Hyatt Hotel that involved Chinese nationals.
On Tuesday, Singapore authorities said that they were tracking the contacts of the Malaysian man, who developed symptoms on Jan 29 and subsequently tested positive for the novel coronavirus on Feb 3, nearly a week after he returned to Malaysia.
Singapore's Ministry of Health (MOH) said it has initiated epidemiological investigations and contact tracing to identify the individuals who had close contact with the case. 
South Korea's 18th case, a 21-year-old Korean woman, is a daughter of the 16th confirmed case in South Korea. While in isolation, she tested positive on Wednesday.
Epidemiological investigation and contact tracing are underway, said the KCDC.
On Wednesday evening, South Korean authorities confirmed another case of the virus, taking the country's total to 19, local media reported.
The latest case, a 36-year-old man, had attended the same conference in Singapore as the previously confirmed 38-year-old South Korean man, reported The Korea Herald. He too had come into contact with the Malaysian who tested positive for the virus.
A spokesman for the Grand Hyatt Hotel confirmed that the Malaysian had stayed at the hotel for a week in mid-January but he did not comment on meetings held at the hotel.
The hotel has been deep cleaned and it is not aware of any other cases among its hotel guests or staff, he said.
In an update on Wednesday, MOH said the Jan 20 to 22 meeting was attended by 109 participants from one company.
Of those, 15 were Singapore residents and 94 were from overseas, said MOH. All of the overseas participants have left Singapore and MOH has informed the relevant health authorities, it said.
The number of confirmed infections in China's coronavirus outbreak has reached 24,324 nationwide with 3,887 new cases reported, the National Health Commission said. 
The disease is believed to have emerged in December in a Wuhan market that sold wild animals, and spread rapidly as people travelled for the Chinese New Year holiday in January.
The novel coronavirus has continued to spread with Singapore, Malaysia, and Thailand on Tuesday reporting new infections that were not imported from China.
CNA has reached out to Korea's Centers for Disease Control and Prevention for more details on the South Korean patient. 
Download our app or subscribe to our Telegram channel for the latest updates on the Wuhan virus outbreak: https://cna.asia/telegram