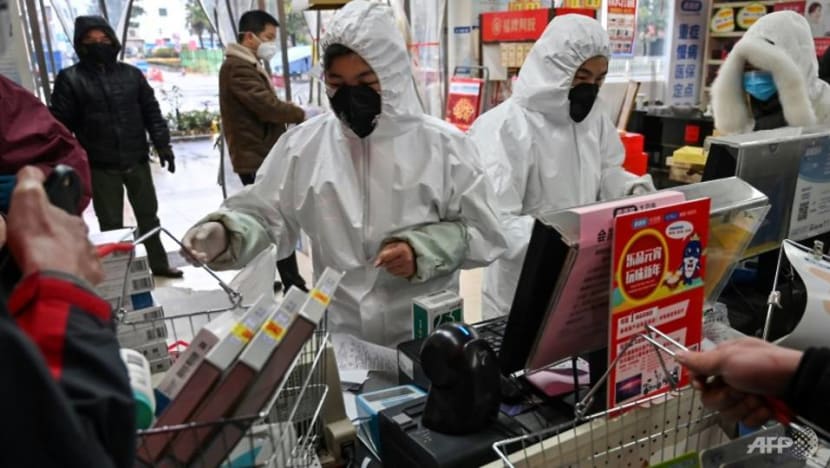 BEIJING: China said on Tuesday (Jan 28) that 106 people had died from a new coronavirus that is spreading across the country, up from the previous toll of 81.
The number of total confirmed cases in China rose to 4,515 as of Jan 27, the National Health Commission said in a statement, up from 2,835 reported a day earlier.
There were nearly 7,000 more cases suspected and awaiting confirmation, according to the commission.

China on Tuesday postponed the start of the spring semester for schools and universities across the country over concerns about the outbreak.
Students are currently on holiday for Chinese New Year and the education ministry did not provide a date for teaching to resume.
But a statement from the ministry said teaching institutions would reopen on a case-by-case basis.
School administrators had been instructed to "require students not to go out, not to gather, and not to hold or participate in centralised activities", the statement added.

China's National Health Commission said in a briefing on Tuesday that an additional 6,000 medical staff has been mobilised to tackle the outbreak in Hubei. 
Authorities on Monday decided to extend the Chinese New Year holiday, originally due to end on Jan 30, for three days to limit population flows and control the epidemic.
The virus, which first emerged in the Chinese city of Wuhan, has since been identified in more than a dozen other countries, including the first confirmed patients in Canada and Sri Lanka.

China last week locked down the affected region in Hubei province in the biggest quarantine operation on record, and is building two new hospitals to treat virus patients. President Xi Jinping has created a special committee to tackle the outbreak.

As those trapped in Wuhan have become increasingly anxious, governments have scrambled to devise ways to safely get their citizens out of the city of 11 million.

The United States, France and Japan are among those to have announced plans for airlifts, but nearly a week after the lockdown the evacuations have yet to happen.
A chartered US-bound flight had been scheduled to leave Wuhan on Tuesday with consular staff and some American citizens.
But the State Department said that had been postponed to Wednesday, without giving a reason.
France has also said it intends to fly its citizens out of the city in the middle of this week, and Japan has similar plans.
Several other countries also were working to repatriate their people, while Germany said it was considering doing so.
DESPERATE EFFORTS
Medical facilities have been overwhelmed in Wuhan, which has become a near ghost-town.
China has deployed hundreds of military medics to ease the pressure, and started building two hospitals with the aim of finishing them in just 10 days.
AFP reporters saw hundreds of mask-wearing workers toiling around the clock to assemble one of the pre-fab field hospitals.
Construction began just days ago but the outline of a floor was already taking shape and electrical switchboards were up on Monday.
"We have to work fast to combat the epidemic," a worker in his 30s, who refused to give his name, told AFP.
Stressed Wuhan residents living under the quarantine expressed fears for the health and dwindling supplies at home.
"I'm getting more concerned every day," Do Quang Duy, a 32-year-old Vietnamese masters student in Wuhan, told AFP.

FIGHTING SPIRIT
But Wuhan's people, who have a reputation in China for resilience, sought to project a fighting spirit.
Quarantined residents shouted "Go Wuhan" from their windows, according to videos posted online.
A building lit up the night sky late on Monday with those words in red.
The World Health Organization said on Monday that it remained unclear if the deadly virus is contagious during its incubation period, before symptoms appear.

It did not immediately confirm assertions made by Chinese authorities that people who are infected can spread the disease before they show any symptoms of fever or respiratory difficulties.

The virus is believed to have originated late last year in a Wuhan market illegally selling wildlife. Much is not known, including how easily it spreads and just how deadly it is.

Follow us on Telegram for the latest updates: https://cna.asia/telegram