Bayer in Singapore: 50 years of science, improving lives around the region
For global leader in healthcare and nutrition Bayer, Singapore is an ideal hub for engaging in the partnerships, research and outreach needed to bring innovative science and products to Asia Pacific.
Since 1971, Bayer has relied on Singapore's excellent resources and connectivity to the region and the rest of the world in its work to prevent and cure diseases, improve everyday health and help feed a rising global population.
In the company's vision of Health for All, Hunger for None, innovation and sustainability are core parts of Bayer's corporate strategy, going hand in hand with the economic growth propelled by the fast-growing markets in Southeast Asia and the remaining Asia Pacific region.
"As a regional hub, we have the opportunity to advance Bayer's global sustainability commitments from Singapore and make a difference in the lives of farmers, patients, people in general, as well as the environment," said senior Bayer representative Ernst Coppens. "Singapore has cemented its status not only as a global hub for trade and commerce but as the leading digital economy that can facilitate sustainability in the region."
COMMITMENT AND COLLABORATION, FOR INNOVATIVE MEDICINES
Singapore plays a key role in supporting Bayer's commitment to empowering Asian patients with early access to its innovative treatments, said Ms Xiaolan Zhou, head of Commercial Operations at Bayer Pharma Asia Pacific (APAC).
"Our innovative medicines and collaborations have been addressing difficult-to-treat diseases such as cancer, stroke and eye diseases due to aging and diabetes that are prevalent in Singapore and in Asia Pacific over many decades," said Ms Zhou. "With our long-standing partnerships with Singapore institutions, we will continue to make a difference to the lives of patients in the region through our breakthrough innovations."
To date, Bayer has invested over S$27 million into research projects with Singapore institutions to find solutions to these difficult-to-treat diseases since 2007.
Last year, Bayer announced a five-year collaboration with the National Heart Centre Singapore to set up a Centre of Excellence for Explorative Cardiovascular Studies. The centre aims to generate and integrate high-quality patient data in order to create a better understanding of the underlying biology of cardiovascular disease. This could potentially lead to future targeted therapies to address current unmet needs in the area. Bayer will contribute S$5.4 million towards the setup of the centre.
Beyond research collaborations, Bayer partnered with NUS Enterprise, the entrepreneurial arm of the National University of Singapore, in 2016 to launch Grants4Apps Singapore, an open innovation programme that calls for innovative health tech solutions to improve medication adherence in elderly people with chronic diseases. Bayer also launched the Healthy Hearts, Healthy Aging Asia Pacific Report at Innovfest Unbound in 2019.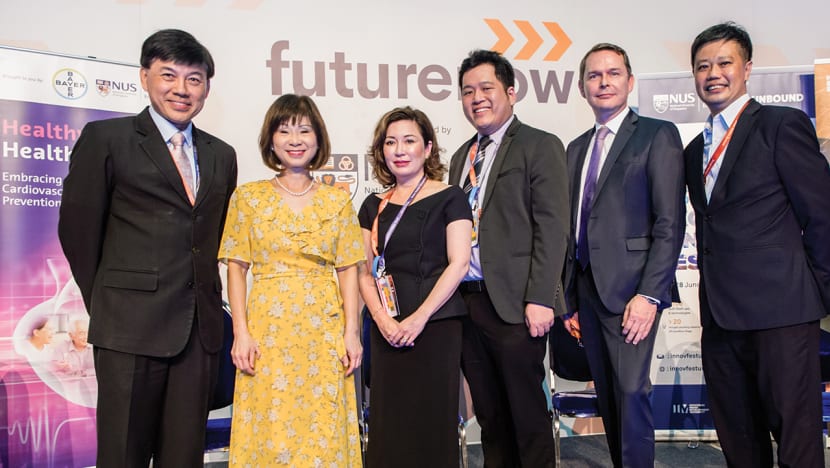 In March this year, Bayer's oral cancer precision therapy larotrectinib was approved by the Health Sciences Authority for the treatment of adults and children with solid tumours that display a NTRK (neurotrophic tyrosine receptor kinase) gene fusion, a rare genomic alteration that fuels tumour spread and growth.
Larotrectinib is designed to target the oncogenic driver of the tumour that causes it to spread and grow, rather than treating a tumour according to its location in the body. Ms Zhou explained that the precision therapy could be a game changer and fills a previously unmet medical need for patients with TRK fusion cancer.
ADVANCING INNOVATION IN AGRICULTURE
According to Mr Jens Hartmann, head of Commercial Operations of Bayer Crop Science APAC, Bayer aims to empower 100 million smallholder farmers in developing countries by 2030 with innovation, knowledge and partnerships. This is in keeping with its sustainability targets set in line with United Nations' Sustainable Development Goals.
"Smallholder farmers should have access to agronomic knowledge, products and services, which include access to tailored digital solutions," said Mr Hartmann.
Bayer is driving the adoption of digital farming by introducing drone technology and apps to underscore the importance of data and precision farming for sustainable agriculture. For example, Bayer rolled out FarmRise, a digital advisory platform that provides agronomic information and advice to smallholder farmers in rural India to help them make informed strategic decisions, from planting to harvesting and off-loading their produce in the market.
Mr Hartmann said: "Digital tools and solutions allow farmers access to the value chain, provide market information about commodity prices, and link them to off-takers who will buy their harvest at fair prices, while also connecting them to financial institutions for their credit and financing needs."
Another major step forward is Unfold, a new company invested in and formed by Leaps by Bayer in partnership with Temasek. Unfold seeks to unlock the genetic potential of vertical farming by utilising seed genetics (germplasm) from vegetable crops to develop new seed varieties. Mr Hartmann believes that vertical farming solutions by companies such as Unfold will help contribute to Singapore's 30 by 30 food security programme, aimed at producing 30 per cent of the city's nutritional needs by 2030.
Besides investing in new technology through Unfold, Bayer has a Crop Science Seeds Laboratory in Singapore as part of the global network of Crop Science Research and Development Centres dedicated to screening for innovative agronomic and quality traits and integrating them into crops for Asia Pacific.
SUPPORTING SELF-CARE IN SOUTHEAST ASIA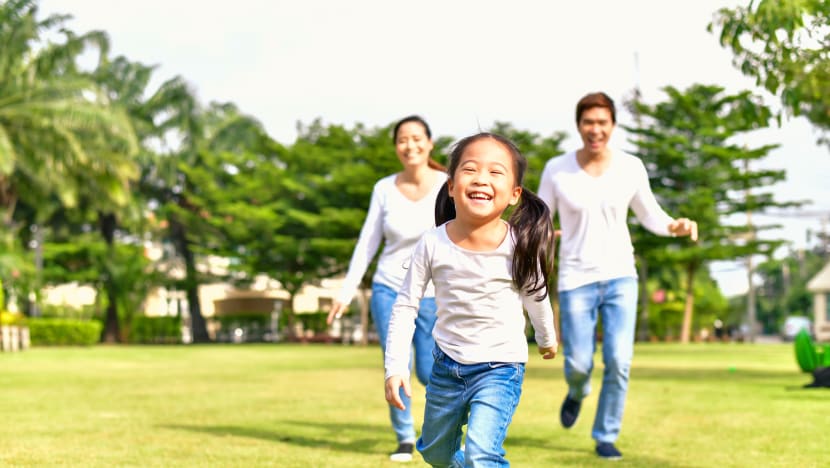 The COVID-19 pandemic has brought to the fore the importance of wellness and self-care, with rising demand for medication and self-care solutions from online shopping channels, said Mr Alvin So, head of Commercial Operations at Bayer Consumer Health ASEAN.
In Singapore and across ASEAN, boosting the support and availability of self-care could also lead to savings on health budgets and reduce the burden on existing primary healthcare systems.
As the fastest-growing among the top 10 consumer health companies in ASEAN*, Bayer has scaled up its digital business capabilities to expand access to self-care solutions. This meant giving digital consumers access to its self-care brands online, through helpful content on its websites and social media channels that enables them to take charge of their everyday health.
To further inspire consumers to take control of their health, Bayer last year ran numerous digital campaigns across ASEAN for its nutritional supplement brands such as Redoxon and Berocca.
Bayer is also one of the first mover consumer healthcare companies in e-commerce, and was on Shopee Southeast Asia's leaderboard as one of the top five selling brands in the healthcare category.
In addition, Bayer has reached out to underserved communities through the Nutrient Gap Initiative. The initiative aims to expand access to needed vitamins and minerals to 50 million people globally per year by 2030 through direct action and partnership with non-governmental organisations with a focus on intervention, education and advocacy.
"We are passionate about driving more public-private collaborations to enable consumer access to good-quality self-care medicines for minor illnesses, and promoting a robust self-care framework that advances the United Nations' Sustainable Development Goal 3 of good health and well-being in ASEAN," said Mr So.
These campaigns, initiatives, research work and collaborations in the region have leveraged expertise from Bayer's hub in Singapore – and Bayer is looking forward to investing further in coming years.
Said Mr Coppens: "We are grateful and proud of our employees for their dedication and contributions. We are thankful for the support and partnerships we have had in the country over the last 50 years. I am confident that we will build further from these achievements in the next 50 years, to fulfil Bayer's vision of Health for All, Hunger for None."

*In terms of sales in 2020, based on internal database TABs derived from IQVIA.