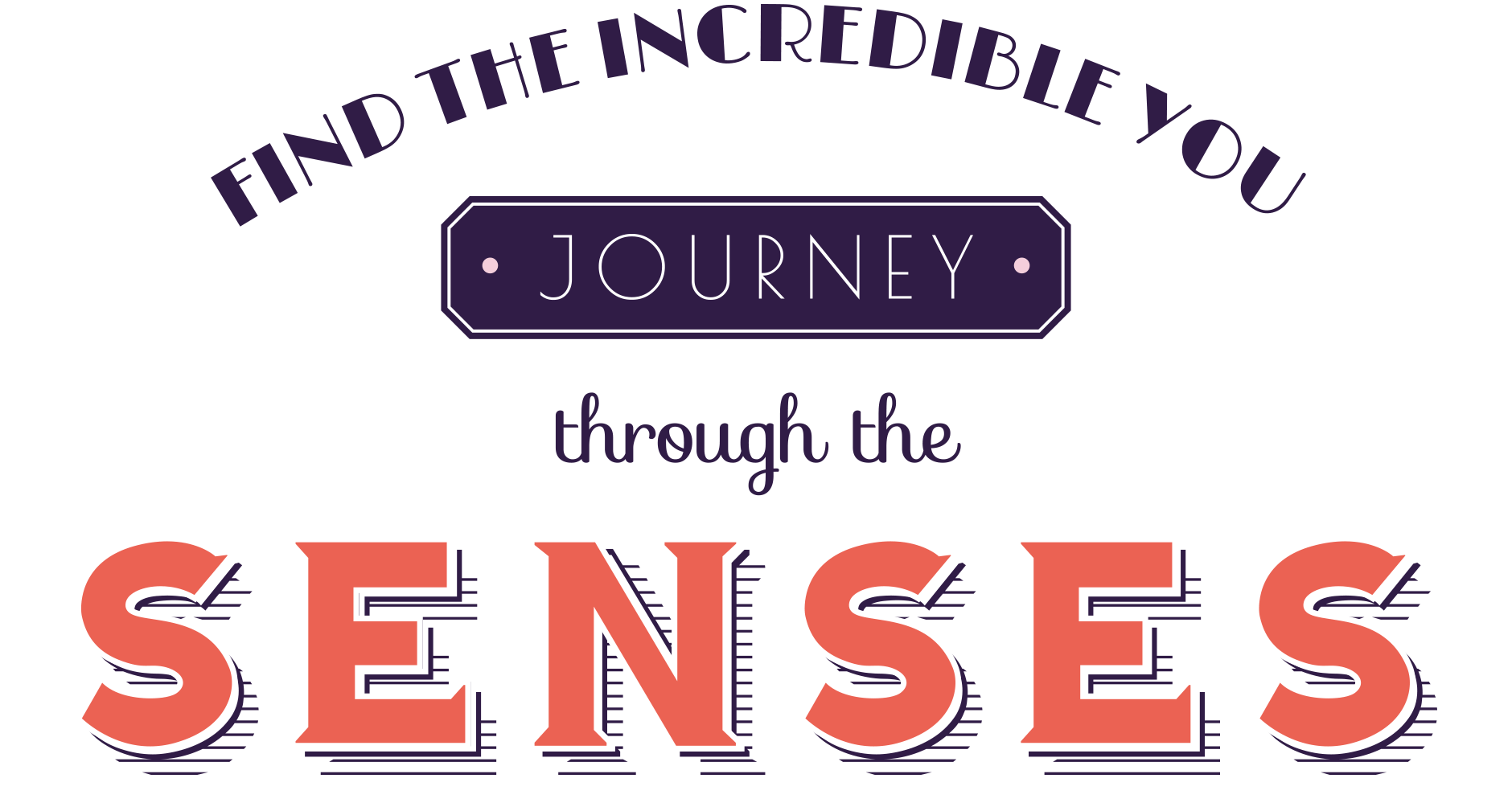 Journey into Incredible India and experience the sights, sounds, and tastes of this magnificent destination. Take your first step right here, and let your senses be your guide.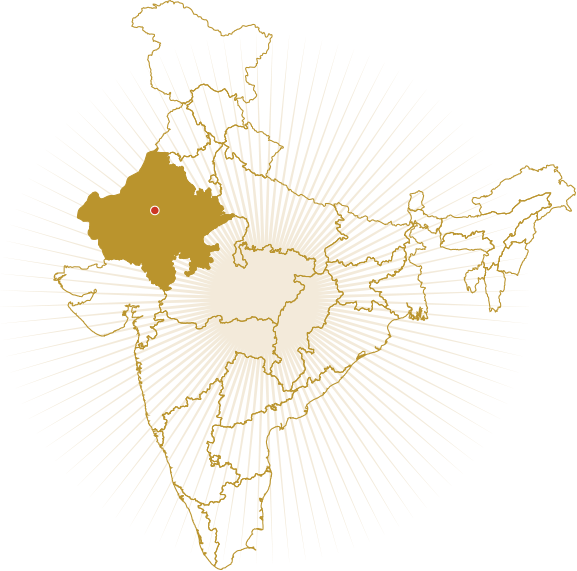 Luxuriate in the colours of the Pushkar Camel Fair
Pushkar, Rajasthan
Inject a dose of the exotic when you travel to the tranquil Hindu town of Pushkar in Rajasthan. Home to the Brahma temple, and the holy pond of Pushkar, it holds a sacred place in the hearts of its people. Every year in November, or the Kartika month in the Hindu calendar, the town comes alive for the Pushkar Camel Fair.

Gawk at the camels and other livestock paraded into town by the thousands. Experience the pomp and pageantry of a beauty contest, for camels! These spectacularly adorned creatures are showcased and traded at this annual fair.

Soak in the rousing music and hypnotic drum beats as magicians, acrobats and snake charmers entertain hordes of visitors. Once a year, the gentle hum of daily prayers make way for the invigorating festivities of the largest cattle fair in the world. The atmosphere is positively electric as energetic temple dancers weave their magic.

Browse the stalls of the arts and crafts bazaar for a peek into the rich culture and vibrant lifestyle of the locals. Surprise your loved ones with a souvenir of Indian artefact, a piece of luxurious fabric, or ornate jewellery.

Look out too for the famous moustache competition. Here, the hirsute showcase flamboyantly coiffed facial hair to vie for the title of "Longest Moustache". Shear off your inhibitions and get into the spirit of fun in Pushkar.

Steal away after for a historical tour of the beautiful ruins of forts and palaces that echo Pushkar's regal past. As the sun washes the town in a glorious gold hue, lounge by the banks of Lake Pushkar and be entertained by folk and fusion music.
Photo:rangerwoodmachan.com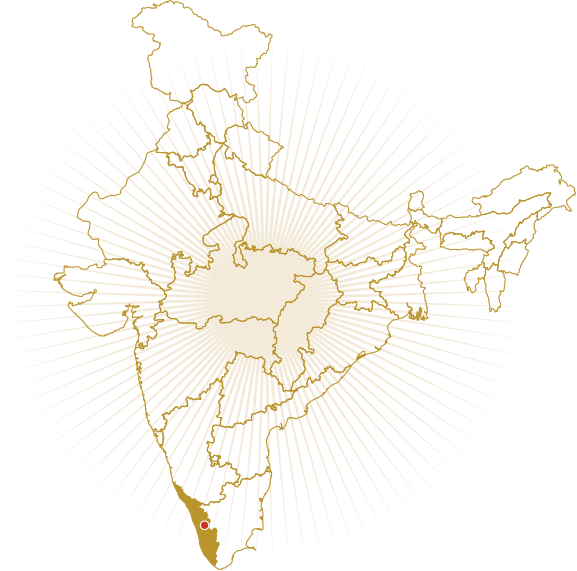 Revel in the warm Kerala sunset in quaint tree houses set amid a tropical rainforest
Kerala
A visit to India's southern state of Kerala is not complete until you have stayed in one of its famous tree houses. A sweet repose, where the only sound is nature's captivating symphony. Charming wooden cabins sitting above lush tropical flora that provides a perfect backdrop to your newfound sense of serenity. Luxuriate in this wonder while feeling the warm blush of the setting sun on your skin.

Inspired by the tree houses of Kerala's ancient tribes, these architectural wonders offer a glimpse into the history of this beautiful state. These private sanctuaries are a fitting tribute to Mother Nature, offering all the trappings of modernity without compromising the natural surroundings. A television and telephone are also at your disposal should you feel the need for such modern distractions. But who would need that, amid such stunning surroundings?

Built right into the trees, these lofty structures are constructed using only eco-friendly materials like bamboo and coconut fibre. Access to these cabins are provided by lifts that are built of cane and powered by water. When night falls, the only illumination comes from kerosene or solar-powered lamps.

In the cool of the day, explore the many beautiful walking trails around the tree houses, or while away the afternoon under pristine waterfalls. Or, simply lounge on the balcony and feel the warm embrace of the gentle breeze as your senses are tickled by the heady fragrance of tea, coffee, and spice plantations bordering the forest.

Dining in one of these luxurious tree houses is an experience to behold, matched only by the sumptuous dishes made from organically-grown produce. Shed the worries of the world as you become one with nature in the rainforest of Kerala.
Family Fun Time

Couple Moment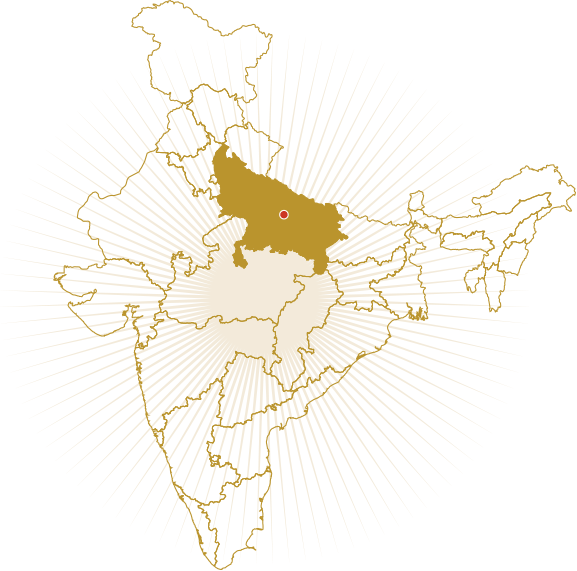 Marvel at the mausoleum of love, the Taj Mahal
Agra, Uttar Pradesh
No sojourn to incredible India is complete without a visit to the Taj Mahal. This tribute to enduring love is possibly the most iconic and romantic of architectures, its incandescent beauty rivalled only by the devotion it inspires.

This modern seventh wonder of the world bears testimony to the undying love between Shah Jahan and his wife Mumtaz Mahal. It was commissioned by the Mughal Emperor in the mid-17th century to honour the memory of his wife.

The majestic monument will take your breath away with its splendour. From its iridescent façade, to the intricate art work that adorns its halls.

Watch and wonder as the façade of the Taj transforms as day turns into night. A blush of pale pink at dawn, a dazzling white at noon, and a warm golden glow to complement the setting sun.

Enter the tombs and be mesmerized by the inlaid gems, the intricate carvings and the ornate calligraphy. Get transported to the time when the Shah would gaze upon these very pieces - masterpieces from an era gone by and works of some 20,000 artisans over almost two decades - as he reminisces about his lost love

Walk the grounds of the Taj Mahal and take in the monument's perfect symmetry, flanked by four minarets and twin sandstone buildings. Then, take a moment to luxuriate in the Gardens of Heaven, a piece of paradise that took a century to cultivate.

Cherish your moment of quiet contemplation at the world's most famous monument of love, the Taj Mahal.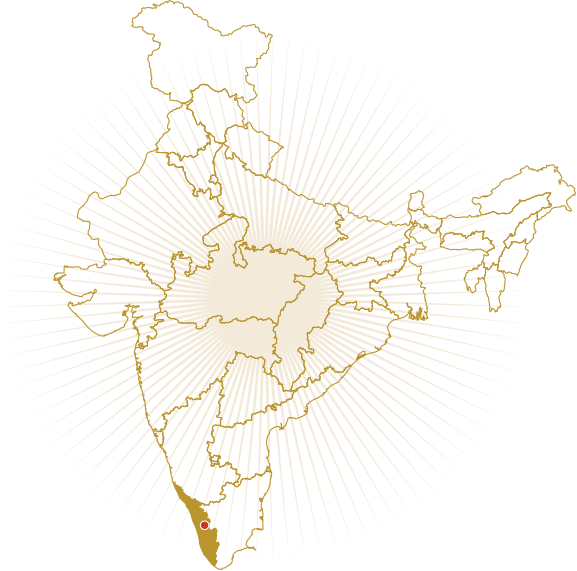 Claim your slice of heaven in the backwaters of Kerala
Kerala
Lose yourself to the divine wonders of Kerala as you cruise through its silver waterways in a luxury houseboat. Bask in the natural glory of "God's own country" as you meander through swathes of coconut groves and lush paddy fields. This is a cruise like no other.

A unique and masterful blend of old and new, these floating cottages are sanctuaries for the weary. Prepare to be pampered as each vessel offers every luxury you can think of: a personal cabin for privacy, a bar for a tipple or two, and a lounge for relaxation.

Spend the day watching the world go by and witness rustic Indian life at its tranquil best. From fishermen grappling with their catch, to toddy tappers shimmying up palm trees, the ever-changing landscape promises to enthrall.

Punctuate your idyllic reverie with an excursion on shore and you will find yourself in Kerala's warm embrace. Visit its many temples, churches, and mosques. Explore the art studios and gain an appreciation for Kerala's local talent. A bustling marketplace will invigorate you with its psychedelic colours and sounds.

Armed with souvenirs, retreat to your personal sanctuary to delight in Kerala's gourmet spread. The freshest fish and creamiest curries, cooked right on board and personally served by the chef and his experienced crew.

Then, as the sun sets behind the horizon, toast the unparalleled splendour of Kerala right on the deck of your floating heaven. This languid voyage is one you do not want to miss in India's tropical paradise.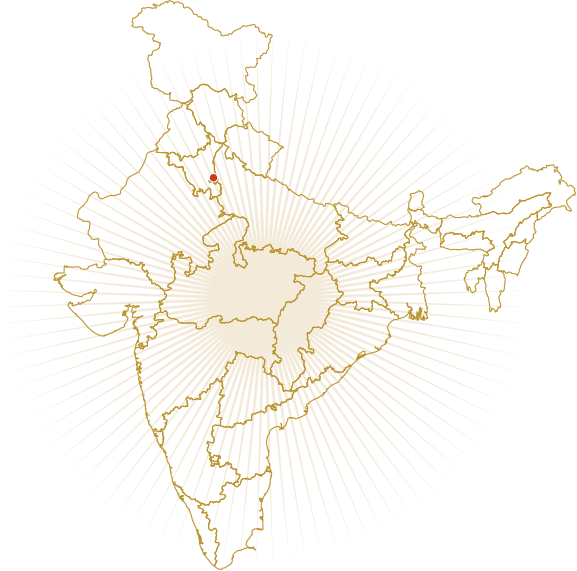 Fine dining re-defined at award-winning Bukhara Restaurant
New Delhi
Forget the niceties of silverware, get primal and tear into perfectly roasted meats with your bare hands. Wrap some warm, inviting naan around that hunk of meat and get ready for an epicurean experience of your life. This is fine dining re-defined.

Delhi's iconic Bukhara Restaurant has elevated rustic Northern Indian fare to a gastronomic experience fit for kings. So it is not surprising that Bukhara's clientele include heads of states, captains of industry, and world famous glitterati.

Step into this multi award-winning restaurant and the heady aroma of roasting meats and breads greets you in a welcoming embrace. New to the cuisine? Bukhara's friendly wait staff will help you navigate the menu.

You must give the signature Dal Bukhara a taste test. Slow cooked over charcoal fire for 18 hours, this dish of black lentils has been served more than 2.5 million times over in the past four decades.

Another star attraction is the Sikandari Raan. A whole leg of lamb, marinated in a medley of spices, then lovingly roasted in a tandoor. You will want to savour every tasty morsel of meat, so tender, it melts in your mouth.

The Murgh Tandoori is another of Bukhara's offerings that deserves special mention. A whole chicken, marinated in a tantalising blend of yogurt, malt vinegar and spices, roasted in the signature clay oven. Tuck into some, and find out why it has been dubbed the "King of Kebabs".

No meal is quite complete without dessert, and it is no different at Bukhara's. End your sublime feast with some Phirni, a light, saffron-infused rice pudding, or perhaps some Gulab Jamun, a rich milk dumpling drenched in fragrant sugar syrup. Whichever you pick, we promise you a culinary experience to remember.

Go ahead, make your reservation at the legendary Bukhara Restaurant and savour the flavour of authentic North Indian cuisine.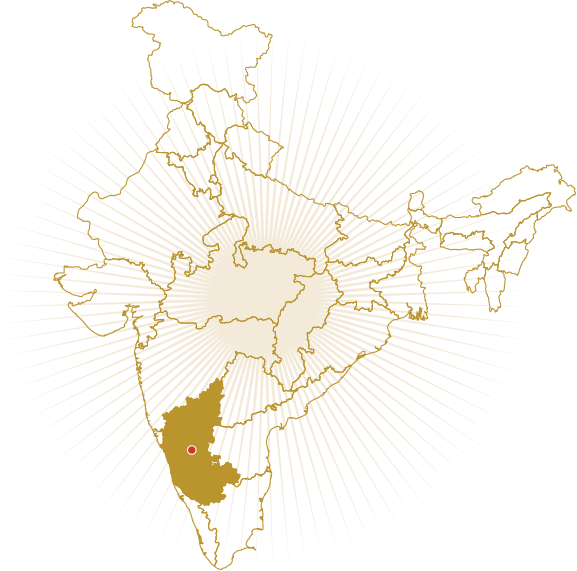 Discover organic coffee farming in Coorg
Coorg, Karnataka
Coffee aficionados will not want to miss a farm stay in the rural district of Coorg in Karnataka, home of many coffee plantations. Wake up to the heady aroma of your morning cuppa and savour Coorg's signature smooth coffee that is low in acidity - qualities derived from a longer maturation process.

Coorg's farmers grow their coffee lovingly under the canopy of trees like rose wood, wild fig and jackfruit. Legend has it that these coffee growers care for their crop as they would their own children. So it is no wonder that Coorg is also known as the Coffee Cup of India.

Spend time in the plantations amid passionate farmers, and learn the intricate growing process, where coffee berries are handpicked and beans are carefully cultivated to maximise flavour, and minimise disruption to nature.

From the quality of soil, to the optimum height of coffee shrubs, each condition is carefully calibrated to yield the best-tasting beans. Take in the sweet smells of ripe coffee cherries as you meander through the plantations. Pick some peppers, cardamom, or vanilla, the perfect crop to accompany the coffee shrubs.

Your morning cuppa will never be the same again after you have sipped a cup from Coorg. These organic coffee beans are highly sought after by coffee enthusiasts across the world.

Such farming practices extend beyond coffee growing in Coorg. Some of these farmers also rely on what mother earth provides, for sustenance. Enjoy sustainable farming, and experience clean eating at its best as you pick the freshest produce and savour its natural flavours. A farm stay in Coorg, Karnataka promises to be an adventure you will not forget.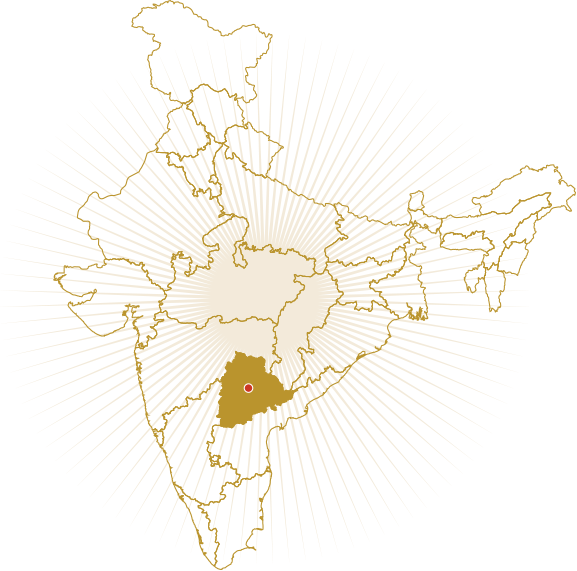 Take a culinary journey through time and cultures in Hyderabad
Hyderabad
A melting pot of Mughal, Turkish, and Arabic influence, Hyderabad has a proud 400-year-old culinary history. But, beyond the quintessential biryani, Hyderabad serves up an impressive array of dishes in its cuisine. You can expect robust, aromatic flavours steeped in exotic spices. If chilli is the spice of life, Hyderabad serves it up in abundance. A gourmet adventure in the "City of Pearls" is not for the faint-hearted.

Hyderabadi biryani belongs to a class of its own. Legend has it that the famously rich Nizams or monarchs of Hyderabad had some 50 different types of biryanis cooking in their royal kitchens.

Two distinct cooking methods, two different flavours, and one gastronomic experience. Long grained basmati rice is the first star of any biryani dish. The second, meat - usually mutton or chicken - and finally, a perfect chorus of spices.

Rice and perfectly marinated meat are cooked in one pot known as Katchi Biryani. The two ingredients are layered in perfect harmony and cooked over gentle open flame. The pot is sealed with a flour dough to preserve the aroma of meat and spices. Called 'dum' baking process, the rice of a katchi biryani is fluffy, fragrant and flavourful.

In Pakki Biryani, marinated meat is cooked on its own and the gravy adds flavour to the rice as it cooks. These two delicious elements are layered in a pot and steamed to form a homogenous dish. The result, an irresistible combination of flavours not to be missed.

Beyond its biryani, Hyderabad is also famous for Haleem. A delectable dish of meat, lentils and ground wheat that is cooked into a porridge, it is also a dish synonymous with the holy Muslim month of Ramadan.

You must also sample the desserts in Hyderabad. From Double Ka Meetha, a fried bread pudding to Phirni, a light, delicately flavoured rice pudding, a Hyderabadi feast is not quite complete without a sweet delicacy.

Go on, and indulge yourself in this epicurean adventure in historic Hyderabad.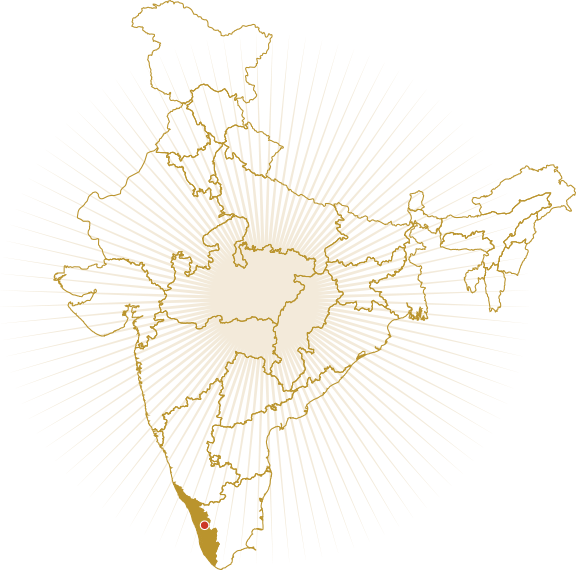 Let's get cooking in Kochi
Kochi, Kerala
Experience true Indian hospitality in the city of Kochi, and learn to prepare authentic South Indian dishes in the warmth of a home kitchen. Sign up for bespoke lessons with the numerous home cooks waiting to share their experience and expertise, and take a slice of Kerala home with you.

Lessons are typically tailored to your needs, so be sure to discuss any special dietary requirements before signing up. Let the chef decide the menu, or plan your own if you have specific requests. Most home cooks will be happy to oblige.

Inhale the heady aroma of spices as you learn what makes each one unique. Find out what the best blends are, and how the flavour of each blend is altered to suit your palate. With plenty to learn about the myriad of spices used in Indian cuisine, you will never view spices in quite the same way again.

For the complete experience, opt for lessons that begin at a local wet market. Watch and learn as the experts deftly work their way through the market to pick the best and freshest of produce. Soak in the atmosphere and discover produce that are synonymous to Indian cooking.

Learn by observing a cooking demonstration, or work alongside the chefs and prepare the dishes under their expert tutelage. Whichever method you pick, you will be richly rewarded as you sit down for an authentic home-cooked meal in true Indian style and taste the fruits of your labour.

Remember to sign up for a cooking class before you leave Kerala for a taste of warm Indian hospitality.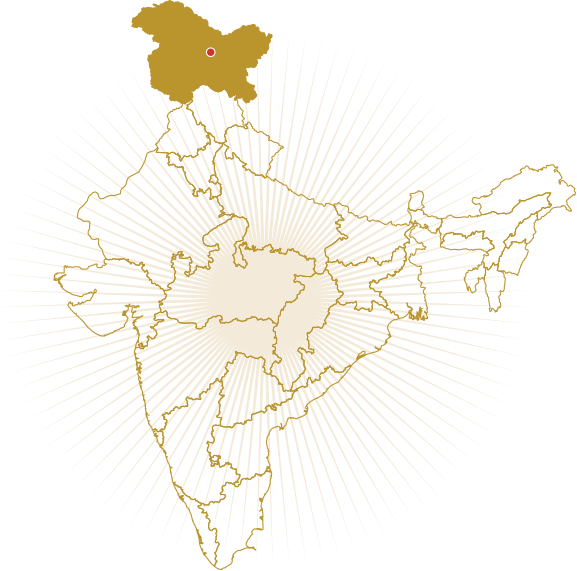 Spirituality reclaimed, in the mountains of Ladakh
Jammu/Kashmir, India
Leave the modern world behind, and reconnect with your spiritual self in the remote region of Ladakh. Nestled in the mountain ranges of the Himalayas and the Karakoram, Ladakh offers you breathtaking views like no other.

Travelling to Ladakh is, in itself, a pilgrimage. Much of the region is over 3,000 metres above sea level, so plan well and give yourself time to acclimatise. It can take up to two days of rocky mountain terrain before you reach your destination but the experience that awaits makes it well worth the effort.

Forget all your worries as you soak in the euphoria and revelry of Tibetan Buddhist festivals in the crisp mountain air. Watch and be amazed by the infectious spirit of the many devotees as they come in droves to these festivals, with many travelling from remote villages in the surrounding areas to join in the merriment.

Music and merry-making is the order of the day, where lamas, or monks, traditionally lead the ceremonies that depict important events in Buddhism. Lose yourself in the enchantment of storytelling through hypnotic beats and mesmerising dances No less than six festivals are held annually. The Losar Festival, an important traditional event that marks the beginning of a New Year, is celebrated all across Ladakh around December, two months before the Tibetan New Year, with a procession of fire that is believed to ward off evil spirits.

Others include the Spituk Gustor, Yargon Tungshak, and Matho Nagrang festivals held at various monasteries across Ladakh, and each celebrates a different aspect of Tibetan Buddhist life. Reclaim your spirituality in Ladakh as you partake in the colourful and enchanting celebrations, where music and masked dances are the common thread that bind these festivals.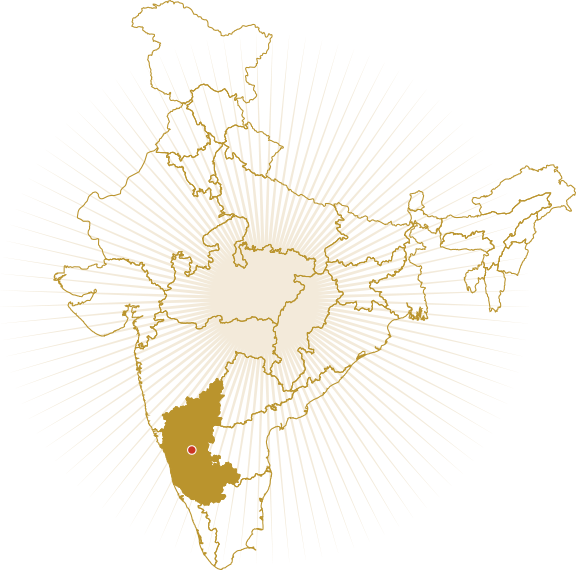 Seek your best self with yoga
Bengaluru, Karnataka
Surrender yourself to the healing powers of nature through the ancient practice of yoga, while you luxuriate in the personalised attention of a luxury resort in Bengaluru.

Choose from several well-known retreats with holistic wellness programmes designed to help you reclaim your serenity and clarity of mind. Spend every waking moment surrounded by peace and tranquillity. Look inside yourself for a true appreciation of your life experiences. Rediscover your inner strength as you embark on your yoga journey in Bengaluru or go beyond the physical practice and find the true meaning of this ancient philosophy.

The same meticulous care given to the emotional and mental well-being extends to your physical health. After all, to live well, you must eat well. So, enjoy clean eating during your stay and learn how you can replicate the wholesome meals for yourself at home. Appreciate how each meal nourishes both your body and soul.

Silence the cacophony of urban living, and tame your fragmented thoughts through meditation. Seek expert guidance in the art of mindfulness, and find your peace. Embrace the quiet of meditation, seek solace in your spirituality, and find your best self through yoga. Soul searching is hard work, so give yourself some pampering with age-old Ayurvedic treatments or relaxing massages.

Emerge from your luxury yoga experience rejuvenated and raring to live life to the fullest. Take the time to heal and make yourself whole again.


Photo:www.shreyasretreat.com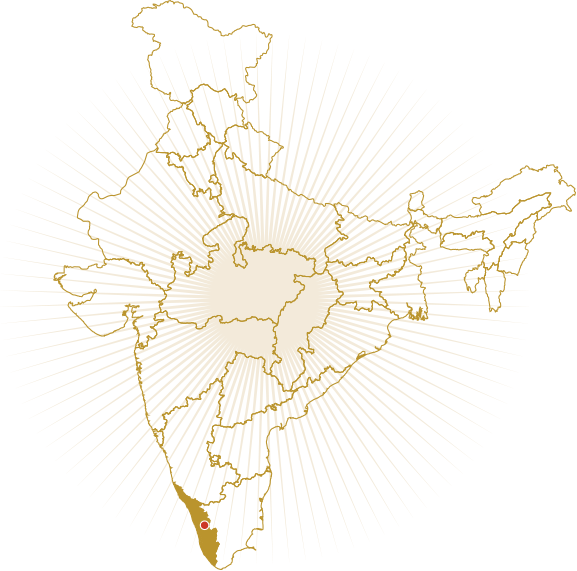 Soothe your soul at the Palaruvi Waterfalls
Kollam, Kerala
Escape from your bustling city life and soothe your soul at the Palaruvi Waterfalls in the city of Kollam in Kerala. Located deep in a lush tropical forest, let the trek to your destination feed your senses. Listen to the crunch of dry leaves under your feet, feel the caress of a gentle breeze on your skin, and smell the fresh air.

The thunderous roar of the white cascading waters is the first thing that greets you, as the "Stream of Milk" awaits to embrace you in its healing waters. Locals believe the waters of the Palaruvi can heal many ailments. So take a dip, and soak in the Ayurvedic properties of the waterfall. Claim your moment of solace, appreciate the calm and tranquillity, forget all your worldly worries and let the cool, crisp waters wash over you.

Marvel at the astounding beauty of the 90-metre waterfall and its stunning backdrop of hills and valleys. The scene is picture-perfect for photography enthusiasts, for a picture here is worth a thousand words and so much more. From the milky white waters to the warm blue skies, bring a slice of this magnificence home with you through your photographs.

Pack a picnic basket if you are planning on spending the day at Palaruvi. Pick your quiet spot and bask in the soft rays of the sun, filtered through the luscious greenery and find your private oasis of inner peace. Let time come to a standstill at Kerala's most beautiful waterfalls and allow Mother Nature to heal and rejuvenate your weary soul.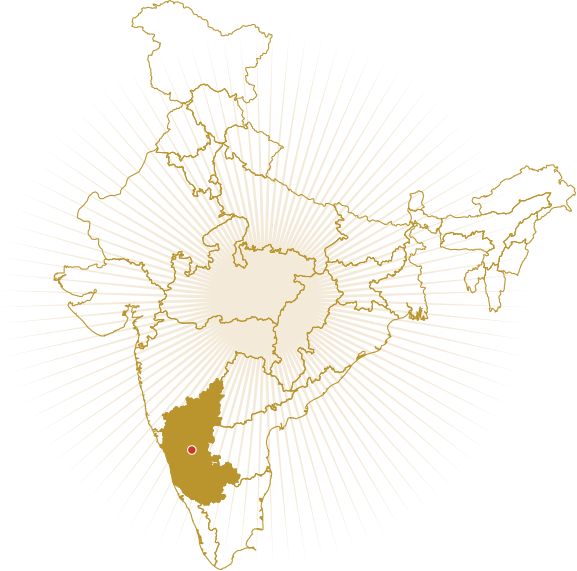 A day of contemplation in the beautiful ruins of Hampi
Hampi, Karnataka
Spend a day in quiet contemplation amid relics of a bygone era in Hampi. Steeped in history, this UNESCO heritage site is located along the banks of the Tungabhadra River, in the state of Karnataka, and was once the heart of the ancient royal Vijayanagara Empire, It is surrounded by boulders, some big enough for you to climb on, for an unfettered view of the city.

Step into Hampi's most famous Virupaksha Temple, and marvel at its ornately carved walls that tell mythological stories of times gone by. Dedicated to Lord Shiva, the temple dates back to the 7th century. Worshippers of Lord Shiva still visit the temple today, making it one of India's oldest running temples.

Perfectly preserved structure situated in a segregated area used by the royal women of the Vijayanagara Dynasty. Built with a unique blend of Hindu and Islamic architectural style, let the serenity of the Palace wash over you as you explore its open pavilions and balconies, and intricately carved arches and domes.

Wander into one of Hampi's most impressive - the Vithala Temple. Dating back to the 16th century, a stone chariot takes pride of place in the centre of its large courtyard. There is more than just the main temple in this compound. Take a slow stroll to the smaller ones in its vicinity and get up close to the wall carvings that depict the various Hindu gods.

Soak in the history and grandeur of the magnificent ruins as you explore the many other temples and monuments of Hampi.
Back To Top

Back To Top