About 9,000 opportunities offered in professional services sector since April, 80% for PMET roles: MOM
SINGAPORE: More than 1,500 companies in the professional services sector have offered about 9,000 opportunities since April this year, 80 per cent of which are for professionals, managers, executives and technicians (PMETs) roles, said the Ministry of Manpower (MOM) on Thursday (Oct 1).
More than 1,400 job seekers have been placed in these opportunities which include jobs, company-hosted traineeships/attachments and training courses, said MOM in its jobs situation report.
Two in three of the opportunities - about 5,870 - offered are jobs, which would be supported under the Jobs Growth Incentive (JGI) if the eligibility criteria are met.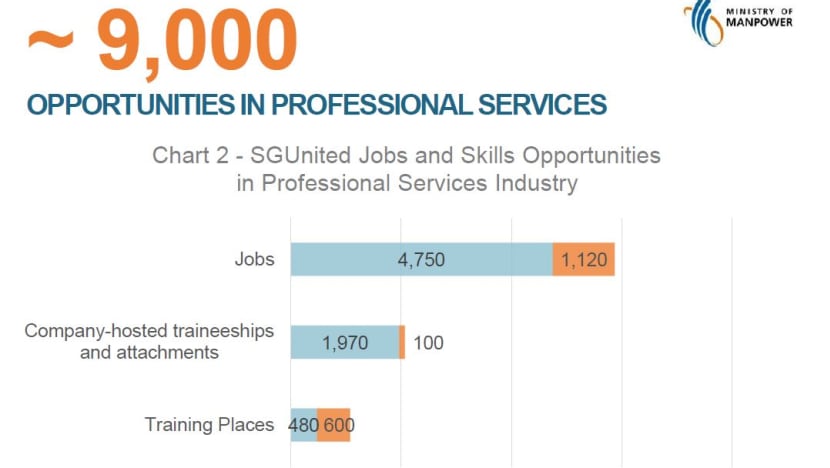 Announced in August, the JGI will provide "substantial salary support" to companies that continue to grow and need manpower, allowing them to bring forward hiring plans and grow their local workforce over the next six months until February next year, said the report.
There have also been about 2,070 company-hosted traineeships and attachments as well as 1,080 training places made available.
MOM noted that about nine in 10 people firms in the sector employ come under seven subsectors. These subsections include consultancy, advertising and marketing as well as accountancy among others. And as of June this year, the sector had employed nearly 256,000 workers.
AN UNEVEN IMPACT
Calling the professional services sector a "very diverse" one, Manpower Minister Josephine Teo noted that the impact of the COVID-19 pandemic on the sector has been "quite uneven".
"What we found is that (for) firms in (the) architecture and engineering (subsectors), especially during the circuit breaker as construction works were brought to a halt, the activity level fell sharply," said Ms Teo. "And then (for) process construction and maintenance companies, they saw operations reduced by 60 to 70 per cent, and it is gradually recovering now."

Ms Teo was speaking to the media after a visit to consulting firm PwC Singapore where she was joined by Minister for Trade and Industry Chan Chun Sing, and Second Minister for Finance Indranee Rajah.

In addition, 70 per cent of law firms reported a decrease in work, she pointed out.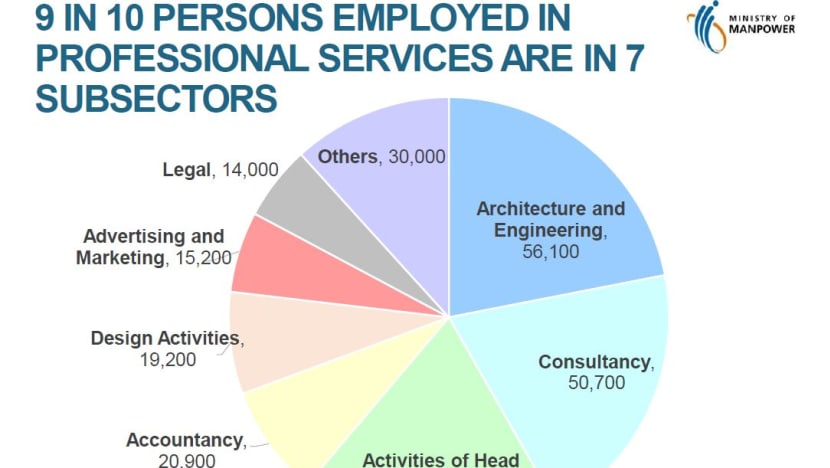 NEW OPPORTUNITIES
However, Ms Teo noted that the accountancy subsector was "less affected" as audit, accounting and taxation services are still required to meet statutory requirements. 
In addition, the report noted how major consulting firms have seen growing demand for technology and cybersecurity expertise, even as conventional work has dipped. 
"Clients have also turned to HR consulting firms for advice to set up effective remote working systems as well as to manage company restructuring," said MOM.
"As the subsector pivots towards new growth areas, job seekers should be prepared to hone their skills in emerging technologies such as Cloud technology, cybersecurity and artificial intelligence."
Non-specialised roles such as management and business consultants typically require less than five years of work experience, and offer salaries ranging from S$3,500 to S$8,500, the report noted. Candidates with specialised skills may command higher salaries.
The demand for advertising and marketing roles such as content strategists also remains "high" as companies seek to stand out among the growing number of competitors in the digital sphere, said the report.
Salaries for advertising and marketing professionals usually range from $4,750 to $9,500, while that of commercial and marketing sales executives range from $2,250 to $4,500, said the report.
Design services have also "gained prominence" as businesses sought to enhance their online presence and digital touchpoints, added MOM.
For graphic and multimedia designers and artists, salaries typically range from $6,750 to $9,250, while the salaries of interior designers usually range from $2,900 to $4,600.

Describing the professional services sector as one of "high growth", Minister for Trade and Industry Chan Chun Sing noted that the sector "underpins" Singapore's status as a business hub.
"If we do well, we are able to service the biggest, the best, the most innovative firms from around the world in Singapore. If we do well, we are able to create many opportunities for Singaporeans, not just in Singapore but also in the region and different parts of the world," he added.
Mr Chan also pointed out that factors that attract global firms in the professional service sector to any given country are access to talent, connectivity and innovation.
"Singapore's reputation as a hub for talent is hard-won. But at the same time, this reputation can also be easily lost if we are not careful. So we must continuously look at how we strengthen our ability to grow and attract talent to serve the global market," he said.

"We must continuously strengthen our connectivity, not just the physical connectivity of air, land and sea, but also the non-physical aspects of our connectivity in terms of data flows, financial flows, regulatory understanding, technology flows ... If we continue to do this well, then we have every opportunity to continue to excel as a global business hub with a very strong, vibrant, professional service sector."

Thursday's jobs situation report is the seventh of a series of weekly updates on the local labour market.
The manpower ministry has been issuing these reports since mid-August, covering various industries such as the local start-up scene, biomedical sciences and tourism, as part of providing job seekers with "a comprehensive look" of work and training opportunities.
Ms Teo also noted that she was "encouraged" that the firms who are currently not so ready to hire personnel are very willing to host traineeships and attachment opportunities. 
"Because when the recovery comes, as it eventually will, we want to position people to take advantage of these opportunities," she said. 
"So, to the job seekers out there, even if you're not immediately able to get into a job in professional services, it's well worth the effort to acquire company-relevant, industry-relevant, firm-relevant skills so that when the hiring picks up even more, you are well-positioned to access those opportunities."