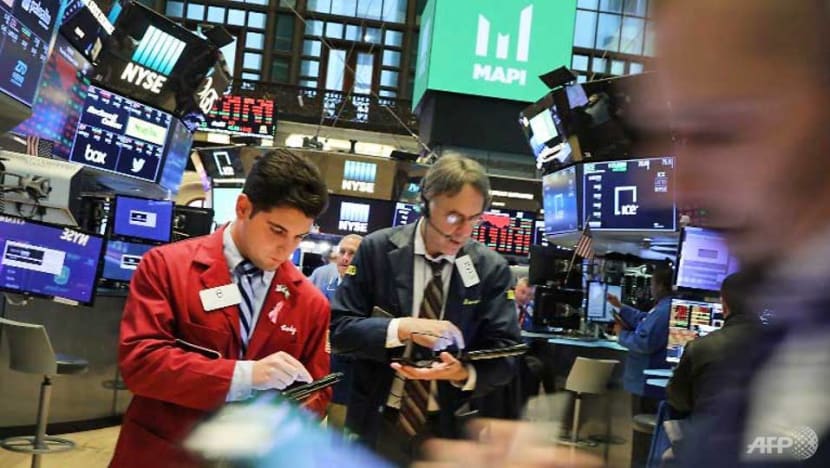 NEW YORK: Shares of airlines and chemical companies were big losers on Tuesday (Oct 9) as Wall Street stocks faced another day of pressure over higher interest rates.
Major indices ended a choppy session little changed, with the Dow Jones Industrial average shedding 56.21 points (0.21 per cent) to 26,430.57.
The broad-based S&P 500 shed 4.09 points (0.14 per cent) to 2,880.34, while the tech-rich Nasdaq Composite Index edged up 2.07 points (0.03 per cent) to 7,738.02.
Investors have been nervous since the yield on 10-year US Treasury bonds surged above 3.0 per cent last week. On Tuesday, the yield retreated slightly to 3.21 per cent.
Analysts fear the Federal Reserve will accelerate the pace of interest rate hikes due to concerns about higher inflation. The market will be closely scrutinising inflation reports that will be released in the coming days.
Strong US data are "leading to an increasingly hawkish chorus of Fed speak," said a note from Oxford Economics.
Fed policymakers currently forecast four more interest rate hikes by the end of 2019, a pace of tightening that not all market players may have priced in to their investments.
American Airlines plunged 6.6 per cent after disclosing that it cancelled about 2,100 flights in September due to Hurricane Florence. Both Delta Air Lines and United Continental also shed more than two percent.
Paints and coatings maker PPG slumped 10.1 per cent after projecting third-quarter earnings would be below analyst expectations due to higher raw materials and logistics costs.
Others in the chemical and materials sectors also fell sharply, including DowDuPont, down 3.7 per cent, Sherwin-Williams, down 4.0 per cent and Alcoa, down 2.9 per cent.
Starbucks jumped 2.1 per cent after activist investor Bill Ackman announced it built a stake in the coffee company.